Rybelsus is the oral formulation of Semaglutide. It acts as an incretin mimetic that activates the endogenous GLP-1 receptors in the body. This causes a glucose-dependent release of insulin, lowering blood glucose.
Other incretin mimetics drugs that act via the same mechanism include:
Liraglutide (Victoza and Saxenda)
Dulaglutide (Trulicity)
Albiglutide
Exenatide (Byetta)
Semaglutide vs Dulaglutide (Rybelsus and Ozempic Vs Trulicity)
Semaglutide is also available in the form of injections as prefilled pen devices. The injectable formulations are named Ozempic and Wegovy.
Both Ozempic and Wegovy are administered as once-a-week subcutaneous injections. Ozempic is used to treat patients with diabetes while Wegovy is approved for the treatment of weight loss.
Rybelsus Uses:
Rybelsus is used in the treatment of patients with diabetes. It is used as an adjunct to diet and exercise in patients who are intolerant to metformin or other commonly used diabetes medications.
Rybelsus (Semaglutide) is not indicated as the first line of treatment for diabetes as its use in rodents has been associated with medullary thyroid carcinoma (C-cell tumors of the thyroid gland).
It is also not indicated in patients with Diabetes Mellitus Type 1 and patients who develop diabetic ketoacidosis.
Diabetic Ketoacidosis (DKA) Quiz & Important Points to Remember!
Semaglutide is also not indicated in patients with a history of pancreatitis or secondary diabetes occurring as a result of chronic pancreatitis.
All the data presented here has been extracted from Rybelsus FDA Prescribing information [Ref]
Rybelsus Dose in Adults:
Rybelsus is available in 3 mg, 7 mg, and 14 mg tablet formulations.
3 mg is considered the starting or priming dose. Patients are advised to take 3 mg once daily before breakfast (30 minutes before the first meal of the day) for 30 days.
After 30 days, the dose is increased to 7 mg per day once daily. If the patients' blood glucose are well controlled, 7 mg is continued as the maintenance dose.
In patients with poorly controlled blood glucose, as measured by SMBG (self-monitoring of blood glucose), the dose is increased to the maximum daily dose of 14 mg per day.
Note:
Rybelsus should be taken at least 30 minutes before meals. It should be taken with plain water. Avoid taking it with beverages and other medications as they may affect the absorption of the drug.
When switching to 14 mg per dose, the manufacturer does not recommend taking two tablets of 7 mg. Take one tablet of 14 mg instead.
If a dose is missed, double dosing on the next day is not recommended. The dose of the day should be skipped.
Rybelsus dose in Children:
Rybelsus or any formulation of Semaglutide is not indicated for use in children. It is also not indicated in the treatment of diabetes mellitus type 1.
How to administer Rybelsus?
Rybelsus is available in three different doses as 3 mg, 7 mg, and 14 mg tablets.
It is recommended to take the drug 30 minutes before the first meal of the day. The drug should be taken with 4 ounces of water (one glass of water). It should not be administered with other medications or other liquids or beverages.
The drug should not be chewed, crushed, or mixed with other food items. It should be swallowed whole. Waiting for more than 30 minutes can further increase the absorption of the drug, however, the minimum duration to wait is 30 minutes.
Combining two strengths of tablets is not recommended. Do not take two tablets of 3 mg. or 3 mg and 7 mg, or two tablets of 7 mg tablets. Also, do not exceed the maximum recommended dose of 14 mg per day.
How to switch from Rybelsus to Ozempic and Ozempic to Rybelsus?
Patients on 14 mg Rybelsus can switch directly to 0.5 mg Ozempic Injection. Ozempic should be administered 24 hours after the last dose of Rybelsus.
Patients on Ozempic 0.5 mg can be switched to 7 mg or 14 mg of Rybelsus. Rybelsus should be given 7 days after the last dose of Ozempic.
There is no equivalent oral Semaglutide of 1 mg Ozempic (Injection Semaglutide).
How to Switch from Victoza to Ozempic (Liraglutide to Semaglutide)
Rybelsus use in pregnancy and lactation:
It is not indicated for use in pregnancy. It has not been studied in human pregnant diabetic females, however, it has been associated with birth defects in animals.
Blood glucose should be managed using other preferred diabetes medications during pregnancy such as insulin. Uncontrolled blood glucose may also cause fetal harm.
Semaglutide is also not indicated in breastfeeding mothers.
Semaglutide including Rybelsus should be stopped at least two months prior to a planned pregnancy. It takes about two months for the drug to clear from the human body.
Rybelsus use in patients with kidney disease:
The manufacturer does not recommend any dose adjustment of Rybelsus in patients with kidney disease.
The safety and efficacy of the drug was not altered in patients with renal dysfunction including ESRD (end-stage renal disease).
Low-Sodium Fast-food Options: Taco Bells, Subway, McDonald's
Rybelsus use in patients with liver disease:
The manufacturer does not recommend dosage adjustment in patients with liver disease. The safety and efficacy did not differ in patients with or without liver dysfunction.
Rybelsus Overdosage:
If the drug is taken in doses that exceed the recommended dose, patients should be monitored for at least one week after overdosage.
During the week, patients should be given supportive treatment in the form of hydration, antacids, and prokinetics.
Rybelsus Drug-Interactions:
No clinically significant drug-drug interactions exist. However, a few drugs need to be mentioned here:
Insulin and insulin secretagogues:

Semaglutide use is not associated with significant hypoglycemia. However, when it is administered in combination with insulin or drugs that increase insulin secretion, the risk of hypoglycemia may double.

Rybelsus and Levothyroxine:

Because Semaglutide slows down the motility of the stomach, it increases the absorption of Levothyroxine.
In clinical trials, the systemic exposure of Levothyroxine administered in a dose of 600 ugs, was increased by 33%.

Rybelsus and Warfarin:

Semaglutide may increase the systemic exposure of warfarin. Patients must be observed for bleeding.
INR monitoring is recommended frequently when Rybelsus is given in combination with Warfarin.

Other drugs:

Rybelsus did not affect the systemic exposure of most other drugs including metformin, omeprazole, furosemide, lisinopril, ethinylestradiol, levonorgestrel, and digoxin.
Rybelsus Contraindications: Who should not use Rybelsus:
Allergic reactions:
Like all other medicines, any person who is allergic to Rybelsus, Semaglutide, or any of the formulations of the drug should not use it.
Severe allergic reactions manifesting as anaphylaxis and angioedema have been observed in patients treated with Semaglutide.
If a person develops any symptoms or signs suggestive of allergic reactions or anaphylaxis, treatment should be immediately discontinued.
Patients with severe reactions should be immediately started on intravenous fluids, anti-allergic medicines, corticosteroids, and epinephrine if required as in patients with profound shock and angioedema.
Patients who have had an allergic reaction to any formulation of Semaglutide should not be re-challenged with the same drug or Ryebelsus.
Medullary thyroid cancer has been seen in animals treated with Semaglutide. All patients should be warned before treatment initiation of the theoretical possibility of MTC.
Medullary thyroid cancer has been observed in animal studies, however, its association in humans has not been determined.
Losing Belly Fat in 6 Weeks with Ozempic: Weight Loss Before and After
Patients should still be asked to report any symptoms suggestive of neck swelling, enlarged thyroid gland or lymph nodes in the neck, and weight loss.
Patients may undergo an ultrasound of the neck and serum calcitonin levels if indicated.
Serum calcitonin levels exceeding 50 ng/L are usually found in patients who have medullary thyroid cancer. Routine monitoring of serum calcitonin levels is, however, not indicated to detect Medullary thyroid cancer.
MEN II Syndrome:
MEN II syndrome is a condition in which patients have two or more of the following cancers:
Medullary thyroid cancer
Pheochromocytoma
Parathyroid adenoma
Since Semaglutide is contraindicated in patients with a personal or a family history of medullary thyroid cancer, it is also contraindicated in patients with MEN II syndrome.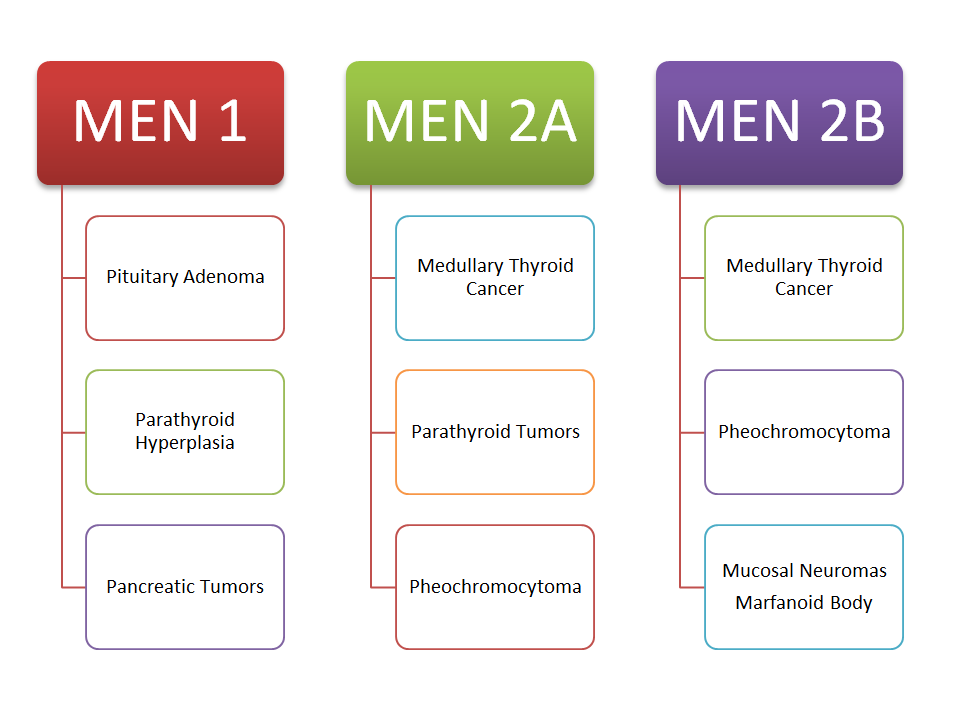 Rybelsus side effects:
Gastrointestinal side effects:
Rybelsus and other formulations of Semaglutide including Ozempic and Wegovy are commonly associated with gastrointestinal-related side effects.
Gastrointestinal side effects were the main reasons patients discontinued the treatment in clinical trials. 8% of the patients in the Rybelsus 14 mg group, 4% of the patients in the 7 mg group, and 1% in the placebo group discontinued the treatment due to intolerant gastrointestinal side effects.
Most patients in clinical trials reported the following side effects:
| | | | |
| --- | --- | --- | --- |
| Side effect | Rybelsus 7 mg | Rybelsus 14 mg | Placebo |
| Nausea | 11% | 20% | 6% |
| Abdominal pain | 10% | 11% | 4% |
| Diarrhea | 9% | 10% | 4% |
| Reduced appetite | 6% | 9% | 1% |
| Vomiting | 6% | 8% | 3% |
| Constipation | 6% | 5% | 2% |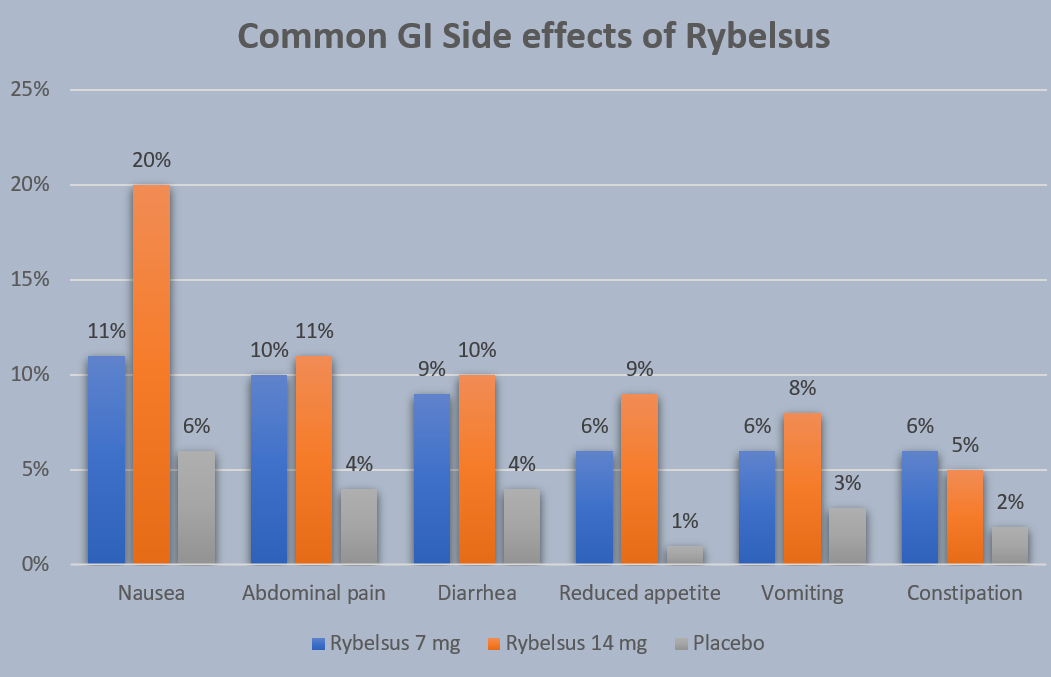 In addition to the above very commonly reported side effects, the following side effects were also reported by patients who were given Rybelsus compared to placebo medicine.
Flatulence,
eructations,
GERD,
Gastritis,
Dyspepsia, and
Abdominal bloating.
These side effects are in addition to hypoglycemia which was also more common in the Rybelsus-treated patients.
Hypoglycemia occurred predominantly in patients who were on concomitant insulin or insulin secretagogues.
Data from real-life patients show that constipation is the most common side effect of Ryeblsus.
High levels of amylase and lipase levels and pancreatitis:
The use of Rybelsus was associated with an increase in amylase and lipase levels. High amylase and lipase levels were not observed in patients who were treated with placebo medicine.
| | | |
| --- | --- | --- |
| | Rybelsus 7 mg | Rybelsus 14 mg |
| High Amylase | 10% | 13% |
| High Lipase | 30% | 34% |
Pancreatitis is a serious adverse effect of Semaglutide. In clinical trials, pancreatitis occurred in 6 patients who were on Rybelsus treatment versus only one case of pancreatitis was reported in patients treated with placebo medicine.
Patients should be investigated for pancreatitis if they develop abdominal pain, especially if the pain is radiating directly to the back, nausea, and vomiting.
Any patient who develops pancreatitis should stop taking Rybelsus. Patients should be treated with intravenous hydration, antibiotics, analgesics, and other supportive treatment.
Rybelsus should not be reinitiated in patients with a history of pancreatitis.
Diabetic retinopathy:
Diabetic retinopathy, especially worsening of diabetic retinopathy, has been mentioned with all GLP-1 analogs.
Diabetic retinopathy has also been observed in patients with rapid improvement in blood glucose. It has also been observed in patients who are started on insulin.
However, among all the GLP-1 analogs, Semaglutide is considered to be strongly associated with an increased incidence of diabetic retinopathy.
Patients with preexisting diabetic retinopathy should be monitored and evaluated frequently for worsening of the eye disease.
Acute kidney injury:
Reports of patients have been documented who developed acute deterioration in the kidney functions.
New-onset renal dysfunction is less common while acute kidney injury in the background of chronic kidney disease is much more common.
Patients may develop acute deterioration in renal function as a result of dehydration, nausea, vomiting, and diarrhea associated with Ryeblsus.
Direct drug-induced kidney injury is very rare but can occur.
An increased incidence of gallstones:
In clinical trials, 1% of the patients treated with Rybelsus 7 mg developed gallstones. Patients in the placebo-treated patients and those treated with Rybelsus 14 mg did not develop gallstones.
Increased heart rate:
In clinical trials, patients treated with Rybelsus had an increase in the mean heart rate compared to those who were treated with placebo medicine.
Monitoring parameters while on Rybelsus:
All patients who are initiated on Rybelsus treatment for diabetes should be monitored for the following clinical and laboratory parameters:
Blood glucose and glycated hemoglobin:

Blood glucose monitoring is important to see the effectiveness of the drug and the need to increase or decrease the dose.
Glycated hemoglobin is required at least three months after dose adjustment and six months in patients with stable glycated hemoglobin.

Observe the patients for symptoms and signs of pancreatitis. Patients may develop abdominal pain, vomiting, and hypotension. Serum amylase and lipase should be checked in case pancreatitis is suspected.
Serum calcium and calcitonin levels along with imaging of the neck may be advised to any patient who develops neck swelling and dysphagia since Semaglutide has been associated with MTC (medullary thyroid cancers in rodents).
Patients should have frequent renal and liver functions checked.
Diet for Patients with Pancreatitis: Pancreatitis Diet Food List
Rybelsus MOA (Mechanism of action of Semaglutide):
Rybelsus acts by activating the GLP-1 receptors. These receptors stimulate insulin secretion and inhibit the production of glucagon. Both these actions are carried out in a glucose-dependent manner.
Rybelsus also acts by inhibiting the motility of the stomach. This is reflected by early satiety and the feeling of fullness immediately after taking a meal.
Rybelsus action on the stomach is one mechanism that is responsible for the weight loss effects of the drug. However, delayed gastric emptying is also responsible for most of the gastrointestinal side effects associated with drug use.
Absorption:
Rybelsus is primarily absorbed in the stomach. It is co-formulated with salcaprozate sodium that enhances its absorption.
Peak plasma concentration:
Rybelsus reaches its peak plasma concentration one hour after it is taken orally.
Steady-state concentration:
It takes about 4 to 5 weeks for the drug to reach a steady-state concentration.
Tirzepatide Mechanism of Action: Mounjaro for Diabetes & Weight Loss
Protein-binding:
Almost all of the drug (>99%) is bound to albumin.
Half-life elimination:
The half-life elimination of Rybelsus is about one week. Thus, to completely clear out from the blood, it takes about 5 weeks.
Metabolism:
Semaglutide is metabolized by peptide degradation and fatty acid oxidation.
Excretion:
Most of the metabolites of the drug, after degradation into peptides and fatty acids, are excreted via feces and urine. 3% of the intact drug is excreted as the parent drug in urine.
What is Rybelsus? Side effects, Drug Interactions, & Concerns
Rybelsus Tablets Price:
Each tablet of Rybelsus costs:
3 mg tablets cost USD 941 per pack (for a total of 30 days). This is equivalent to USD 31.36 per tablet
7 mg tablets cost USD 863.49 per pack (for a total of 30 days). This is equivalent to USD 28.78 per tablet
14 mg tablets cost USD 851.6 per pack (for a total of 30 days). This is equivalent to USD 28.38 per tablet
You can buy Rybelsus at a minimum of USD 10 per month if you have got insurance.