SGLT2 Inhibitors are new drugs used in the treatment of Diabetes Mellitus. These drugs are increasingly being used because of their beneficial effects on the heart and kidneys. However, the Side effects of SGLT2 inhibitors are not uncommon.
Side effects of SGLT 2 inhibitors are one of the major causes of treatment discontinuation.
SGLT2 Inhibitors commonly used nowadays include:
Dapagliflozin (Farxiga)
Canagliflozin (Invokana)
Ertugliflozin (Steglatro)
These drugs bind to and inhibit the sodium-glucose co-transporter 2 channels present in the kidneys. SGLT2 channels normally absorb the filtered glucose back into the blood.
Inhibition of SGLT2 channels causes the filtered glucose to be excreted in the urine. Hence, most of the side effects of SGLT2 inhibitors are related to the urogenital tract.
You may also like to read:
Infections are the most commonly reported side effects of SGLT2 Inhibitors:
Infections are the most commonly reported side effects of SGLT2Inhibitors. Most infections reported in clinical trials were either urinary tract-related or genital infections.
SGLT2 Inhibitors use was linked to an increase of vulvovaginal candidiasis by approximately two to fourfolds, which was seen in between 10 and 15 percent of women [Ref].
Meta-analyses of trials also showed a higher incidence of vulvovaginal candidal infection (eg. 9.5 percent versus 2.6%) [Ref].
The rate of urinary tract infection increases with SGLT2 inhibitors (8.8 percent vs 6.1%) [Ref].
Additionally, reports have been received by the US Food and Drug Administration of potentially fatal conditions:
You may also like to read:
Increased Incidence of Bladder cancer in patients using SGLT2 Inhibitors:
In clinical trials, it was observed that the incidence of bladder cancer was greater in patients who were on SGLT2 inhibitors.
There were 10 bladder cancer cases diagnosed in clinical trials. Interestingly, five of these cases occurred within the first six months after dapagliflozin was introduced.
This is a shorter time period than one would expect if dapagliflozin encouraged tumorigenesis.
These findings have led the FDA to recommend surveillance studies post-marketing [Ref]. Long-term safety data are not available regarding the effects of chronic glucosuria on the bladder.
You may also like to read:
Hypotension is a common side effect of SGLT inhibitors:
SGLT2 inhibitors can cause intravascular volume contraction and osmotic diuresis. With glucose and sodium, excess water is also lost.
Loss of body fluid can cause hypotension. Hypotension is more common in older patients, patients who are taking diuretics, angiotensin-converting enzyme (ACE) inhibitors, or patients who take angiotensin receptor-blocking drugs (ARBs) [Ref].
You may also like to read:
Acute kidney injury has been reported with the use of SGLT2 inhibitors:
Postmarketing reports have shown that some patients who developed acute kidney injury and underwent dialysis were being treated with SGLT2 Inhibitors.
One-half of the 101 cases of possible SGLT2 inhibitors-associated acute renal injury reported to the FDA occurred within one month. Most patients recovered after discontinuing the drug.
A few patients may have suffered from acute kidney injury due to being volume-depleted, hypotensive, or taking other medications that could cause kidney damage. It is not clear if any of these patients had preexisting chronic renal disease.
A subsequent analysis of SGLT2 inhibitors non-users and users in two different cohorts showed that the risk of acute renal injury was not higher with SGLT2 inhibition use [Ref].
In trials that evaluated cardiovascular morbidity in type 2 diabetic patients and established CVD, SGLT2 inhibitors showed a protective effect on the kidneys.
However, it is important to assess renal function before initiating SGLT2 inhibitions. This should also be monitored throughout treatment.
Patients with comorbidities such as heart disease, hypovolemia, or other medications that can cause acute renal injury should not use them.
When the estimated glomerular filter rate (eGFR), is between 45 and 60 mL/min, dosage adjustments and frequent monitoring are necessary.
You may also like to read:
Broken bones – a side effect particularly associated with Canagliflozin:
The risk of fractures is greater in patients using SGLT2 Inhibitors. Broken Bones have been primarily linked to the use of Canagliflozin (Invokana).
According to a study [Ref], fracture rates were higher in patients who took Canagliflozin (Invokana).
One example is that there were 1.5 and 1.4 bone fractures for 100 patient-years of canagliflozin 300 mg and 100 mg exposure, respectively, as compared to 1.1 and 1.1 in the active or placebo group [Ref]. As early as 12 weeks after the first dose, low trauma fractures were reported.
Orthostatic hypotension, which results in postural dizziness, falls, and fractures in older patients after 12 weeks of therapy is a possible mechanism. SGLT2 inhibitors can also negatively affect bone density.
In a 2-year placebo-controlled trial of Canagliflozin, bone density was measured in 716 older people.
Comparing patients in the canagliflozin group to the control group, there was a progressive decrease in bone density at the total hip (placebo-corrected declines of 0.9 percent and 1.2 percent for canagliflozin 100 mg and 300 mg, respectively) as well as the spine (placebo adjusted declines of 0.3% and 0.7 percent, respectively).
According to putative mechanisms, fractures are more common in patients who take Canagliflozin. However, it has been reported that other SGLT2 inhibitors may increase bone mass and decrease bone fractures.
The risk of fracture was not raised by empagliflozin and dapagliflozin in a meta-analysis of safety outcomes.
You may also like to read:
Side effects of SGLT2 Inhibitors – The risk of Euglycemic Diabetic ketoacidosis:
SGLT2 inhibitors seem to increase the risk of euglycemic diabetic ketoacidosis [Ref]. SGLT2 inhibitors were found in a cohort study conducted in Canada and the United Kingdom to increase the risk of Ketoacidosis in diabetic patients regardless of the blood glucose levels.
This included more than 350,000 patients. Among the cohort of patients treated, 500 DKA events occurred.
Patients treated with Empagliflozin (Jardiance), Dapagliflozin (Forxiga), and Canagliflozin (Invokana) were found to be more likely to develop DKA than inhibitors of dipeptidyl peptidase 4 (4 (DPP-4 inhibitors) [HR 2.85, 95%CI 1.99-4.08]) [Ref].
Patients in the Canagliflozin (Invokana) group were the most at-risk of all three SGLT2 inhibitors (HR 3.58 compared to 1.86 and 2.52 for empagliflozin and dapagliflozin, respectively).
Euglycemic Diabetic ketoacidosis was more commonly reported with the use of SGLT2 Inhibitors. Euglycemic Ketoacidosis was defined as patients having plasma glucose levels below 250 mg/dL [Ref].
It is important to look for Euglycemic ketoacidosis if the patients develop nausea, vomiting, or malaise.
These patients should have serum ketones monitored. SGLT2 inhibitions should be stopped if acidosis has been confirmed.
In placebo-controlled trials of type 1 diabetes, the risk of SGLT2 inhibitions in relation to DKA was consistently demonstrated.
These studies showed an increased risk of DKA even though participants who were at high risk for DKA were not included at baseline.
However, substantial efforts were made to reduce this risk. It is discouraged to use off-label type 1 diabetes medication [Ref].
You may also like to read:
Increased Chances of Amputations:
SGLT2 inhibitors use has been associated with an increased risk of amputations compared to other diabetes medications [Ref]. The risk of amputations is particularly observed with Canagliflozin (Invokana).
In two randomized trials that evaluated canagliflozin against placebo in patients with type-2 diabetes and established CVD (or at higher CVD risk), there was an approximately 2-fold increase in lower limb amputations in patients who took canagliflozin.
Patients who had suffered from prior amputations, peripheral vascular disease, and neuropathy were most at risk.
A pharmacovigilance survey of more than eight million case safety reports revealed that 79 lower-limb amputations due to the use of SGLT2 inhibitors have been reported since 2013.
Canagliflozin and empagliflozin were associated with an increased risk of lower-limb amputations (RR 7.09, 95%CI 5.25-9.977), and empagliflozin (RR 4.96; 95%CI 2.89-8.50) respectively.
The risk of toe amputations was significantly higher with empagliflozin and canagliflozin (PRRs 8.91 and 6.86 respectively).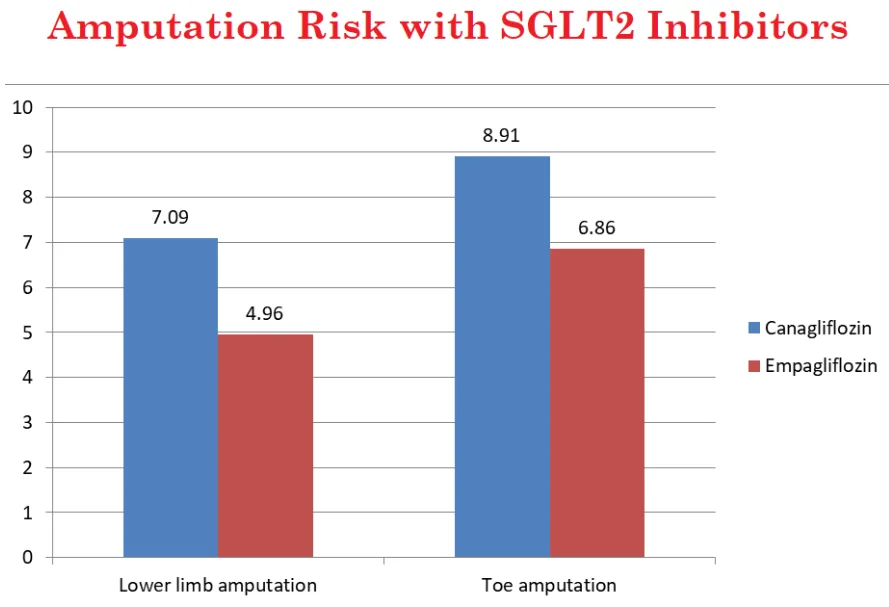 A posthoc analysis of empagliflozin's cardiovascular trial showed that there was no higher risk of lower limb amputation.
Similar results were found in the renal outcomes trial. The study was terminated prematurely due to benefits.
In light of previous canagliflozin studies, the protocol was modified to include a risk mitigation strategy.
A foot exam was done at each study visit. If there were any risk factors for amputation, the study medication was stopped.
Patients at high risk of foot amputation should not receive SGLT2 inhibitors. This includes:
neuropathy (loss or protection sensation),

foot deformity,

vascular diseases, and

previous foot ulceration.
Foot ulceration should be checked in patients taking SGLT2 inhibits.
You may also like to read:
In Conclusion:
SGLT2 Inhibitors are associated with some serious side effects. These include urogenital infections, fractures, amputations, low blood pressure, acute kidney injury, and euglycemic ketoacidosis.
Commonly implicated SGLT2 inhibitors with these side effects are mentioned in the table below in descending order:
Side effects of SGLT2 Inhibitors

Side effects

SGLT2 Inhibitor

Vaginal Yeast Infections

Canagliflozin

Ertugliflozin

Empagliflozin

Dapagliflozin

Urinary tract infections

Canagliflozin

Ertugliflozin

Empagliflozin

Dapagliflozin

Hypotension

Canagliflozin

Ertugliflozin

Empagliflozin

Dapagliflozin

Acute Kidney Injury

Canagliflozin

Ertugliflozin

Empagliflozin

Dapagliflozin

Euglycemic Ketoacidosis

Canagliflozin

Ertugliflozin

Empagliflozin

Dapagliflozin

Bone fractures

Canagliflozin

Empagliflozin

Ertugliflozin

Dapagliflozin

Increased risk of amputations

Canagliflozin

Empagliflozin

Dapagliflozin

Ertugliflozin

Bladder Cancer

Dapagliflozin

Empagliflozin

Canagliflozin

Ertugliflozin
You may also like to read: