ADA Diabetic Diet aims to control your blood glucose with a low-calorie, low-fat, and nutrient-rich diet.
The ADA Diet for Diabetics does not only help you achieve your glycemic targets but it also helps you lose weight, especially if combined with regular exercise.
The media and the internet are so crowded with different types of diets and meal planning nutrition information that it is difficult to find the best one. A diabetic patient is frequently baffled as to whether to follow a vegan diet, a low-carb diet, or a keto diet.
To overcome this confusion, the American Diabetes Association (ADA) has developed a set of key recommendations for diabetics in order to achieve glycemic control.
Here we will discuss the American Diabetic Association (ADA) diabetic diet and its dietary recommendations for people with prediabetes and diabetes, and even obese people at risk of diabetes.
What is ADA?
The American Diabetes Association (ADA) is a non-profit organization that establishes diabetes medical care standards. It was created to give diabetes care components, available treatments, and techniques for assessing the quality of care.
The ADA Diabetic Diet:
Diabetes is a metabolic disorder that disrupts glucose metabolism. Your body is unable to adequately utilize insulin, resulting in high blood sugar levels.
As a result, the primary purpose of diabetes diets is to maintain optimal glycemic control by providing suitable meal options, which frequently include low GI foods (low glycemic index), complex carbohydrates, necessary fats, and protein.
Following these alternate meal options helps to keep blood sugar levels stable and diabetic complications at bay.
The ADA has not designed a proper diabetes diet; instead, they have presented a set of key recommendations that can possibly fit everyone.
Because everyone's body reacts differently to diabetes, no single diet plan or meal can be suitable for everyone.
A healthy meal plan should be compatible with your lifestyle and eating habits. The main thing is to stick to a meal plan that is personalized according to individual preferences and lifestyle and assists in meeting blood glucose, cholesterol and triglyceride levels, blood pressure, and weight management goals [Ref].
Brittle Diabetic Diet: What to Eat for Erratic Blood Sugar Levels?
General ADA Diabetic Diet Guidelines:
The American Diabetes Association (ADA) recently issued a nutrition consensus report providing dietary guidelines to assist treat and preventing diabetes, as well as comorbidities such as heart disease.
Some of the guidelines of that report are:
The ADA recommends a reduction in total carbohydrate intake.
It recommends that weight loss is an important factor in diabetes. A weight loss of 5-10% is ideal for the prevention and management of diabetes.
ADA puts the main focus on increasing vegetable intake and consuming less refined carbohydrates and simple sugars.
An increased intake of non-starchy vegetables such as cabbage, cauliflower, and broccoli has been suggested.
Oats for Diabetes: Health Benefits, Glycemic Index, and Recipes
Carbohydrates Recommendations by ADA:
According to studies, reducing total carbohydrate intake has been the most beneficial factor in decreasing blood glucose levels among diabetics.
Patients with type 2 diabetes can benefits from low or very low carbohydrate eating plans to maintain their A1C levels.
Low-carb diets have also improved CVD risk factors and decreased blood pressure and cholesterol levels.
Best Fast Food Options For Diabetics: Diabetes-Friendly Takeout
The ADA recommends avoiding refined carbs and increasing complex carbs intake. Generally, about half of the calories should come from carbs.
This accounts for about 700 calories from carbs if you are on a 1500-calorie diet. 700 calories of carbohydrates are roughly equivalent to 175 gm of carbohydrates.
However, people with markedly deranged blood sugars may need to limit carbs to less than 130 gm and sometimes less than 50 gm per day.
Artificial Sweeteners and Diabetes: Are They OK for Diabetics
ADA Diabetic Diet for Weight loss:
Overweight or obese patients with diabetes should lose at least 5% of their total body weight to have a meaningful effect.
A total weight loss of 15% is recommended by ADA to achieve maximum control of glucose levels.
A 200 pounds person has to lose 30 pounds to better control his blood glucose. This can be achieved by targeting at least 500 calorie-deficit per day.
500 calorie deficit might be easy for people consuming 2000 calories or more per day, but for people already on a low-calorie diet, achieving a 500-calorie deficit may be difficult.
Thus, a 15% to 25% calorie deficit per day is the best. This is equal to a 300 – 500 calorie deficit for a person on a 2000 calorie diet and a 225 – 375 calorie deficit for a person on a 1500 calorie diet per day.
It is estimated that a person loses one pound for a total calorie deficit of 3500 calories. Thus, if you are on a 300-calorie deficit diet per day which is equal to 9000 calorie deficit per month, you may lose 2.5 pounds per month.
On the upper-hand side, your calorie deficit may reach up to a 15000 calorie deficit per month. The weight loss per month estimated with a 15000 calorie deficit is about 4.28 pounds per month which is a very ideal weight loss of 1 pound per week.
Diets recommended by ADA:
The American Diabetes Association (ADA) supports many healthy eating plans that can aid with glycemic management, including the Dietary Approaches to Stop Hypertension (DASH), Mediterranean, and plant-based programs.
These programs do not all have the same amount of protein, fat, and carbohydrates, but they are all healthy options.
Diet for the Old Diabetic Patients and Medical Nutrition Therapy
The diabetic plate approach, as well as assessing carbohydrate intake, can be useful tools for glycemic management.
Diabetes Plate Method by ADA: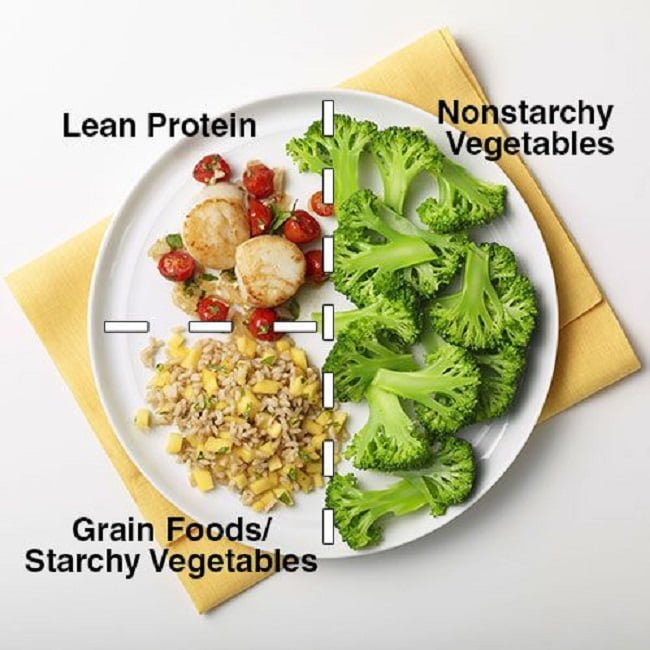 The diabetes plate method is a recent measure taken by ADA to ensure mindful eating among diabetics.
This is a good technique to make adequately portioned meals. Portion control is optimum for weight loss.
A diabetes meal plate is a simple approach to maintaining a healthy balance between daily intake of carbohydrates, proteins, and vegetables.
This plating method divides your meal plate into three portions:
Half of the plate portion is assigned to non-starchy vegetables such as cabbage, carrots, celery, eggplant, broccoli, cauliflower, etc.
One-quarter of the plate is assigned to proteins. Which must include healthy proteins such as lean meats, chicken, turkey, fish, beans, and lentils.
The other quarter is assigned to complex carbohydrates such as whole grains and cereals.
The plate method also focuses on having water with meals as a low-calorie drink. Other options include sugar-free tea, coffee, and diet sodas.
For combination foods such as pizza and pasta, ADA recommends practicing the same portion control as assigned on the plate method.
For example, you are adding lots of non-starchy vegetables with a small slice of pizza or a small serving of pasta.
High Protein Diet (Atkin's, Zone, & Stillman's Diets): Benefits vs Risks
Diabetes Food Hub by ADA
The diabetes food hub developed by ADA is another amazing way to get sugar-free recipes without any difficulty. It is a good initiative to help diabetics in the management of foods in daily meals.
It includes snack options, breakfast, lunch, and dinner options, and sugar-free dessert recipes.