Can you take Jardiance and metformin together? Or Should you take Jardiance and metformin Together?
Of course YES!
In fact, Jardiance is available with metformin combined in a single pill by the brand names SYNJARDY and SYNJARDY XR.
It is also available in triple combination pills such as TRIJARDY XR which contains Jardiance, Linagliptin (Tradjenta), and Metformin.
How Jardiance Lowers Blood Glucose?
Jardiance is a type of medication that works differently than metformin. It inhibits the reabsorption of filtered glucose from the kidneys.
When glucose passes through the kidneys, it is filtered from the blood into the renal tubules and then reabsorbed back into the bloodstream.
Jardiance acts on receptors called SGLT2 receptors and blocks the reabsorption of the filtered glucose.
How Metformin Lowers Blood Glucose?
Metformin is one of the oldest and time-tested medicines used to treat patients with diabetes mellitus type 2.
It is available by numerous brand names, notably, Glucophage, Glucophage XR, Sukkarto XR, Neodepar, and Glumetza.
Metformin lowers glucose by mechanisms different from Jardiance. It acts via multiple pathways. It improves insulin sensitivity in the peripheral tissues resulting in an increase in the glucose uptake by tissues. Hence lowering plasma glucose.
Metformin also blocks the conversion of glycogen into glucose in the liver. It also inhibits glucose production from the gastrointestinal tract and enhances the incretin effect.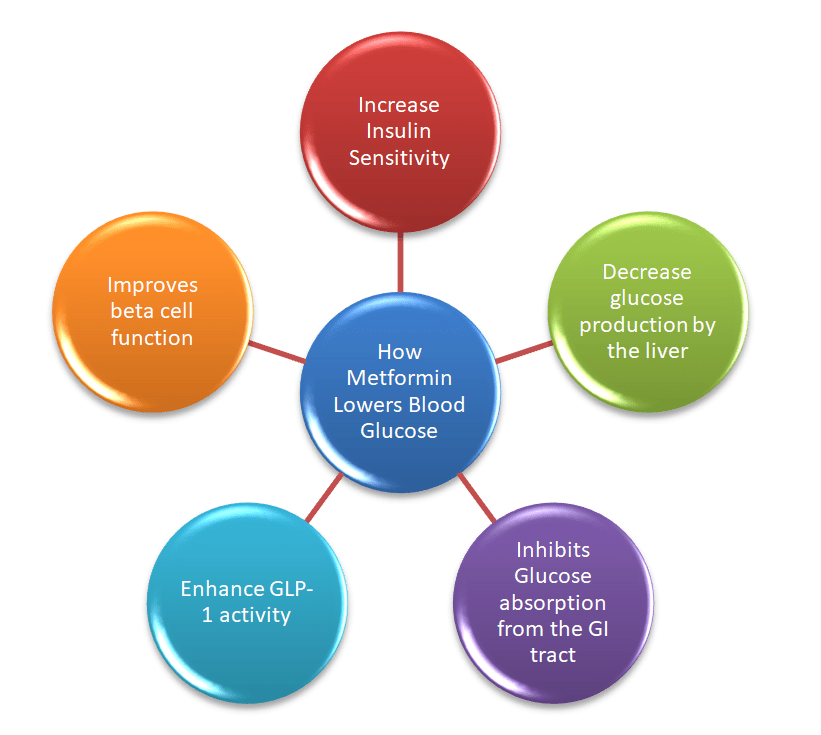 What are the benefits of taking Jardiance and Metformin together?
Naturally, two drugs are better than one. Diabetic individuals who are taking either metformin alone or Jardiance alone and have uncontrolled blood glucose can benefit from combining the two drugs.
There are two options:
Take Jardiance in the morning and add metformin with it in a dose of 500 mg, 750 mg, 850 mg, or 1000 mg once or twice daily. usually, metformin treatment is initiated at a lower dose initially and increased gradually if required.
Take the combination pill that contains Jardiance and metformin together.
Synjardy and Synjardy XR is available in doses:
Synjardy contains Jardiance and extended-release metformin at different doses as mentioned in the table below:
| | | |
| --- | --- | --- |
| Synjardy Dose | Jardiance | Metformin |
| Synjardy 5/850 mg | 5 mg | 850mg |
| Synjardy 5/1000 mg | 5 mg | 1000 mg |
| Synjardy 12.5/850 mg | 12.5 mg | 850 mg |
| Synjardy 12.5/1000 mg | 12.5 mg | 1000 mg |
| Synjardy XR 5/1000 mg | 5 mg | 1000 mg |
| Synjardy XR 10/1000 mg | 10 mg | 1000 mg |
| Synjardy XR 12.5/1000 mg | 12.5 mg | 1000 mg |
| Synjardy XR 25/1000 mg | 25 mg | 1000 mg |
Depending on the initial Jardiance dose, any of the combination pills containing metformin can be selected. Metformin may be added alone at night if required.
Jardiance and metformin efficacy in lowering A1C:
The efficacy of combination treatment has been studied. In one clinical trial of 637 patients who were on metformin and had uncontrolled diabetes, Jardiance was added.
Individuals received either a placebo medicine, Jardiance 10 mg, or Jardiance 25 mg per day.
After 24 weeks, more patients in the Jardiance group achieved the target A1C of less than 7% compared to the placebo.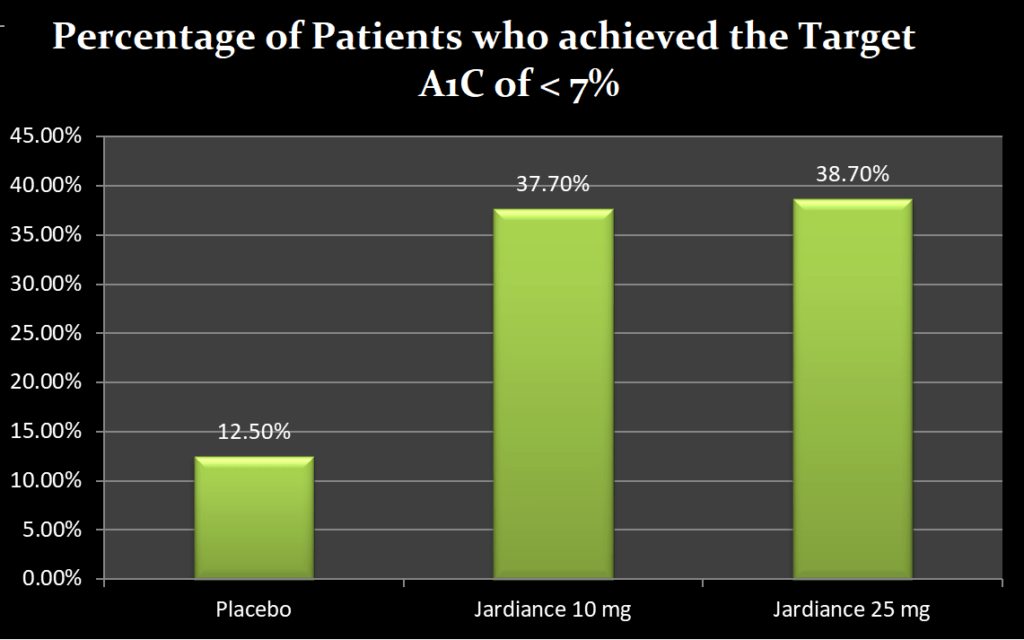 The mean reduction in HbA1C was 0.7% and 0.77% in the Jardiance 10 mg and 25 mg respectively compared with 0.13% in the group of patients who received a placebo medicine.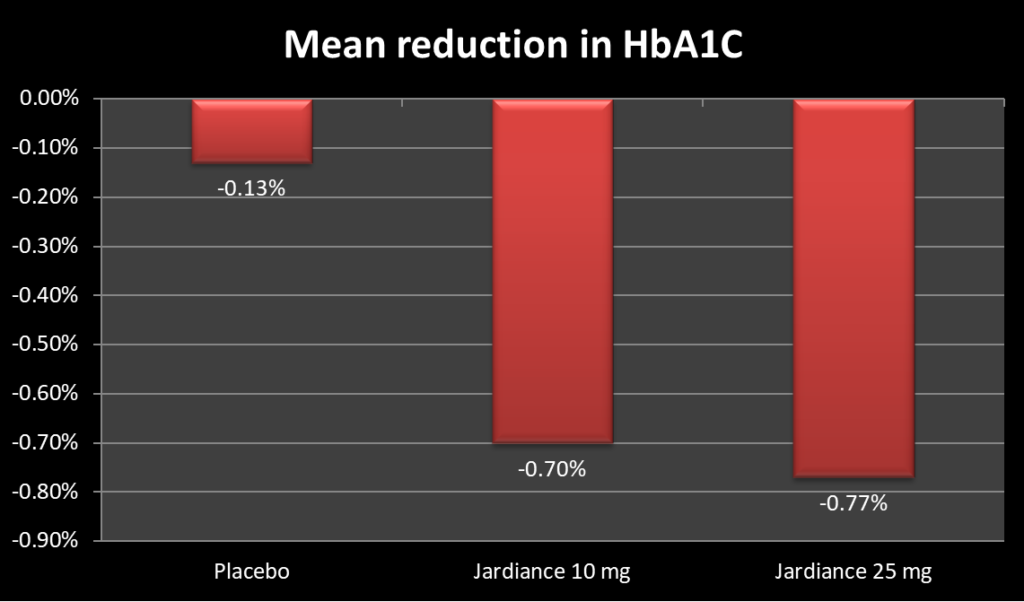 Effect of Jardiance and metformin together on Weight:
Metformin is considered weight neutral. In some individuals, it may also cause weight loss. The weight loss effect of metformin may be due to the following reasons:
Reduced glucose absorption from the GI tract
Enhanced Incretin effect (The two incretin mimetic drugs have already been approved by the FDA for weight loss, namely, Liraglutide (Saxenda) and Semaglutide (Wegovy, Rybelsus, and Ozempic).
More GI side effects and reduced craving and hunger
Jardiance, on the other hand, causes the excretion of salt and water along with glucose through the kidneys. When glucose is lost via the kidneys, more calories are lost.
Theoretically speaking, Jardiance may cause a weight loss of 9 to 15 kgs per year [Jardiance for weight loss in non-diabetics]. However, in clinical trials and real-life experiences, the results are just modest.
When Jardiance was added to metformin, it resulted in a weight loss of 2 kgs and 2.4 kgs after 24 weeks at 10 mg and 25 mg Jardiance respectively. In the placebo group, people only lost a mean weight of 0.4 kg.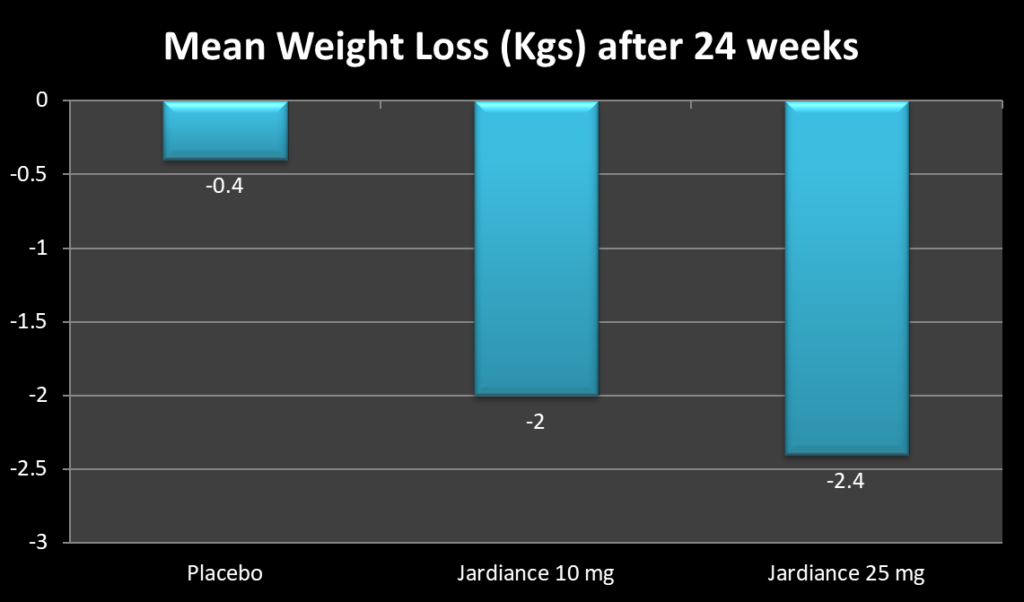 Effect of Jardiance and metformin on Systolic Blood pressure:
Metformin has little effect on blood pressure.
Jardiance (Empagliflozin) is an SGLT2 Inhibitor. It causes the excretion of glucose, sodium, and water through the kidneys. Thus, Jardiance causes diuresis.
Removal of excess water from the body helps lower blood pressure. This effect adds to the cardiovascular benefits of Jardiance.
In a clinical trial, a reduction in the systolic blood pressure of about 5 mmHg was observed. Jardiance 10 mg and 25 mg reduced the blood pressure by 4.5 and 5.2 mmHg respectively, compared to placebo (0.4 mmHg) [Ref].
Cardiovascular effects of Jardiance and metformin together:
Most studies are focusing nowadays on the cardiovascular benefits of Jardiance. The Empa-Reg outcome trial demonstrated a 38% relative reduction in cardiovascular deaths and hospitalization in patients with Diabetes Mellitus Type 2.
A recent trial demonstrated a 21% relative risk reduction in patients with heart failure and preserved ejection fraction [Ref]
Jardiance and Farxiga have also been shown to be effective in patients with cardiovascular diseases without diabetes.
Safety and Adverse events of taking Jardiance and Metformin Together:
There are no drug interactions between Jardiance and metformin. However, patients are likely to develop side effects from individual drugs.
Except for the increase in the risk of hypoglycemia in the combination group, the side effect may be rather fewer than the individual drug given in high doses.
Hypoglycemia can occur only if the combination of drugs is given with insulin or sulfonylureas.
Jardiance use may result in urinary tract infection, dehydration, hypotension, acute kidney injury, osteoporosis, and genital infection including Fournier's gangrene.
The risk of bone fractures is less likely compared to other SGLT2 inhibitors such as Canagliflozin. Jardiance may also cause a mild degree of elevation in the plasma lipids.
Metformin use may be associated with gastrointestinal side effects such as nausea, vomiting, altered bowel habits, and very rarely lactic acidosis.
In Conclusion:
Jardiance and metformin together are safe drug combinations. Combination pills reduce the pill burden and improve compliance with the treatment.
It also has better efficacy and when both drugs are given in low doses, it may be safer and equally effective.