Dupixent before and after eczema pictures: Reviews and pictures of patients with atopic dermatitis or eczema that were successfully treated with Dupixent (Dupilumab) are presented here.
The reviews and pictures of patients with eczema are taken from Reddit/Eczema.
Patients who posted their before and after pictures of eczema treatment with Dupixent posted pictures of various parts of their body, primarily the:
face
eyes
hands
finger
tummy
neck
A brief overview of Dupixent (Dupilumab):
Dupilumab is a biological medicine prepared by recombinant DNA technology. It is marketed by the brand name Dupixent Injection.
The injection is administered once every two weeks into the skin via a prefilled syringe or injection.
It acts by inhibiting the action of two important cytokines, IL-4 and IL-13. Both these cytokines are involved in the differentiation of Th2 cells.
Inhibiting these cytokines ultimately inhibit the release of chemical from cells involved in allergic and inflammatory processes.
Dupilumab (Dupixent) may be used in combination with topical corticosteroids. Dupixent may also be used in combination with topical calcineurin inhibitors like Pimecrolimus (Elidel).
The combination of topical Elidel treatment and Dupixent injection is usually reserved for patients who have involvement of the face, genitals, groin, eyes, or armpits.
These skin areas are considered hard-to-treat areas.
| | |
| --- | --- |
| You may also like to read: | |
Dupixent Before and After Pictures of the Face: Facial Eczema:
The face is considered a hard-to-treat skin area because one can not use high-potency topical corticosteroids on the face.
Before Dupixent, these patients were treated with a low-potency corticosteroid in combination with a calcineurin inhibitor like Elidel cream (Pimecrolimus).
However, Dupixent has changed the treatment of these hard-to-treat areas altogether.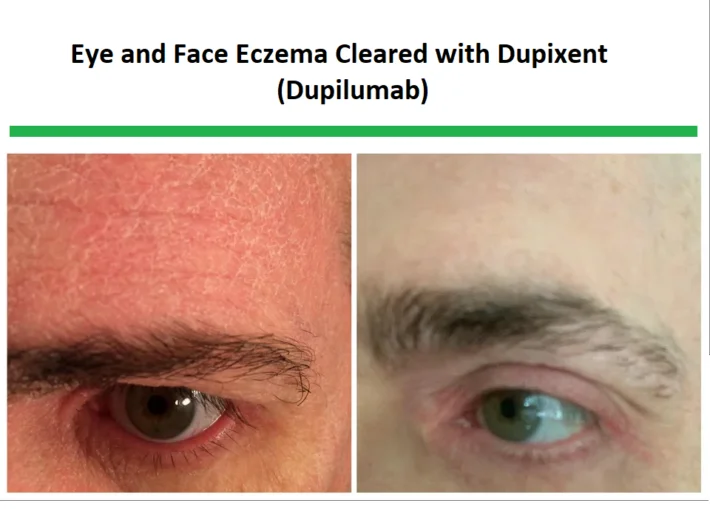 Dupixent Review of the patient:
"I took this picture when my flare-up was at its worse. I still can not forget the pain and agony. I felt like I was falling apart"
"I believe that Dupixent might not be effective for all and some patients might not get it because of the cost and insurance issues. I feel sorry for you if you are one of them".
But, don't give hope and keep trying different medicines as one day you might find one effective medicine that helps you"
| | |
| --- | --- |
| You may also like to read: | |
---
Facial Eczema: Before treatment Picture and after six months of Dupixent:
As mentioned earlier, the face is one of the most difficult to treat areas. More importantly, you can not hide it. It is associated with so much stigma if you have a diseased face compared to the rest of your body.
A slight improvement in facial appearance is linked with so much confidence and energy. Hence, I selected this picture of a patient who was successfully treated with Dupixent.
Here are the pictures after six months of Dupixent injection use: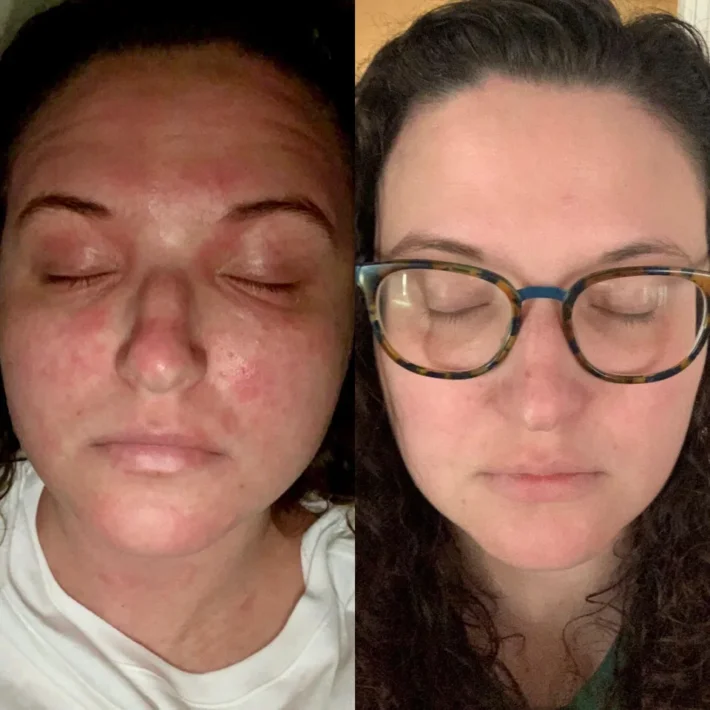 Dupixent worked like a miracle. This picture is taken after six months of Dupilumab injection.
Dupixent Reviews of the patient:
"Dupixent has been a game-changer for me. I am so thankful"
"This is incredible. I finally feel like myself"
| | |
| --- | --- |
| You may also like to read: | |
---
Six months of treatment using Dupixent: Before and after treatment pictures of legs and tummy:
These are pictures of the same patient who had facial atopic dermatitis and got huge relief using Dupixent for six months.
Although skin involvement other than the face, groin, genitals, and armpits can be treated with topical corticosteroids, extensive application of topical corticosteroids has its own cons.
Prolonged use of topical corticosteroids over extensive skin surfaces is associated with Cushing syndrome.
These patients may develop diabetes, hypertension, osteoporosis, fungal infections, and cushingoid facies.
Dupixent might help in reducing the dose of corticosteroids required to treat extensive skin disease.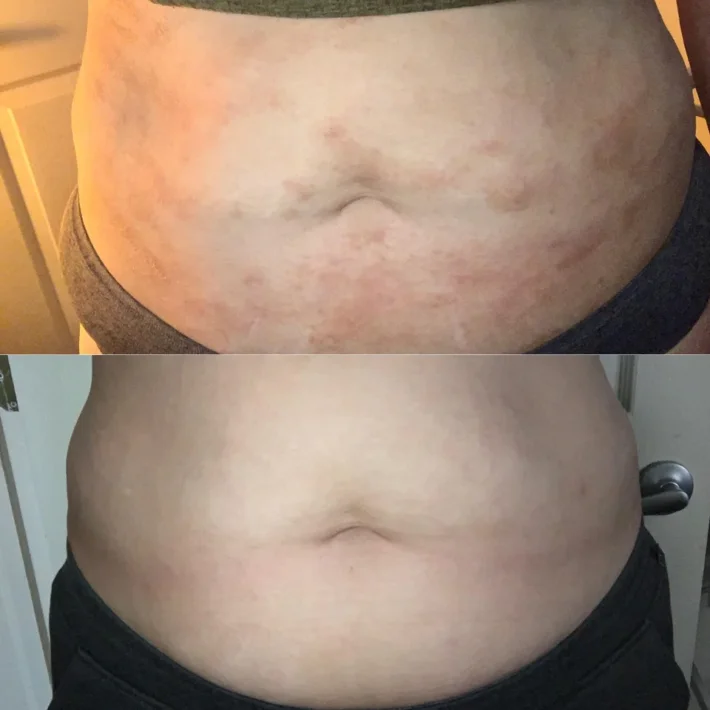 The above picture is before Dupixent (Dupilumab) use while the lower picture is after six months of using Dupilumab Injection. There is marked interval improvement.
Below are the tummy pictures of the same patient from the sides. Again, there is marked improvement as seen in the pictures shown here.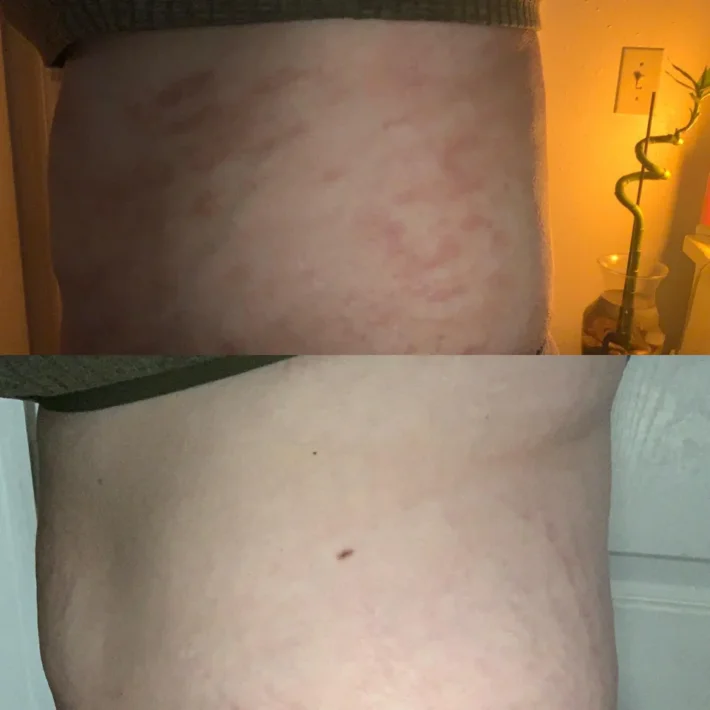 The same patient also shared pictures of her arms. Below are the pictures of her arms before and after treatment. The skin seems smooth and very healthy.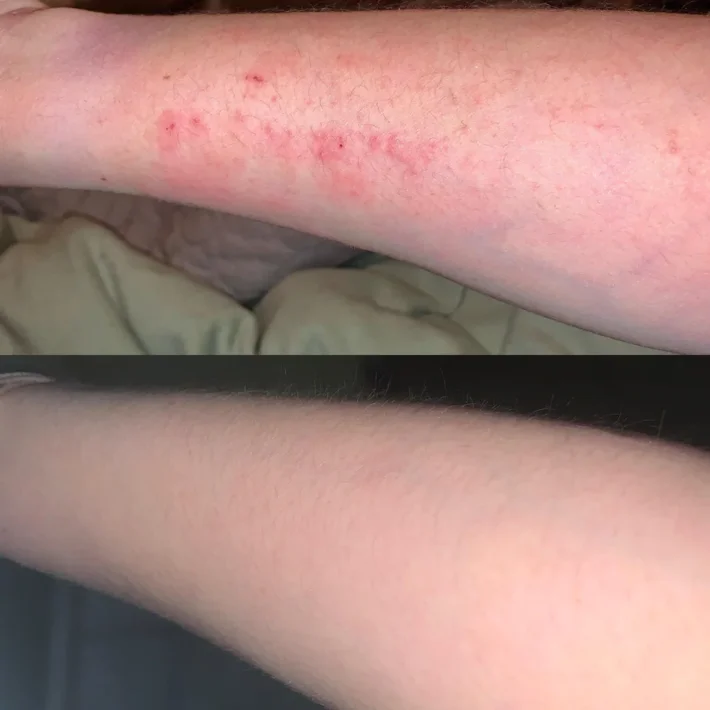 Lastly, pictures of her legs and feet. All the rashes disappeared within six months of Dupixent use. The skin is very healthy now.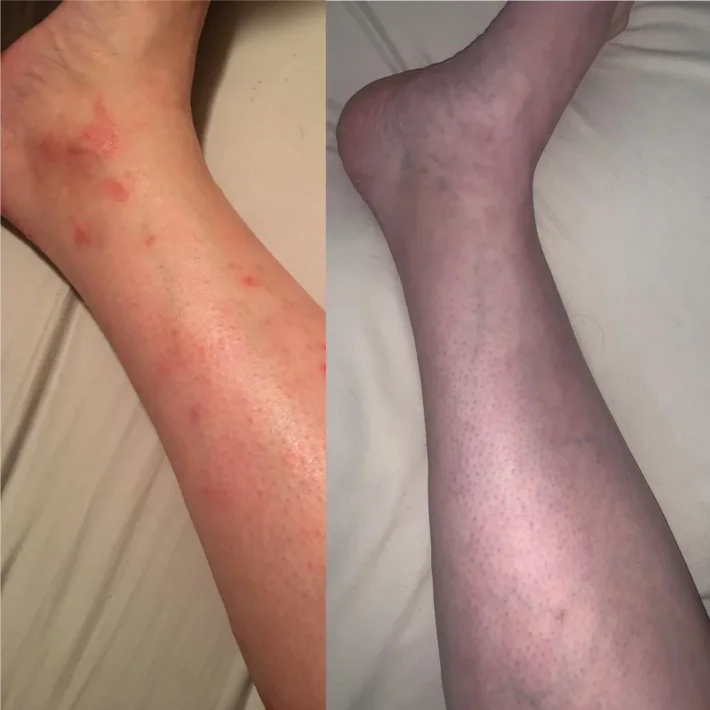 Review of the patient:
"I feel like myself, finally. It feels so incredible. I am so thankful"
| | |
| --- | --- |
| You may also like to read: | |
---
Dupixent Reviews: Eczema of the arms cleared after only three shots!
Although Dupixent may take up to 16 weeks, the time to reach a steady-state concentration, some patients notice improvement after the first few shots.
This is a review of a patient who noticed a marked improvement in the symptoms of his arm and forearm eczema.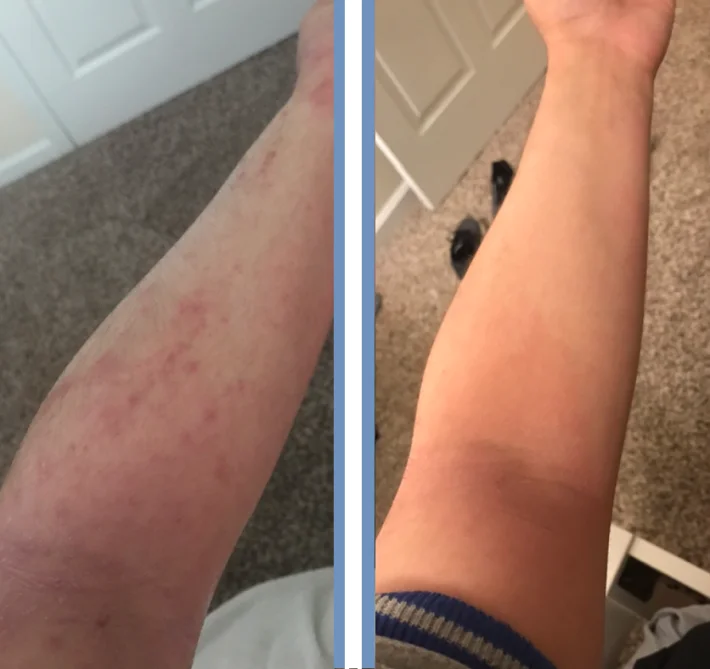 This patient had a rapid improvement in his eczema. He noticed improvement only after three shots of Dupixent injection.
Patient Reviews:
"I am getting my life and confidence back"
| | |
| --- | --- |
| You may also like to read: | |
Dupixent use and Random Flares on the neck and chest:
Random flares have been observed in patients who initially responded very well. Random flares have been observed especially in skin areas that are located around the eyes and near the face.
This is a picture of a patient who observed random flares in her symptoms after she got rid of a huge amount of eczema on her torso.
After months of using Dupixent, she started observing random flares over her neck and chest. Although, mild but still that is something to be worried about because the face and surrounding areas are very important as far as looks are concerned.
Dupixent cleared this patient's eczema but she developed random flares.
Reviews of the patient:
"I need help. I need to manage this. I got rid of huge amounts of eczema on my torso within a few weeks of starting Dupixent treatment, but noticed random flares over my chest and neck".
| | |
| --- | --- |
| You may also like to read: | |
Three months on Dupixent: Eczema of the hands and arms:
This is another patient who used to wear long sleeves just to hide his hands and forearms. He has shared pictures of his hand and forearm after three months of using Dupixent.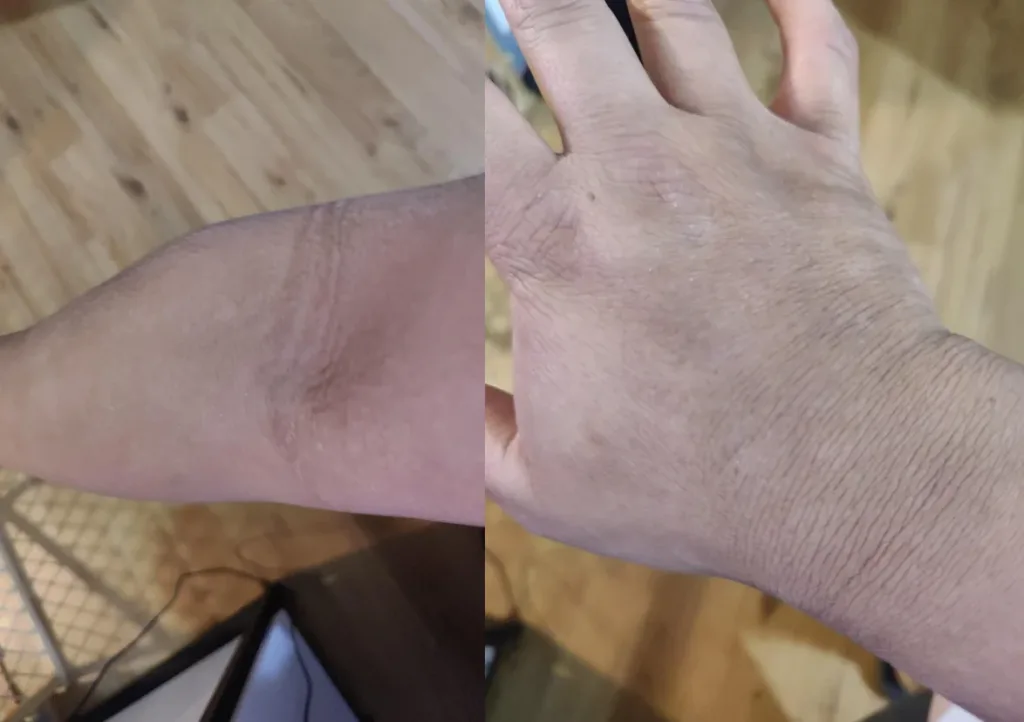 Review:
After three months of Dupixent, I can finally feel some sort of normal. I used to wear long sleeves to hide all the rashes and scabs over my forearms.
| | |
| --- | --- |
| You may also like to read: | |
Facial Eczema Cleared with Dupixent but flared with Aquaphor:
This patient used Dupixent for four months. After she noticed flares, especially over her face, she consulted her dermatologist.
Her facial eczema actually flared after she started using Aquaphor. Aquaphor is a cosmetic cream used OTC for skin dryness.
her skin condition rapidly improved when she stopped Aquaphor.
Reviews:
I thought Dupixent wasn't helping me when my face turned red after four months of using Dupixent. Turned out Aquaphor was the reason for my flares. I was using it like crazy. No flares after quitting Aquaphor.
| | |
| --- | --- |
| You may also like to read: | |
 Facial Eczema: Dupixent Before and After Pictures:
Another patient had severe eczema of the face that resolved almost completely using only four months of Dupixent treatment.
The facial skin cleared of all the scabs, extra skin, and redness, and became more healthy.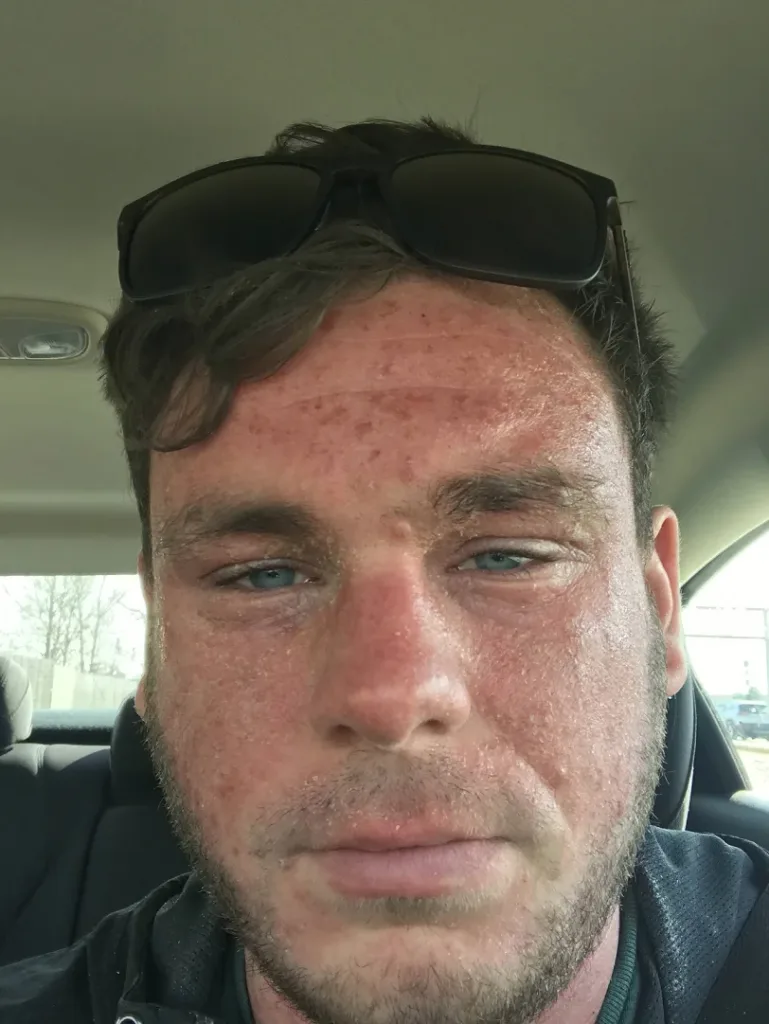 Reviews about Dupixent use:
"What a difference this had on my life. Now my skin feels more elastic and healthy. I strongly recommend those that are on the fence about starting Dupixent treatment"
| | |
| --- | --- |
| You may also like to read: | |
Dyshidrotic Eczema cleared with Dupixent:
Dyshidrotic eczema or pompholyx is basically an eczema of the palms and soles. Since the skin of the palms and soles is very thick, it is difficult to treat using topical corticosteroids.
Dupixent injection has helped this patient change his hand appearance significantly. he stated that his hand eczema cleared after struggling for 17 years and he had lost all hope.
Dupixent Reviews:
"Dupixent changed my life. I look back at my life and want to cry some days. I have had dyshidrotic eczema involving my hands for about 17 years and I never thought my hands would look normal again"
| | |
| --- | --- |
| You may also like to read: | |