Biologics are the medicines of the 21st century. These are kinds of medicines that are made of human proteins, specifically antibody-based therapies that are very targeted and precise in their mode of action. A list of Biologics in Asthma management is overviewed here. 
What is Asthma?
Asthma is a disorder of the respiratory tract in which the individual has difficulty in breathing. Most patients have intermittent episodes of wheezing and coughing.
In most cases, slimy viscous fluid comes out of the respiratory tract as well. The effect of this is problems with breathing and a whistling sound comes during expiration.
For some people, it is an ordinary situation but for many people, it is a life-taking disorder. There is no permanent cure for this disorder but the symptoms can be reduced by the use of certain drugs.
Asthma can be due to different reasons. It can be due to allergic reactions so it will be called Allergic Asthma.
It can be caused by the site of work as there can be some irritants at that place which can trigger the symptoms of asthma in which case it will be called Occupational  Asthma.
This can be cured by using a mask or change of profession where the air is clean. Another type is Nocturnal Asthma which occurs at night only.
Sometimes patients may have heart diseases or GERD which may be misdiagnosed as asthma. Lastly, obese patients may have asthma due to being overweight, called Obesity-associated Asthma.
Obesity and Heart Diseases: Heart Failure, A. Fibrillation, and SCD
Asthma Management and the Role of Biologics in Asthma:
Asthma management is done stepwise, depending on the severity of the condition. Patients may have occasional symptoms, especially when exposed to allergens. This is classified as "Mild Intermittent Asthma".
When the symptoms of Asthma are more frequent, the disease can then be classified as Mild Persistent or Moderate persistent asthma.
Lastly, Severe Persistent Asthma is when the patient has more severe symptoms that are present daily.
Intermittent asthma and mild to moderate persistent asthma can be managed with simple bronchodilators and inhaled corticosteroids.
The role of biologics in asthma is contemplated in patients who have severe persistent asthma that is not responsive to conventional therapy.
This approach may change in the future when biologics may be used as the first line of therapy in the management of asthma because they target the underlying pathophysiological processes.
What are Biologics Exactly?
It is a specific type of medication produced by the cells of organisms like mice or bacteria, which is altered to target particular substances in humans.
It can also be formed from proteins, DNA, or any part of a cell. It is available in the form of antibodies, vaccines, or interleukin.
It is different from drugs because it is not prepared chemically. The use of biologics is very wide because their effects are well defined and targeted.
Toxicity caused by biologics is lower than by drugs. It can be used against diseases like Crohn's disease, cancer, asthma psoriasis, and most autoimmune rheumatic diseases.
Biologics are large complexes that are produced by recombinant DNA technology.
Biologics in Asthma:
For the treatment of asthma, some inhalers have been used that ease the breathing process for asthma patients.
But these inhalers sometimes are not very effective in controlling it and cause trouble for the patients including wheezing or coughing especially at midnight.
Sometimes the patient has to seek a doctor for the treatment and has to use steroidal drugs which in the latter part of life can be hazardous because of the long-term side effects associated with them especially diabetes, hypertension, and osteoporosis.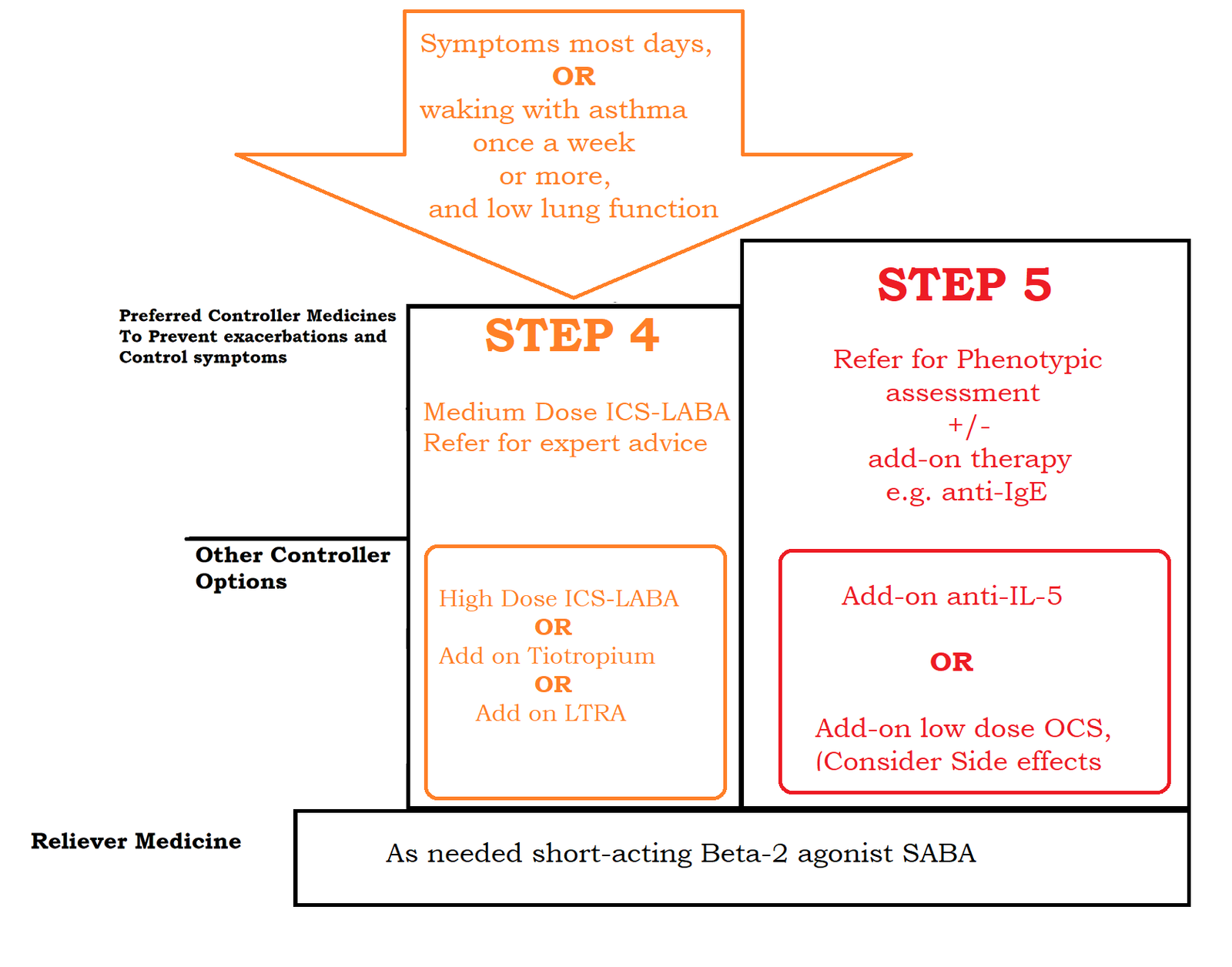 Biologics in asthma management are used usually in combination with inhalational therapies. They target the specific entities or components that develop asthma.
These components can be antibodies, pollens, dust, or receptors. These biologics are used when inhalers or other medicines that are used in daily routine do not help control asthma.
The advantage of biologics in asthma is that it attenuates the symptoms of asthma and makes the life of a patient independent of inhalers. Also, the capacity of the lungs is enhanced by it.
List of Biologics in Asthma Management:
Right now, there are about five biologics available for asthma which are listed below:
Omalizumab (Xolair)

Mepolizumab (Nucala)
How Does Dupilumab (Dupixent) Work?
Dupilumab (Dupixent) is an antibody that inhibits the signaling of interleukin-13 and IL- 4 in the cell.
Both of these are responsible for causing inflammation in the airways, resulting in difficulty in breathing.
Dupilumab binds with the IL subunit that blocks the type II IL-4 receptor. By using this, the function of the lungs is enhanced. It can be administered to an individual 12 years or older.
Dupilumab (Dupixent) has also been approved for the treatment of atopic dermatitis and eosinophilic esophagitis [Ref].
How Does Benralizumab (Fasenra) Work?
It is also an antibody that acts directly on the alpha subunit of IL-5. It relieves the symptoms of asthma.
It is indicated only in the treatment of eosinophilic or allergic asthma in children who are at least 12 years of age.
Unlike Dupixent, it is not indicated to treat other eosinophilic conditions [Ref]
How Does Omalizumab (Xolair) Work?
It works by attaching itself to the antibody IgE. By doing this, the IgE cannot attach itself to the mast cells that release histamine, causing allergic reactions which aggravate the symptoms of asthma.
It is used to treat moderate to severe forms of asthma especially when the oral glucocorticoids are ineffective. It is given up to 6 years of age to patients with asthma.
It may also be used to treat chronic urticaria without a known cause in children who are at least 12 years of age [Ref]
How Does Reslizumab (Cinqair) Work?
It is used to treat eosinophilic asthma. It weakens the immune system by decreasing the number of eosinophils in the lungs.
Though it is very effective, it is also very costly. It reduces the exacerbations in severe eosinophilic asthma patients. It is not indicated to treat other eosinophilic conditions.
There is always a risk of anaphylactic shock while giving this to the patient so it should be administered carefully by the professionals.
It can take up to four weeks for the maximum output. It can be given to patients of 18 years or more [Ref].
How Does Mepolizumab (Nucala) Work?
It stops the working of IL-5 which is responsible for the movement of eosinophils to the airways causing inflammation thus wheezing and coughing.
Effects of mepolizumab appear in 48 hours but for maximum efficacy, 4 weeks are required. It can be given up to 12 years.
Apart from its use in the maintenance treatment of eosinophilic asthma, it is also used to treat other allergic and autoimmune conditions, including [Ref]:
CRSwNP (chronic rhinosinusitis with nasal polyps)
EGPA (eosinophilic granulomatosis with polyangiitis, previously called Churg-Strauss Syndrome)
HES (hypereosinophilic Syndrome)
Administration of Biologics in Asthma:
Mepolizumab (Nucala):
Mepolizumab is given to eosinophilic patients with asthma subcutaneously after every 28 days. The dose of mepolizumab is fixed and that is 100 mg.
After its usage, the recurrent attacks of coughing and wheezing are remarkably reduced and the patient is less dependent on corticosteroids like medications and inhalers.
Reslizumab (Cinqair):
Reslizumab is injected intravenously after every 28 days and the dose is 3 mg per kg of the patient.
The number of eosinophils in blood after its administration is increased which prevents anaphylactic shock.
Benralizumab (Fasenra):
Benralizumab is administered subcutaneously. Three doses of  30 mg are given every 28 days and after this, the next dose is given after 56 days of the last dose, and so on.
Dupilumab is also given subcutaneously. In the beginning, the patient is given two injections, each of 200 mg or 300 mg. After 14 days, a single dose is given.
Omalizumab (Xolair):
Omalizumab is injected subcutaneously after 2 or 4 weeks and the dose ranges from 150 mg to 375 mg. It is also given according to the weight of a patient just like reslizumab and the number of IgE antibodies.
Side effects of Biologics Used in Asthma:
Most of the biologics used in asthma are very safe and have mild side effects. However, allergic and hypersensitivity reactions are common, especially those that are administered intravenously.
Apart from injection-site reactions and systemic hypersensitivity reactions, these drugs may be associated with an increased risk of infection.
It is also advisable to treat any underlying helminthic infection before initiating treatment with any of these biologics.
Omalizumab (Xolair):
Fever
Epistaxis
Pain in joints
Headache
Frequent infections
Mepolizumab (Nucala):
Tiredness
Flu
Abdominal ache
Itching
Urinary tract infections
Atopic dermatitis
Muscle stiffness
Headache
Reslizumab (Cinqair):
Cough
Vertigo or dizziness
Skin allergy
Fatigue
Benralizumab (Fasenra):
Fever after the first dose
Pharyngitis
Headache
Conjunctivitis
Injection site infections
Other infections
Headache