Nucala (mepolizumab) is a biological medicine that is used to treat asthma and granulomatosis with polyangiitis.
It is primarily indicated for use in the treatment of moderate to severe asthma patients who do not respond adequately to conventional therapies including inhaled corticosteroids.
In a large multi-centered placebo-controlled clinical trial, Mepolizumab significantly reduced the number of asthma exacerbations compared to placebo. Compared to placebo, it reduced the number of asthma exacerbations by up to 52% (depending on the dose) [Ref].
Introduction:
Nucala (Mepolizumab) is basically an add-on drug for the treatment of eosinophilic asthma. Nucala is a monoclonal antibody formed by recombinant DNA technology to target interleukin-5.
In allergic reactions, the number of eosinophils is increased because these white blood cells are secreted in response to allergens.
IL-5 is a chemical mediator for converting undifferentiated bone marrow cells into inflammatory WBCs.
These cytokines govern almost every process of inflammation whether it is the migration of these cells to the site of inflammation, activation or etc.
Nucala for Asthma – Eosinophilic Asthma:
Asthma is a respiratory disorder in which airways get narrow and there is excessive production of mucus. Shortness of breath, cough and wheezing are some of the common symptoms of this disease.
There are almost 300 million patients in the world suffering from asthma and the prevalence after one decade is nearly 50%.
The incidence of asthma is more in young persons below 18. Female adults are more affected than male adults.
Chances of asthma symptoms increase with age due to decreased lung capacity and prolonged exposure to the allergen.
Allergens that include pollens, dust, wheat, etc when entering the body, are recognized by the immune system and targeted by IgE antibodies. This results in allergic reactions.
Because eosinophils are the primary cells responsible for mediating most of the inflammatory processes in patients with asthma, Mepolizumab (Nucala) inhibits eosinophilic differentiation, growth, recruitment, and survival by targeting IL-5 receptors.
Xolair (Omalizumab) Injection: Uses, Dosing, Side effects, MOA, Price
Nucala for Asthma: Indications:
When the symptoms of asthma i.e midnight coughing, wheezing, shortness of breath, or difficulty in breathing starts prevailing more often, Nucala can be given to reduce these symptoms.
Nucala is usually given in step 5 of the management of asthma. At this step, usually, patients have tried most conventional asthma medications but still have exacerbations and frequent symptoms.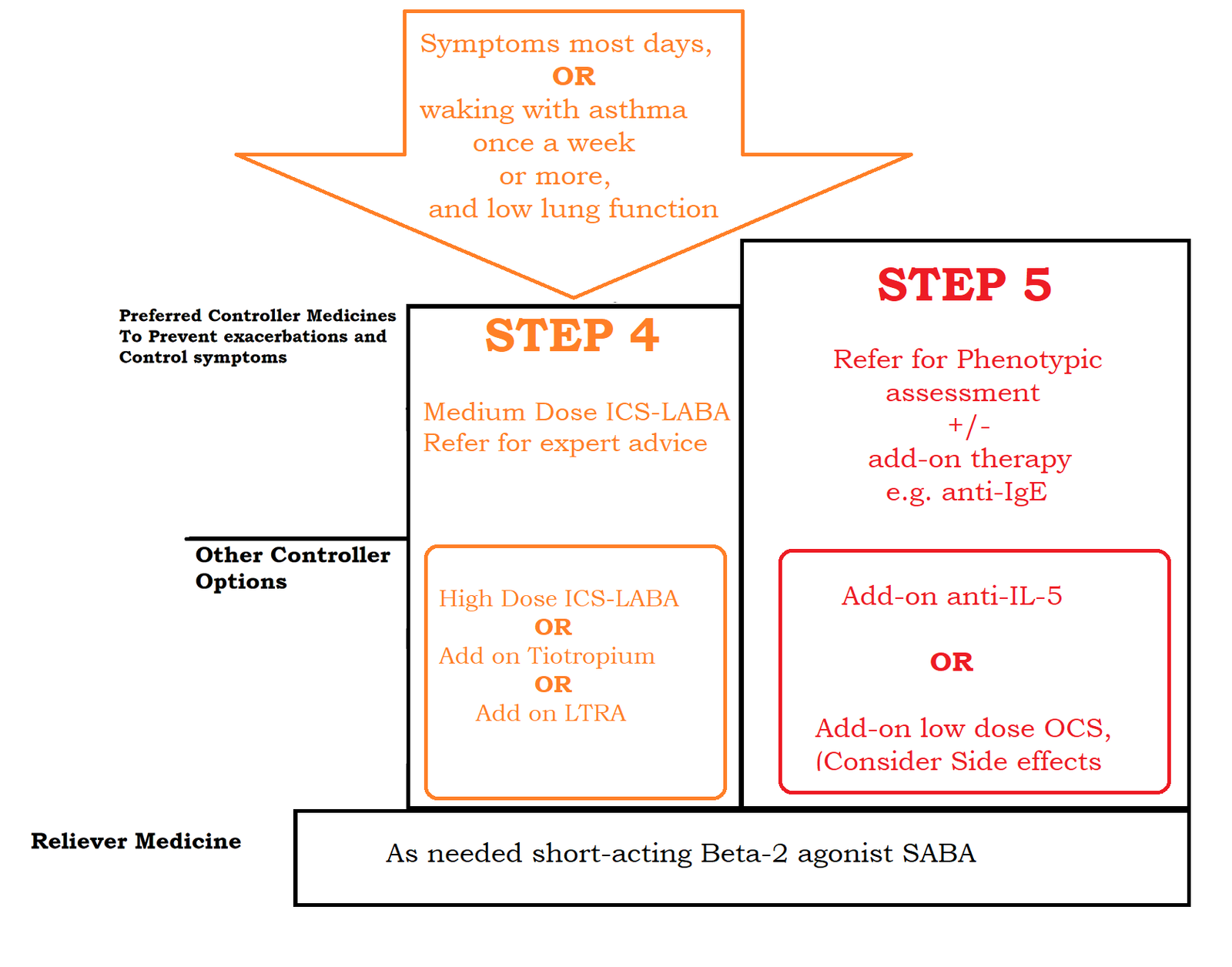 As shown in the picture below, Nucala or Mepolizumab is mentioned in step 5 of the GINA asthma management guidelines when the patient has tried all the conventional treatments including glucocorticoids.
Other drugs that may be used as alternatives to mepolizumab include Xolair (Omalizumab) and Dupixent (Dupilumab).
Mechanism of action of Nucala (Mepolizumab) in severe asthma:
As we know that in allergic reactions such as asthma, the number of eosinophils is more than normal. Mepolizumab (Nucala) reduces the number of eosinophils. It is recommended in eosinophilic or allergic asthma.
Nucala indirectly inhibits the activation and survival of eosinophils by binding to IL-5 which is the main cytokine that mediates the process of inflammation.
It prevents the binding of IL-5 to the eosinophil and thus allergic reaction is diminished in this way. It is obtained from human cells and is also known as the IgG1 kappa antibody.
About 75 to 80% of the drug reaches the circulation when administered subcutaneously so it is very efficient. It remains for almost 22 days in the body which represents its greater half-life. So the effect of the drug is long-lasting.
How to administer Nucala for asthma management:
Nucala is administered subcutaneously. The second session is given nearly four weeks following the first since the half-life is longer.
It is available as a prefilled autoinjector and as a vial powdered form that is prepared before administering it.
Although roughly 100 mg is the recommended amount, it is not always required and depends on how severe the symptoms are.
Contraindications to Nucala:
As Nucala reduces the count of eosinophils, in other words, the immune system is depressed by using this drug so it should be avoided in a person with a weak immune system like a patient with aids or cancer.
It should not be given to patients with acute bronchospasm.
Patients having infections should not be given Nucala and their infections should be treated first as it depresses the defense mechanism of the body.
Patients having problems with taking mepolizumab should not take this because it can result in severe hypersensitive reactions like angioedema, anaphylaxis, urticaria, etc.
Basic safety information for Nucala:
While giving mepolizumab, the following information should be kept in mind:
If there is an impulsive breathing problem, do not give Nucala without seeking the doctor.
If someone is allergic to mepolizumab, avoid Nucala to that person.
Tell your healthcare provider clearly about the signs and symptoms.
If you are giving Nucala to asthmatic patients, do not skip corticosteroids or other medications without discussing it with your doctor.
It is not given in patients below 6.
Side effects of Nucala:
Hypersensitivity or allergic reactions to the drug may occur.
The mouth of a patient may swell.
The patient feels light-headed as well.
Moreover, rashes or hives all over the body are very common due to allergic reactions.
As the immune system weakens while taking Nucala, certain infections can occur spontaneously, including the herpes virus, influenza, eczema, etc.
Infection at the site of injection is the second most common side effect of it along with, fatigue, pain in joints, etc.
Dupixent Side effects Red Face: Dupilumab Facial Redness (DFR)
Headache is the top most common side effect of this.
Due to hypersensitivity reactions, hypertension can also occur.
Long-term use does not have any serious side effects though prolonged usage of these medications can result in osteoporosis, muscle thinning, etc.
Sudden stoppage of Nucala can cause leaving effects which may include weight loss, fatigued body, pain, severe headache, etc.
Who may benefit from Nucala use?
By using Nucala, episodes of asthma symptoms reduce rapidly.
The dependence of asthmatic patients on other drugs, especially corticosteroids also decreases very rapidly.
The breathing process becomes normal.
It is safe to use in pregnancy as well as in breastfeeding mothers.
It lessens the number of eosinophils in the body and thus the allergic reactions are minimized by the use of Nucala.
The dose of Nucala can be self-injected by the patient after proper training.
Duration of efficacy of Nucala for Asthma:
At least after 48 hours of the first dose, the effects of Nucala begin to appear in the body. The maximum effectiveness of the drug to appear may take 4 weeks. So it should not be discontinued after some days if the response of the drug does not appear in the beginning.