Metformin is the most commonly used medicine to treat diabetes. It is one of the cheapest and most effective drugs, however, it is associated with side effects that cause most people to discontinue it.
Metformin is considered as the first line of treatment in the treatment of diabetes mellitus type 2 according to the American Diabetes Association (ADA), NICE, EMA, and IDF (International Diabetes Federation).
Apart from diabetes, metformin is also commonly used in obese patients with insulin resistance, females with polycystic ovarian syndrome, gestational diabetes mellitus, and females with ovarian hyperstimulation syndrome.
Who should not use metformin?
Before discussing the side effects of metformin, it is important to discuss the contraindications to its use.
Contraindications are conditions that can put the patient's life at risk if the drug is used.
Patients who are allergic to metformin:
Allergic reactions can occur in any patient. This is a general contraindication and is applied to all medications whether they are administered orally or intravenously.
Allergic reactions usually manifest as itching, hives, skin rash, facial and lips swelling, hoarseness of voice, stridor, and hypotension.
Patients who are allergic to metformin should avoid using it.
Type 1 Diabetes mellitus:
The primary defect in patients with Type 1 Diabetes is the lack of insulin. Metformin has no effect on endogenous insulin secretion.
If given to patients with T1DM patients, it can lead to life-threatening hyperglycemia and death.
Insulin Dependent Diabetes Mellitus (IDDM) Type 1 and Type 2
Diabetic Ketoacidosis:
Individuals with diabetes who develop DKA have relative or absolute insulin deficiency. Since metformin does not alter insulin secretory mechanisms, it has no role in the treatment of DKA.
Patients with DKA require insulin for controlling hyperglycemia. Furthermore, metformin may aggravate the acidosis in patients with DKA by the formation of lactic acid.
Metformin should be avoided in patients with acidosis, especially in DKA.
Kidney disease:
Until recently, metformin was contraindicated in even mild to moderate renal dysfunction. The cut-off of eGFR has been brought down to 30 ml/minute or more.
Patients with fluctuating kidney functions, such as those with acute kidney injury, and those with a GFR of less than 30 ml/minute should avoid using metformin.
Metformin use in these patients may result in serious adverse effects, especially lactic acidosis.
Liver disease:
Metformin can be given in mild to moderate liver disease. However, it should be avoided in patients with severe hepatic dysfunction due to the risks of lactic acidosis.
Acute cardiac conditions and sepsis:
Patients who have acute coronary syndrome, heart failure, or develop hypotension are at risk of developing lactic acidosis when they take metformin.
Similarly, patients who develop hypotension and shock due to any reason including sepsis and dehydration should not take metformin.
Sepsis is associated with an increased risk of lactic acidosis and metformin can worsen the condition.
Obesity and Heart Diseases: Heart Failure, A. Fibrillation, and SCD
Previously documented lactic acidosis:
If a person has a documented history of lactic acidosis following the use of metformin in the past, it is better to avoid metformin in such patients.
The risk of lactic acidosis is very high in patients who are re-treated with metformin.
Lactic acidosis was the reason metformin was not approved by the FDA for so many years although it was widely used in Europe.
Lactic acidosis was more severe with phenformin which belongs to the same class of medicines, the Biguanides.
Metformin and Lactic Acidosis:
Since lactic acidosis is the main reason it is being avoided in many conditions like renal failure, heart failure, and liver failure, it warrants a little detailed discussion here.
Metformin-associated lactic acidosis or MALA is a serious life-threatening condition. The mortality rate of MALA is about 50%. MALA is the reason metformin is contraindicated in advanced renal disease.
However, in clinical practice, the incidence of MALA is less than 2 cases per 100,000 per person-years. Because of its very low incidence, most experts believe that a large number of diabetic patients are deprived of metformin [Ref].
Metformin for Weight Loss: Beyond Diabetes & Insulin Resistance
Metformin-associated lactic acidosis can be life-threatening. Patients who develop lactic acidosis can develop bradyarrhythmias, hypotension, hypothermia, and die.
MALA occurs usually in patients who have a plasma metformin level exceeding 5 mg/ml. Patients also have high-anion gap metabolic acidosis and increased lactate: pyruvate ratio.
Metformin should be initiated very cautiously in the following patients because they are at a very high risk of developing MALA:
Patients older than 65 years of age
Patients who have advanced kidney disease
Patients who undergo radiographic imaging studies for which a radiocontrast agent is administered.
All those patients who undergo major surgeries or procedures for which radiographic contrast agents are given
Patients who may develop hypoxia such as cardiac failure, respiratory failure, advanced COPD, and other chronic lung conditions
Patients with advanced liver disease and those who consume alcohol in excessive quantities
Patients on concomitant drugs like acetazolamide and topiramate.
Identifying patients with lactic acidosis is very important since it is a life-threatening condition and totally preventable. Early symptoms and signs of lactic acidosis include somnolence, muscle cramps, myalgias, and malaise.
Patients who develop lactic acidosis should immediately discontinue metformin. In addition, in severe lactic acidosis, they may need hemodialysis.
Metformin Side effects:
Most of the side effects of metformin are related to the gastrointestinal tract. In a trial comprising 141 patients, 6% of the patients discontinued metformin due to diarrhea.
Other gastrointestinal side effects that occurred in more than 5% of the patients are given in the table here [Ref]:
| | | |
| --- | --- | --- |
| | Metformin | Placebo |
| Diarrhea | 53% | 12% |
| Nausea/ Vomiting | 26% | 8% |
| Flatulence | 12% | 6% |
| Asthenia | 9% | 6% |
| Indigestion | 7% | 4% |
| Abdominal Discomfort | 6% | 5% |
| Headache | 6% | 5% |
Other less common side effects of metformin include:
Abnormal stools
Abnormal taste
Anorexia
Post-meal bloating
Abdominal Fullness
Side effects other than the Gastrointestinal tract include:
Dizziness
Palpitations
Chest discomfort
Flushing
Sweating
Weakness
Flu
Anemia
Cholestasis and Hepatitis
Vitamin B12 deficiency
Hypoglycemia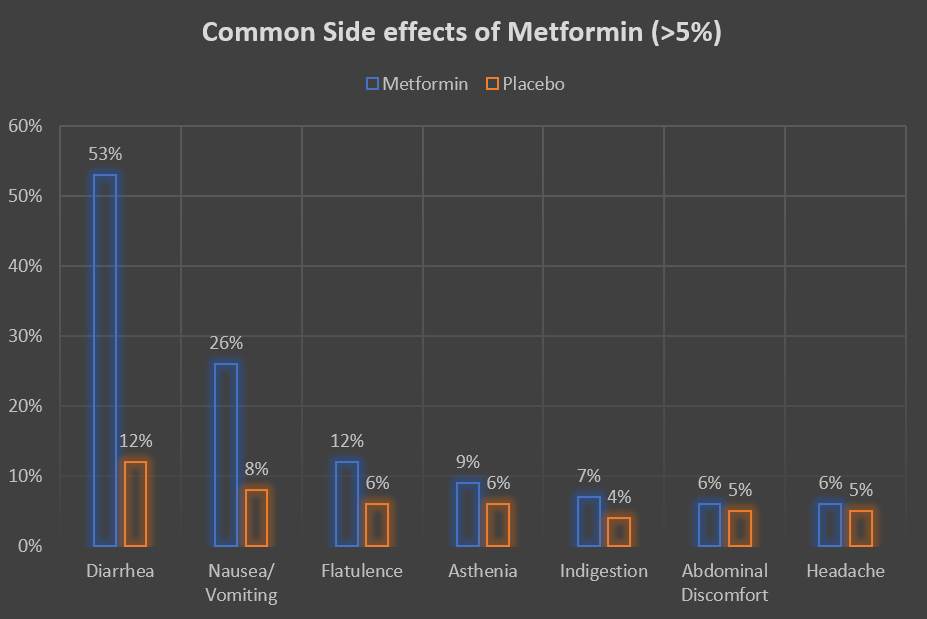 Metformin associated Vitamin B12 deficiency:
Patients with diabetes are at risk of developing diabetic neuropathy. Sometimes, these patients have a concomitant vitamin B12 deficiency that can worsen the underlying symptoms of neuropathy.
The exact mechanism of patients developing vitamin B12 deficiency due to prolonged metformin use is not known.
One theory is that metformin interferes with the Intrinsic factor-Vitamin B12 complex and inhibits the absorption of vitamin B12.
Diabetic Foot Ulcer: Risk Factors, Causes, Stages, & Treatment
Symptoms of vitamin B12 deficiency include numbness, paraesthesias, tingling, pins, and needles like sensation, weakness, fatigue, lethargy, glossitis, abnormal taste, impaired memory, and early greying of hair.
These symptoms are the same as patients with diabetic neuropathy. However, the treatment of diabetic neuropathy is different than vitamin B12 deficiency-related peripheral neuropathy.
Pregabalin, Gabapentin, and Duloxetine are commonly prescribed in patients with diabetic neuropathy. However, the treatment of Vitamin B12 associated neuropathy is the replacement of vitamin B12.
Hypoglycemia associated with metformin:
Metformin is considered a euglycemic drug. When given as monotherapy, it does not cause hypoglycemia.
In fact, most patients with polycystic ovarian syndrome, oligomenorrhea in PCOS, and patients with antipsychotic-associated weight gain are not diabetic.
However, when combined with insulin, sulfonylureas, or other antidiabetic medicines, metformin may increase the incidence of hypoglycemia.
Signs and Symptoms of Hypoglycemia in Newborns, Pregnant, and Old Age