Ozempic and Rybelsus are two different formulations of Semaglutide. Ozempic is the injectable formulation that is administered once a week just like insulin into the subcutaneous skin. Rybelsus is an oral Semaglutide that is administered once daily. Ozempic is now available in Pakistan. Rybelsus has not been marketed yet in Pakistan.
Semaglutide is available in three formulations worldwide. Rybelsus is available as oral tablets while Ozempic and Wegovy are two injectable forms of Semaglutide. Semaglutide belongs to the class of medicines called GLP-1 analogs.
GLP-1 analogs (Glucagon-like peptides) are a group of medicines that act at multiple sites and are used to treat patients with obesity and diabetes, diabesity in short. The commonly used GLP-1 analogs include:
Liraglutide (Saxenda and Victoza)
Dulaglutide (Trulicity)
Exenatide (Byetta)
Albiglutide
Semaglutide
What are the benefits of Ozempic and Rybelsus?
Ozempic and Rybelsus are the injectable and oral forms of Semaglutide. Both these formulations have been approved for the treatment of patients with diabetes mellitus type 2. Wegovy is a high-dose injectable, once-weekly Semaglutide, that has been approved only for the treatment of obesity and overweight individuals.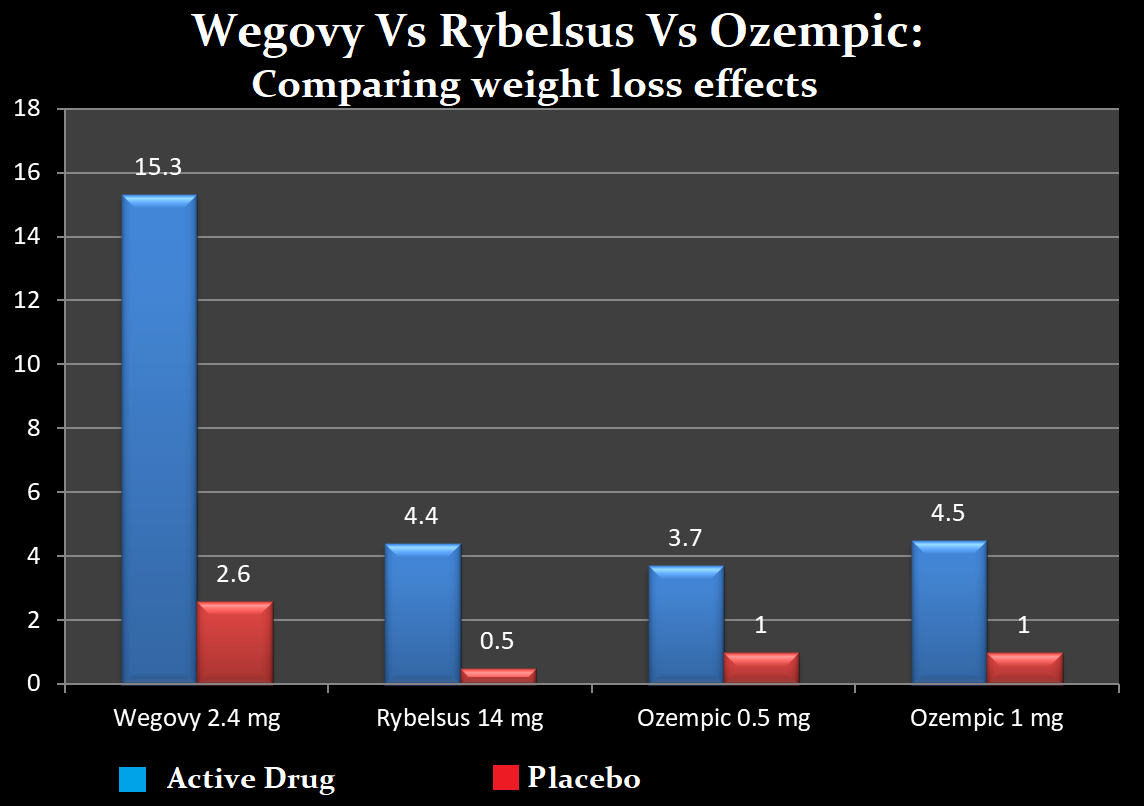 Efficacy of Ozempic and Rybelsus in the treatment of patients with Diabetes:
Because Semaglutide is primarily used to treat patients with diabetes, knowing its glycemic efficacy is more important. The sustain trials evaluated the glycemic efficacy of Rybelsus and Ozempic.
Rybelsus has been found to lower glycated hemoglobin by about 1.3% or more, although, this is dependent on the baseline glycated hemoglobin.
Ozempic lowered the glycated hemoglobin by 1.2 to 1.8% from the baseline.
What is Wegovy, Rybelsus, and Ozempic? Efficacy in DM and Obesity
Weight loss of effects of Ozempic and Ryeblsus:
Although not approved primarily for weight loss, Rybelsus and Ozempic both reduced weight by 8 to 12 pounds after 26 weeks. Wegovy is a high dose injectable Semaglutide administered in a dose of 2.4 mg once weekly has been found to be superior to most weight loss drugs. It reduced body weight by 16% from the baseline.
In real-life patients, Ozempic reduced weight by about 17 lbs from the baseline after a mean of three months of using it.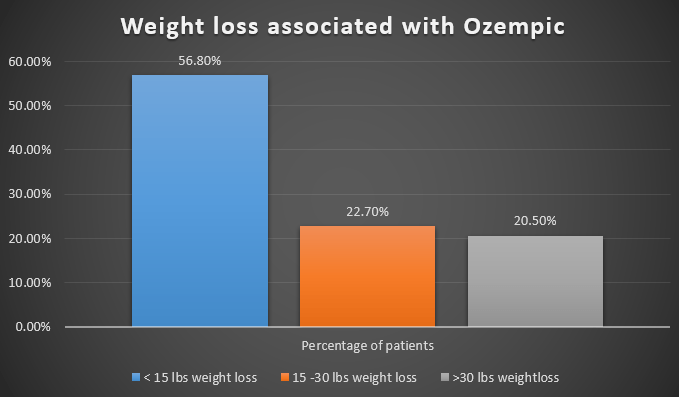 Semaglutide use in patients with PCOS:
Semaglutide is being studied in patients with PCOS. Data regarding its use in patients with PCOS is limited. One study hypothesized the beneficial effects of Semaglutide in patients with PCOS as it may act on the following pathways:
It is associated with weight loss and improves insulin sensitivity
It improves free androgen index and abdominal fat
It may enhance ovulation, and
Regularize menstrual cycles.
Ozempic and Rybslus may help redistribute the abdominal fats and hence reduce the levels of adipokines and 5-alpha reductase inhibitor.
Semaglutide (Ozempic and Rybelsus) use in patients with Prediabetes:
Ozempic and Rybelsus have not been approved for the treatment of patients with prediabetes. Since weight loss is one of the primary interventions in the treatment of diabesity (Diabetes and obesity), Rybelsus and Ozempic have a theoretical advantage over other medications used to treat prediabetes.
Semaglutide use in patients with fatty liver and NASH:
Rybelsus and Ozempic have also been found in clinical trials to help patients with fatty liver and NASH. In one study, Semaglutide resulted in a significant reduction in the high-sensitive CRP (hsCRP) levels and reduce ALT in 46% of the patients [Ref]
What are the hazards and side effects of Ozempic and Rybelsus?
Like all GLP-1 analogs, the most common side effects associated with the use of GLP-1 analogs are related to the gastrointestinal tract.
Semaglutide may cause the following GI-related side effects:
Nausea and vomiting
Abdominal bloating
Heart burn
Constipation or diarrhea
abdominal pain
Dyspepsia
Some of the side effects may be very serious or life-threatening. Important side effects, one should be aware of are:
Pancreatitis associated with Semaglutide:
All GLP-1 analogs are associated with an increased risk of pancreatitis. It is important to avoid it in patients with a history of pancreatitis especially in those patients with recurrent pancreatitis.
All patients should be advised to report symptoms of severe epigastric pain and vomiting.
Kidney disease associated with Semaglutide:
Acute kidney disease and exacerbation of chronic kidney disease may occur when treatment with Semaglutide is initiated. Patients should be warned to report new physical symptoms and monitor renal functions after initiating the treatment.
Furthermore, it is advisable to not initiate treatment with Semaglutide in patients who have dehydration, low or very high blood pressure, and vomiting.
Retinopathy associated with Semaglutide:
Diabetic retinopathy may worsen in patients who are initiated on Ozempic or Rybelsus for diabetes control. Diabetic retinopathy has also been demonstrated with other diabetes medications including insulin.
However, the percentage of patients who develop diabetic retinopathy with Ozempic or Rybelsus compared to other GLP-1 analogs is significantly high. Patients who had background diabetic retinopathy are more at risk compared to those who do not have it at baseline.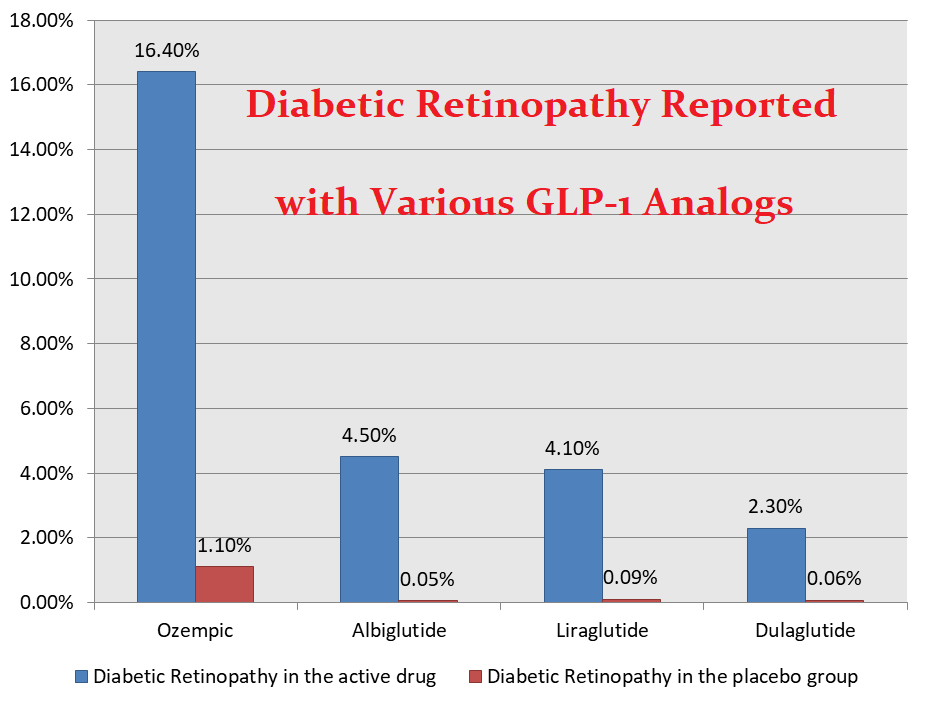 Semaglutide and Cancers:
Semaglutide, like other GLP-1 analogs, is contraindicated in patients with medullary thyroid cancers or those with a genetic disease that increase the risk of medullary thyroid cancers. These include all patients with MEN syndrome.
MEN syndrome type 2 is characterized by medullary thyroid cancers, pheochromocytoma, and parathyroid adenoma. MEN 2B also includes patients with neuromas, marfanoid body habitus, in addition to medullary thyroid cancer and pheochromocytoma.
In addition, patients may report palpitations, anxiety, and rapid heart rate. It is also important to initiate treatment on a low dose and gradually titrate the dose.
Can you get Ozempic for free in Pakistan:
No. Government employees can reimburse the bill and hence get it free of cost in Pakistan. Other patients can get it from their insurance companies.
The monthly cost of Ozempic is PKR 19000. However, you can get it at a discount rate if you buy it directly from the company, Novo-Nordisk. To get it at a discount rate of 16500 per month, you can call 0800-46686.
Semaglutide in Pakistan: Brand Name, Price, Side effects, Dose
Along with the medications, Novo also provides diabetic counseling and delivers you Ozempic at your doorstep. However, a proper prescription from your healthcare provider is essential.
To get Ozempic prescription online, you can get an appointment at emedz.net after registering yourself. Here is the link for an appointment to get Ozempic Prescription in Pakistan: Online Video Consultation (emedz.net).