Orlistat for weight loss: Commonly used under the brand names Xenical and Alli diet pills, BUT are they effective?
Orlistat is a commonly used drug approved for the treatment of obesity and overweight individuals. It is available in two dosage strengths, 60 mg, and 120 mg.
60 mg is available over the counter while 120 mg is a prescription-only medicine. To get the 120 mg Capsules, you need to have a valid prescription.
Orlistat 60 mg is an OTC medicine and is available under the brand name Alli. Orlistat 120 mg is available under the brand name Xenical.
How does Orlistat cause weight loss?
Orlistat inhibits the absorption of dietary fats. It acts by inhibiting enzymes in our gastrointestinal tract that make the dietary fats ready to be absorbed.
It reversibly inhibits the luminal lipases that degrade dietary fats. Dietary fats are only absorbed when degraded into smaller fragments.
Roughly, our diet contains about 120 grams of fat. Orlistat inhibits about a third of the dietary fats from getting absorbed into the systemic circulation.
This is equivalent to about 30 GM's of fats daily and 270 calories per day. However, the efficacy of Orlistat depends on the amount of dietary fats, the dosage of Orlistat, and the frequency of administration of the drug.
Losing 270 calories daily means 8100 per month. It is estimated that a person can lose about one pound of weight per month if the average calorie deficit is 3500 calories. Thus, Orlistat can cause a weight loss of about 2.3 pounds per month.
You can also lose about 3 pounds per month if you walk daily for five miles. If you run 5 miles daily, you double the weight loss effect. Thus, you can lose about 6 to 8 pounds per month when running 5 miles per day.
Orlistat Weight Loss in Clinical Trials [Ref]:
Orlistat is one of the six FDA-approved weight-loss drugs. Orlistat (Xenical) is the only drug that is primarily indicated to treat obesity. Unlike other weight-loss drugs that are approved for other indications as well apart from obesity.
These include:
Semaglutide 2.4 mg once weekly is approved for weight loss. Semaglutide in low dose (Ozempic and Rybelsus) have been approved for diabetes type 2.
Phentermine/ Topiramate (Qsymia):
Qsymia is approved for weight loss while topiramate alone is indicated for seizures and migraine prophylaxis.
Contrave (Naltrexone/ Bupropion):
Contrave is approved for weight loss. Bupropion alone is indicated for depression and smoking cessation.
Liraglutide is approved in high doses for obesity. In low doses (0.6 mg and 1.2 mg), it is used to treat obesity.
Lorcaserin:

Lorcaserin is a weight loss drug, however, it has been discontinued because of its association with cancers.
In clinical trials, the average weight loss documented with Orlistat is 3% more compared to placebo-treated patients if it is taken in a dose of 120 mg three times a day for one year.
The average weight loss at the end of one year of Orlistat was 13.4 lbs compared to 5.8 lbs weight loss in the placebo-treated patients.
5% or more weight loss was observed in a greater percentage of patients treated with Orlistat compared to Placebo.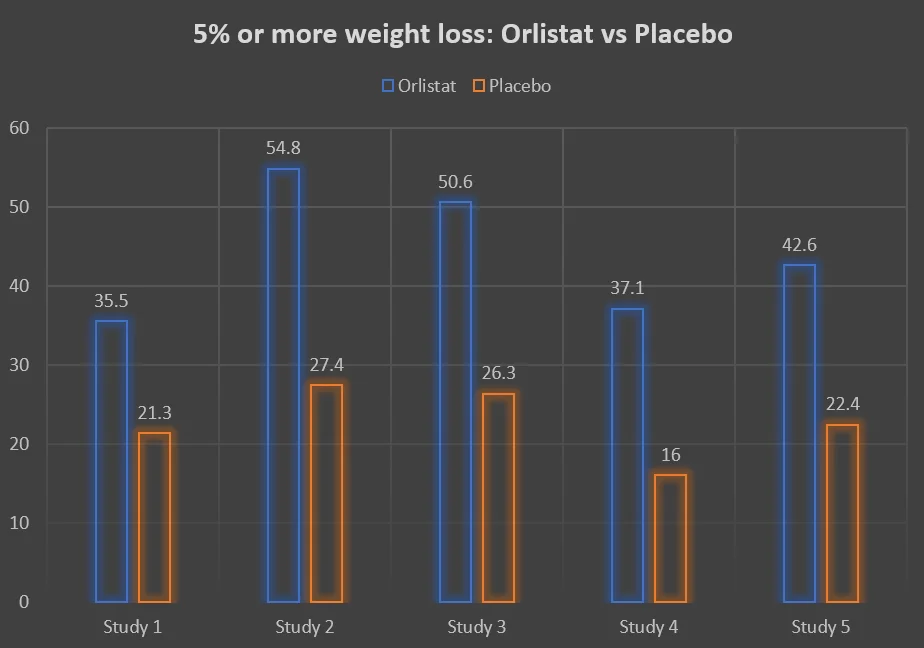 Likewise, more patients in the Orlistat group lost 10% or more weight compared to those patients who were treated with a placebo.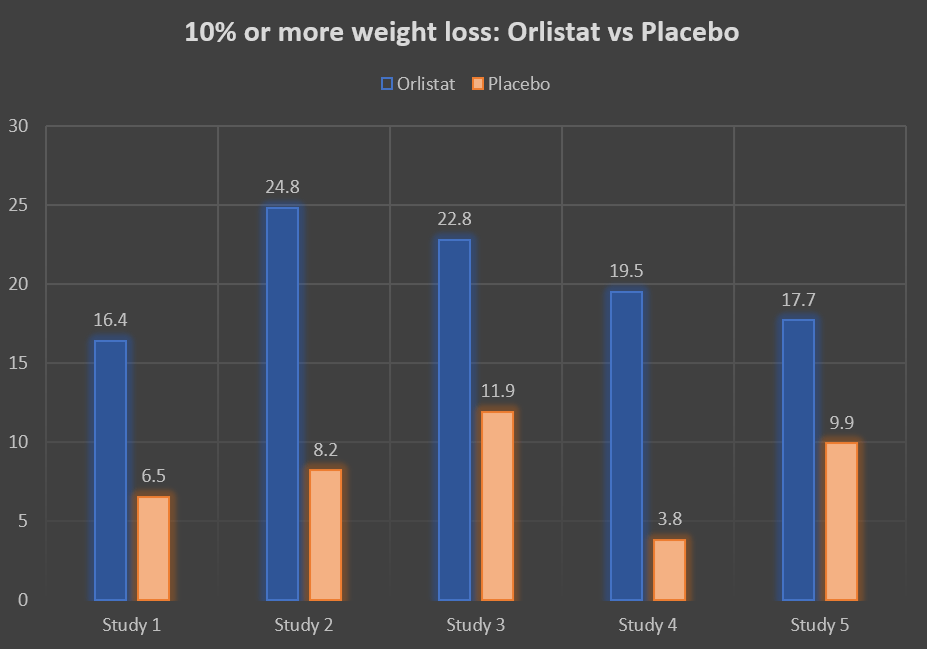 Weight regain is one of the major issues when weight loss treatment is discontinued. Patients in Orlistat (Xenical) group and Placebo treated patients were followed after 6 months.
Almost half of the weight that was lost was regained by participants in the placebo-treated group. On the other hand, participants regained about 25% to 35% of their lost weight.
Orlistat (Xenical) for Diabetes [Ref]:
Orlistat has been studied to prevent the onset of diabetes in a significant number of patients who have prediabetes or an impaired oral glucose tolerance test.
In obese patients with normal Oral Glucose Tolerance Test, the incidence of diabetes was the same in patients treated with a placebo and Orlistat.
The reduction in the incidence of diabetes was presumed to be due to weight loss rather than a direct effect of Orlistat on blood glucose, insulin secretion, or insulin resistance.
However, Orlistat does reduce the absorption of dietary fats and that might have some effect on the glycemic profile of patients.
Orlistat was also studied in diabetic patients who had good glucose control on stable doses of sulfonylureas. The addition of orlistat resulted in significant weight loss along with a reduction in glycated hemoglobin.
The table summarizes the results of the study [Ref]:
| | | | |
| --- | --- | --- | --- |
| | Xenical (Orlistat) | Placebo | P-value |
| Percentage of patients who discontinued sulfonylureas | 11.7% | 7.5% | < 0.05 (Significant) |
| Percentage of patients who reduced the dose of sulfonylureas | 31.5% | 21.4% | < 0.05 (Significant) |
| The average reduction in sulfonylureas doses | -22.8% | -9.1% | < 0.05 (Significant) |
| Change in body weight in lbs | -8.9 | -4.2 | < 0.05 (Significant) |
| HbA1C | -0.18% | +0.28% | < 0.05 (Significant) |
| Fasting glucose in mmol/l | -0.02 | +0.54 | < 0.05 (Significant) |
| Fasting Insulin levels in pmol/L | -19.68 | -18.02 | Not significant (>0.05) |
Orlistat (Xenical) is not an anti-diabetic drug, unlike Liraglutide and Semaglutide. Therefore, in the treatment of Diabesity (Diabetes plus Obesity), Liraglutide, and especially Semaglutide, is one of the best options.
GLP-1 analogs like Liraglutide and Semaglutide are not only effective medications for the treatment of diabetes, they are associated with significantly greater weight loss compared to Orlistat and other weight loss medications.
Orlistat (Xenical) side effects:
Orlistat inhibits dietary fats from getting absorbed into the blood. Thus, at least 30% of our dietary fats are excreted in stools.
Fats or oil in stools can cause oily spotting. Oily or greasy stools are the most common side effect affecting one-fourth of the patients using Xenical. The severity, however, depends on the amount of dietary fats ingested.
Diets that are low in fats and oils are least likely to cause oily spotting and other gastrointestinal side effects.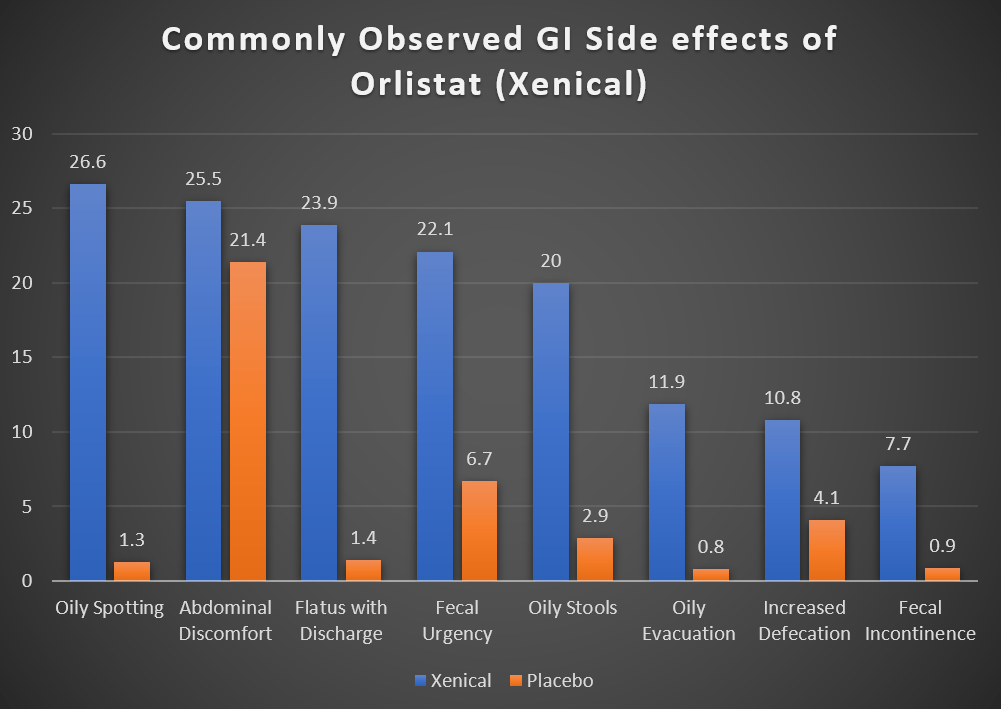 A high number of patients also develop excessive gases, flatulence, and discharge flatus. Patients may not be able to hold stools and have an excessive urge to defecate. On the extremes, patients may develop fecal incontinence.
Most of the gastrointestinal-related side effects are short-lasting. These side effects last for one to four weeks in most patients but may persist for up to six months.
Other less common and non-significant side effects of Orlistat are listed here:
Gastrointestinal Side effects:

Nausea and vomiting
Infectious Diarrhea
Rectal pain and discomfort
Tooth and Gingival disorders

Respiratory System:

Influenza
Upper and lower respiratory tract infections
ENT related symptoms
Otitis

Musculoskeletal System:

Back pain
Arthritis and Arthralgia
Myalgia
Tendonitis
Joint disorders
Limbs pain
Fatigue

CNS side effects:

Headache and Dizziness
Sleep disorder
Anxiety
Depression

Skin-related side effects of Orlistat:

Side effects related to the female reproductive system:

Vaginitis
Irregular menstrual cycles

Urinary tract Side effects:

Cardiovascular side effects
Recently, FDA added a Black Box Warning with the use of Orlistat (Xenical). The warning was issued after 36 cases of severe liver injury were reported in patients using Alli (OTC Orlistat 60 mg).