Qsymia is one of the few drugs that has been approved for weight loss. It is a combination pill containing Topiramate (Topamax) and Phentermine.
Qsymia is most effective for weight loss when combined with a low-calorie diet and regular exercise.
Buy Phentermine Natural Supplements
What do we know about Qsymia?
Qsymia is a compound of topiramate and phentermine. This usually comes in the form of an extended-release capsule (a capsule designed to release the medication at a pre-determined time).
Topiramate is an anticonvulsant that is used as a medication for seizures and phentermine is a stimulant drug used to suppress appetite.
This medication has been approved by the Food and Drug Administration (FDA) for the treatment of weight loss in obese and overweight individuals.
| | |
| --- | --- |
| You may also like to read: | |
Qsymia for weight loss
Qsymia for weight loss is not recommended to be used alone. It is used in combination with a healthy low-calorie diet and proper exercise to manage weight loss for overweight or obese individuals.
Treatment with Qsymia is recommended for:
People who are obese with a BMI (Body Mass Index) of 30 kg/m² or more, or
Overweight individuals with a BMI of 27 kg/m² or more and associated with one or more obesity-related complications.
Hypertension
Dyslipidemia
Cardiovascular diseases
a waist circumference of 88 cm and 102 cm in women and men respectively.
How does Qsymia work as a weight-loss drug?
As of now, the mechanism through which Qsymia works is unknown. But there are some theories; scientists believe that it might work by enhancing the utilization of energy in your body and decreasing your appetite.
The two active drugs of Qsymia are phentermine and topiramate.
Phentermine is a stimulant drug that increases the metabolic rate of the body, hence utilizing energy more efficiently. It also suppresses the appetite and is a strong anorexiant drug.
Topiramate is primarily a drug used to treat seizures. In animal studies, it has been found to suppress appetite by acting on the hunger centers in the brain. It reduces cravings for foods that have a high glycemic index and are rich in calories.
| | |
| --- | --- |
| You may also like to read: | |
Qsymia for weight loss: Efficacy in clinical trials:
Qsymia has been studied in various clinical trials. It has been proven to be superior to placebo and causes significant weight loss primarily by its appetite-suppressant mechanism.
In one clinical trial that included all obese individuals without associated comorbid medical conditions, it was found to have a dose-dependent effect.
Qsymia 3.75/23 mg resulted in a 5% or more weight loss in 45% of the study population compared to only 17% in the placebo group.
Similarly, when administered in a dose of 15/92 mg, Qsymia resulted in a 5% or more weight loss in 67% of the studied participants.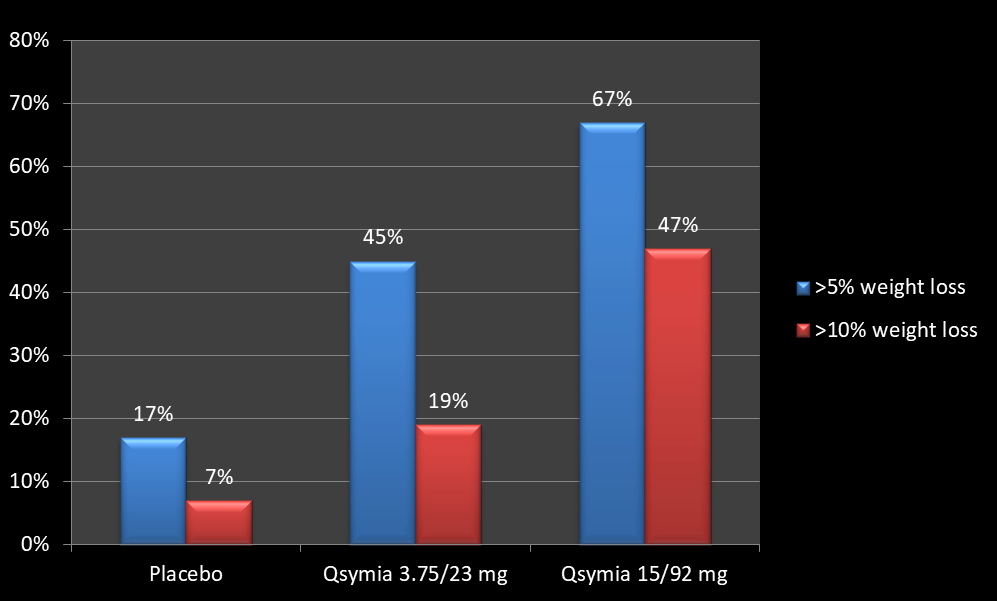 10% or more weight loss occurred in 47%, 19%, and 7% of the high-dose Qsymia group, low-dose Qsymia group, and placebo respectively.
Qsymia has also been studied in obese or overweight individuals who have associated complications of obesity such as diabetes, hypertension, and dyslipidemias. The results of the study are:
5% or more weight loss:
Placebo: 21% of participants lost 5% of their weight.
Qsymia 7.5/46 mg: 62% of participants lost 5% of their weight.
Qsymia 15/92 mg: 70% of participants lost 5% weight and 10% weight loss in 48% of participants.
10% or more weight loss:
Placebo: 7% of participants lost 10% of their weight.
Qsymia 7.5/46 mg: 10% weight loss occurred in 37% of participants.
Qsymia 15/92 mg: 10% weight loss was observed in 48% of participants.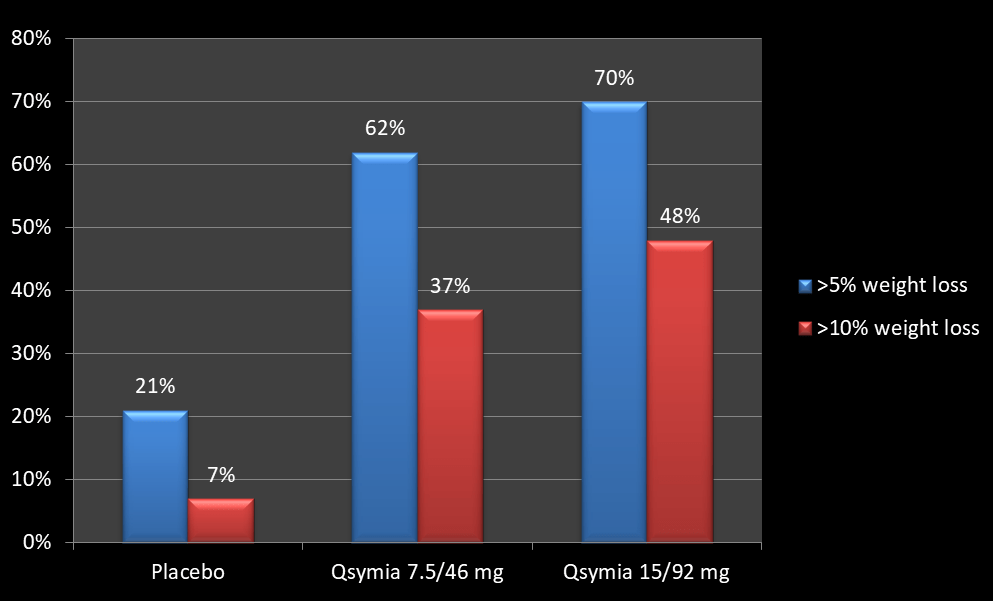 Wegovy is a newly approved weight loss drug. In clinical trials, it was found to cause 10% weight loss in 69.1% of the participants compared to 12% in the placebo group. There is an absolute difference in weight loss of 57.1%.
Qsymia, even when administered in high doses, resulted in 10% or more weight loss in 48% of the participants compared to 7% in the placebo group. There was an absolute difference of 41%.
| | |
| --- | --- |
| You may also like to read: | |
Guidelines to use Qsymia for weight loss:
Qsymia is a prescription-only drug. It is strictly forbidden to use this medication without the consultation of a doctor.
Qsymia is usually prescribed by doctors or pharmacists who have had special training in a program called 'Qsymia REMS'. Its use should be exactly as recommended (do not take extra doses).
This medication comes with a proper guide which should be read before using the medicine. Qsymia capsules must be taken with water early in the morning.
Do not take it later in the day as it may mess with your sleep schedule and possibly cause insomnia.
Do not crush or bite the capsules as they will freely release the medication inside, which may lead to side effects. You can take the dose with or without a meal.
Plenty of water must be drunk with Qsymia or it may increase your chances of kidney stones.
| | |
| --- | --- |
| You may also like to read: | |
According to your physician's advice, take the medication with a proper diet and exercise routinely. Stay on that diet and routine as long as you are taking the medicine.
Tell your doctor about every other medication or supplement that you have been taking because other medicines may cause side effects if taken with Qsymia.
Also, make sure your doctor knows about any medical condition (e.g., CVD, diabetes, HTN) that you have.
A proper checkup is done after 12 weeks and if the desired amount of weight is not lost, then your physician may recommend you stop taking Qsymia.
In order to avoid any side effects, your healthcare physician may recommend a low dosage and then gradually prescribe you a higher dose with time.
In case you forget to take your dose, calmly wait until the next day before taking your med (do not take double doses).
If you have any known allergy to either of the two chemicals (phentermine and topiramate) present in Qsymia then it is not suggested to use it.
Furthermore, if you have an overactive thyroid or glaucoma, or if you are pregnant then the medication is not allowed for use.
| | |
| --- | --- |
| You may also like to read: | |
Starting on Qsymia for weight loss:
According to Food and Drug Administration (FDA), for the first 14 days, take a single Qsymia capsule (3.75 mg/23 mg) every morning. After 14 days, start taking a Qsymia 7.5 mg/46 mg capsule every morning. [ref]
After 12 weeks of taking Qsymia
12 weeks after taking Qsymia, your healthcare physician may suggest you one of the following things if you have not lost weight:
Stop taking Qsymia
Increase your dosage of Qsymia
In case your dosage has been increased, every morning, take a Qsymia capsule of 11.25 mg/69 mg capsule for 14 days (2 weeks)
After 14 days, start taking a Qsymia capsule of 15 mg/92 mg.[Ref]
| | |
| --- | --- |
| You may also like to read: | |
Withdrawal from Qsymia
In case you have not lost the desired amount of weight even after being on a heavy dose then stopping its usage would be a better option.
After taking Qsymia it is not suggested to stop the dose suddenly. Doing so may lead to seizures or convulsions.
Your doctor will bring you down to a lower dosage until you are completely off of your medication. Make sure you are following your doctor's advice so that you do not face any side effects of withdrawal.
Possible side effects of Qsymia [Ref]
There is a wide range of side effects that follow the use of Qsymia. A list of it is given below;
Fatigue (feeling tired)
Dizziness (feeling faint or unsteady)
Change in bowel movements
Tingly sensation or numbness
Lack of concentration or trouble with speech
Irregular heartbeats while resting
Suicidal thoughts or depressed moods; can be caused by topiramate
Problem with eyesight (decreased vision), redness or pain in the eyes
Fluid blockage in the eyes causing secondary angle closure glaucoma due to pressure build-up
Panic attacks, anxiety
Disturbed sleeping patterns
Restlessness or agitation
Birth defects (cleft lip)
Altered taste
| | |
| --- | --- |
| You may also like to read: | |
Qsymia use during pregnancy:
A major and the most serious side effect of Qsymia arises during pregnancy. FDA has strictly advised against the use of Qsymia during pregnancy.
Usage of Qsymia, in this case, can put your baby at an increased risk of developing serious defects like cleft lip or cleft palate.
Even before you are aware of your pregnancy, side effects may have already begun. Use of contraception (birth control pills) while being on Qsymia is suggested. Immediately talk to your doctor if you are pregnant while taking Qsymia.
Qsymia Critical safety guidelines
It is very crucial to follow the guidelines given here, in order to prevent serious complications.
Refrain from alcohol consumption
Avoid getting pregnant or start its dose while being pregnant
Avoid performing dangerous tasks as Qsymia can slow down your thinking ability and cognition
Avoid using Qsymia if you have hyperthyroidism or glaucoma
Do not use Qsymia if you are using medicines like monoamine oxidase inhibitors (MAOIs)
Avoid Qsymia if you are allergic to phentermine or topiramate.
Drink plenty of water with Qsymia, as dehydration may cause kidney stones
| | |
| --- | --- |
| You may also like to read: | |
In Summary:
Qsymia is a weight loss drug approved by the FDA for obese or overweight individuals.
It suppresses appetite and reduces cravings for foods with a high glycemic index. It should not be used by pregnant women.
Buy Phentermine Natural Supplements