The Aloe vera plant has been known for years. It is a medicinal plant used for its health and skincare benefits. Aloe vera belongs to the Asphodelaceae family and its scientific name is Aloe barbadensis.
Aloe vera was regarded as the panacea by Greek scientists 2000 years ago. The Egyptians called it "the herb of immortality".
It is good for hydration, and blood sugar regulation, and provides relief from acid reflux. It can be eaten or administered topically to help relieve sunburns and other skin ailments.
The gel has a moderate, slightly bitter flavor that goes well with most other flavors.
| | |
| --- | --- |
| You may also like to read: | |
Vitamins in Aloe Vera:
There are numerous biologically active compounds found in aloe vera gel, that exhibit healing powers. Some of these include:
Vitamins in Aloe Vera:
Aloe vera gel contains antioxidant vitamins A (beta-carotene), C, and E. Vitamin B12 and folic acid.
Enzymes:
The main enzymes found in aloe vera are alkaline phosphatase, amylase, bradykinase, catalase, lipase, carboxykinase, peroxidase, and cellulase.
These enzymes aid in digestion. Bradykinase helps to reduce inflammation.
Minerals:
The minerals required for proper body functioning such as calcium, selenium, magnesium, potassium, sodium, and zinc are found in aloe vera gel.
| | |
| --- | --- |
| You may also like to read: | |
Health benefits of Aloe Vera: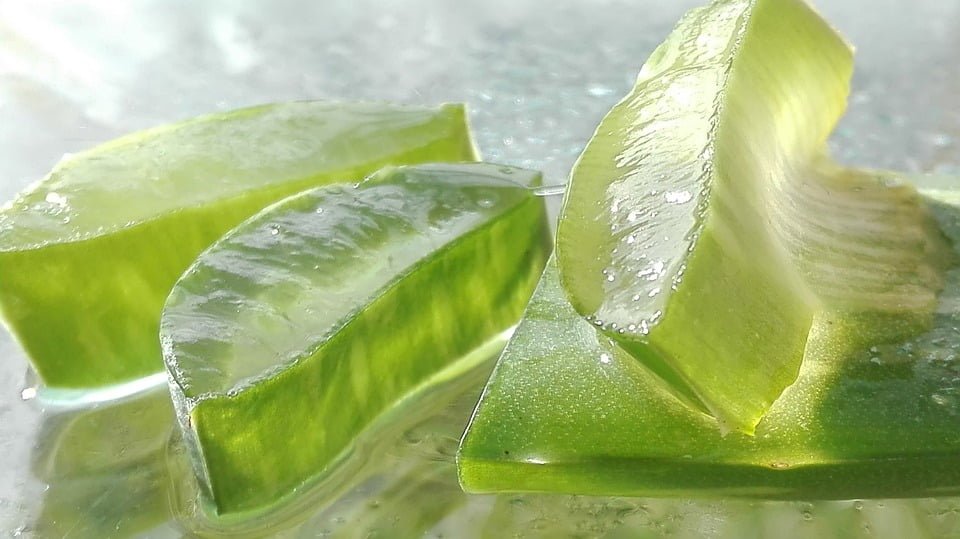 Aloe vera is abundant in antioxidants and micronutrients which make it beneficial for the human body. Some amazing health benefits of aloe vera are:
Aloe Vera for Gut Health and Constipation:
Laxatives are substances that help to treat constipation. Aloe vera gel acts as a natural laxative and stool softener.
One Nigerian study concludes that aloe vera gel consumption helps to treat constipation and relieves symptoms of hemorrhoids.[Ref]
The laxative property is due to aloin an anthraquinone found in aloe vera gel. According to a review of three randomized controlled trials, aloe vera may be beneficial for anyone suffering from constipation, including those with IBS.
This is because aloe vera has a laxative effect and might increase the amount of water in the intestinal lumen.[Ref]
It must be consumed in a dose-dependent manner to avoid abdominal cramps. A dose of 0.4 to 0.17 grams is generally considered safe.
| | |
| --- | --- |
| You may also like to read: | |
Aloe Vera for Heartburn and GERD:
Drinking aloe vera juice might help in reducing the symptoms of heartburn. Aloe vera juice contains chemicals that help reduce the acid that is released in the stomach.
The effects have even been demonstrated to help prevent the growth of stomach ulcers.
Researchers found that aloe vera extract in a syrup helped reduce symptoms of gastroesophageal reflux disease (GERD), including heartburn, vomiting, and belching over four weeks.
This could be because GERD is linked to inflammation. Because aloe vera possesses antioxidant, anti-inflammatory, and anti-ulcer characteristics that have been tested in IBD (inflammatory bowel disease) patients and animal models. [Ref]
| | |
| --- | --- |
| You may also like to read: | |
Aloe Vera for Skin protection:
Some studies suggest that applying aloe vera gel on the skin might reduce the signs of aging.
Aloe vera has been proven in numerous studies to offer skin-protective properties. It protects the skin from free radical damage and the harmful effects of radiation.
Although the exact phenomena are unknown, aloe vera gel creates metallothionein, a powerful antioxidant protein that protects against hydroxyl radicals when applied to the skin.
In One study 30 females of age 45 consumed different doses of aloe vera for 90 days, the results showed an increase in collagen production and an improvement in wrinkles and elasticity of the skin. [Ref]
Another study suggests that Aloe vera and its constituents can be applied to the skin to keep it moist and healthy while also preventing ulcers. It appears that using Aloe vera can also improve wound healing. [Ref]
| | |
| --- | --- |
| You may also like to read: | |
Health benefits of Aloe Vera: Anti-cancer properties:
Research suggests that different compounds found in aloe vera exhibit anti-cancer properties. It acts by modulating the growth of cancer cells.
One study showed that treatment with aloe vera reduced the proliferation of ascites carcinoma cells.
Aloe-emodin found in aloe vera has been shown to inhibit cellular growth in various types of cancer cells such as lung cancer and leukemia. [Ref]
Another study demonstrated that aloe-emodin a compound present in aloe vera induced apoptosis in human colon cancer cells by activating caspase-6 within the cancer cells.
Studies have also suggested that glycoproteins found in aloe vera exhibit anti-cancer properties. [Ref]
| | |
| --- | --- |
| You may also like to read: | |
Aloe Vera for wound healing:
Aloe vera is most commonly used as a topical treatment, it is applied to the skin rather than consumed.
It has a long history of being used to cure skin wounds and burns, including sunburn. In the early 18th century, the United States Pharmacopeia listed aloe vera formulations as a skin protectant.
It appears to be an effective treatment for first and second-degree burns. Studies indicated that aloe vera reduced the recovery time for burn patients by about 9 days when compared to conventional medicine. It also helps to avoid infections, redness, and irritation. [Ref]
It prevents the formation of dental plaque
Aloe vera gel can be used as a mouthwash to prevent dental plaque.
One study demonstrated that aloe vera mouthwash was equally effective as Chlorhexidine (a common component in mouthwash). It induced a significant reduction of plaque with no side effects.
| | |
| --- | --- |
| You may also like to read: | |
How is aloe vera used?
The transparent gel from the Aloe vera plant has traditionally been used as an ointment to treat wounds and burns.
The leaf's green portion can be added to juice or it can be dried and eaten orally as a laxative. Aloe vera can be found in a variety of drinks, capsules, and powders.
Health risks of Aloe Vera:
Although aloe vera is beneficial, the use of Aloe vera as a laxative is however contradicted, some studies report that excessive consumption of aloe vera gel can cause severe abdominal cramps and might also worsen the symptoms of Crohn's disease or Inflammatory bowel syndrome in some people
It might also cause allergies in some people.
Some studies suggest that excessive consumption of aloe vera resulted in intestinal tumors in rats. In humans, further research is required. But excessive consumption must be avoided.
Consuming a dose higher than 1 gram daily can lead to kidney problems.
Aloe vera juice interacts with certain drugs. Aloe vera juice must not be consumed before or after taking medicines that contain Cytochrome P450 3A4 or CYP2D6.
It may exacerbate sevoflurane's effects, resulting in increased bleeding during surgery. Before drinking aloe juice, see your doctor if you are taking such medications.
| | |
| --- | --- |
| You may also like to read: | |