What is Best to Eat in Breakfast for Gestational Diabetes? How safe are sweeteners for GDM? What are a few quick breakfast ideas for gestational diabetes?
Like Diabetes Mellitus Type 2, women with gestational diabetes follow the same principles of diet, exercise, and lifestyle changes.
However, unlike diabetes mellitus type 2, women with gestational diabetes require more strict blood glucose control. Furthermore, uncontrolled diabetes in women with GDM affects both the baby and the mother.
Starting your meal with a healthy low-calorie, nutrient-dense breakfast significantly improves your blood glucose and quality of life.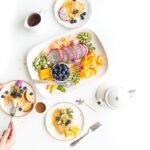 Introduction:
Gestational diabetes is the type of diabetes that occurs during pregnancy. In gestational diabetes, your body becomes unable to deal with the effects of a growing baby.
The increased needs of pregnancy cause fluctuation in hormone levels. This results in low insulin which ultimately leads to high blood glucose levels
After pregnancy, blood sugar levels usually return to normal, but the risk of type 2 diabetes rises. During the first 24-28 weeks of pregnancy, all non-diabetic women must be screened for gestational diabetes.
Gestational diabetes must be managed properly because it can result in gestational hypertension, an increased risk of C-section, childhood obesity, and even the onset of diabetes in children at a young age.
Gestational diabetes can be managed by monitoring your diet. However, some patients might need medication or insulin to control increased blood sugar levels.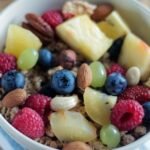 Why Is Breakfast So Important When You Have Gestational Diabetes?
Breakfast is the most important meal in conditions such as gestational diabetes because blood sugar levels naturally rise in the morning.
While sleeping, the body produces high levels of cortisol, growth hormone, and glucagon, according to "The Dawn Phenomena." Early in the morning, increased concentrations of these hormones cause an increase in blood sugar levels.
This increase is unmanageable in diabetics due to a lack of insulin. So, if you have gestational diabetes, you should choose your breakfast carefully and eat it as soon as possible.
Healthy Breakfast for Gestational Diabetes:
The best way to manage a healthy breakfast to keep your blood sugar levels normal is to avoid foods that have a high glycemic index (GI).
High GI foods include white bread, refined cereals, etc. But there are a few more things that you must be concerned about to avoid high sugar levels.
1.      Avoid Too Many Carbohydrates:
It is beneficial to shift from simple to complex carbohydrates. However, they are still carbohydrates, and eating too many of them will simply raise blood sugar levels.
People frequently overeat whole grains, resulting in high blood sugar levels. This is due to the fact that greater servings of even complex carbs may have the same effects.
Another explanation is that blood sugar levels are already slightly elevated in the morning. Therefore, limit your carbohydrate intake to 1-2 servings per meal.
If you eat more than 30-40 grams of carbohydrates in the morning, you will have high blood sugar levels.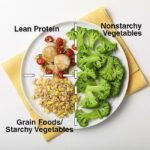 2.      Add Protein to Your Breakfast
During pregnancy, it is essential to get enough protein. The recommended amount of protein for pregnant women is 71-75grams/day.
Protein is good for women with gestational diabetes because protein does not cause any significant increase in blood sugar levels.
Eggs, fish, and poultry are the best protein sources that can be added to your daily breakfast. Greek yogurt is also the best way to keep up with your daily protein recommendations.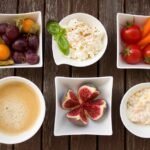 3.      Add Vegetables
Vegetables may seem a boring breakfast option but they are loaded with antioxidants and they actually help in maintaining healthy sugar levels.
Also, they offer a significant amount of fiber to keep you full and away from cravings. The best options among vegetables are non-starchy vegetables and leafy greens
4.      Prefer Whole Fruits or Smoothies:
Instead of loading up on fruit juices, go for whole fruit or smoothies. Fruit juices must be skipped because they contain a greater amount of sugar and lesser nutrients and fiber.
Avoid fruit juices especially in the morning if you have gestational diabetes.
Gestational Diabetes and Sweeteners
Artificial sweeteners and sugar substitutes do not raise blood sugar levels and you can use them in small amounts.
Foods that are present with added artificial sweeteners are also safe. Some of the sweeteners that are safe during pregnancy include:
Aspartame (NutraSweet)
Cyclamate (Sucaryl)
Stevia (Truvia, Pure Via)
Sucralose (Splenda)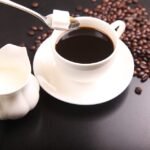 Healthy Breakfast Options for Gestational Diabetes:
So, if you're tired of having the same old breakfast every day but still want to manage your gestational diabetes, here's a list of some healthy breakfast options that won't harm your blood sugar levels.
Before we begin, remember that breakfast is the first meal of the day and should never be skipped. It is vital for the body and for managing the additional needs that arise during pregnancy.
1.      Whole wheat toast, pancakes, or muffins:
Whole wheat toast can be paired with peanut, almond butter or avocado, and eggs these combos help you gain healthy fats and protein both in one go!
Pancakes and whole wheat muffins are other great options to combat your healthy sweet breakfast cravings.
2.      Smoothies
Greek yogurt is high in protein and healthy fat, and when combined with sweet berries, it's almost like a (super-healthy) milkshake. Some healthy smoothies are:
Strawberry or blueberries smoothie
Peanut butter and banana smoothie
Carrot smoothie
Watermelon and strawberry smoothie
3.      Omelets and eggs
Make an omelet with vegetables like onions, bell peppers, and broccoli. This protein-packed breakfast is an excellent way to incorporate more vegetables into your diet. Or you can simply include boiled eggs to add protein to your breakfast.