A list of the Best Espresso Drinks at Starbucks is presented here. Apart from the drink, you should also focus on the calorie, sodium, and caffeine content of the drink.
The majority of coffee lovers have visited Starbucks at least once in their lives. It's difficult to dispute the large list of possibilities the company has to offer coffee enthusiasts, whether you're a daily junkie or only visit on occasion.
Starbucks is where many of us were first introduced to coffee concoctions that have since become new favorites.
However, espresso drinks are among Starbucks' most popular menu items, as they are in most coffee shops across the world.
Espresso is a stronger coffee shot than you'd get from your automatic drip machine at home.
With the boost in energy they provide, it's no surprise that they're a go-to for many people who stop by Starbucks to start or continue their day.
| | |
| --- | --- |
| You may also like to read: | |
Let's take a look at 7 of the best espresso drinks at Starbucks that have made coffee on the go more suitable.
Pumpkin Spice Latte: One of the Best Espresso Drinks at Starbucks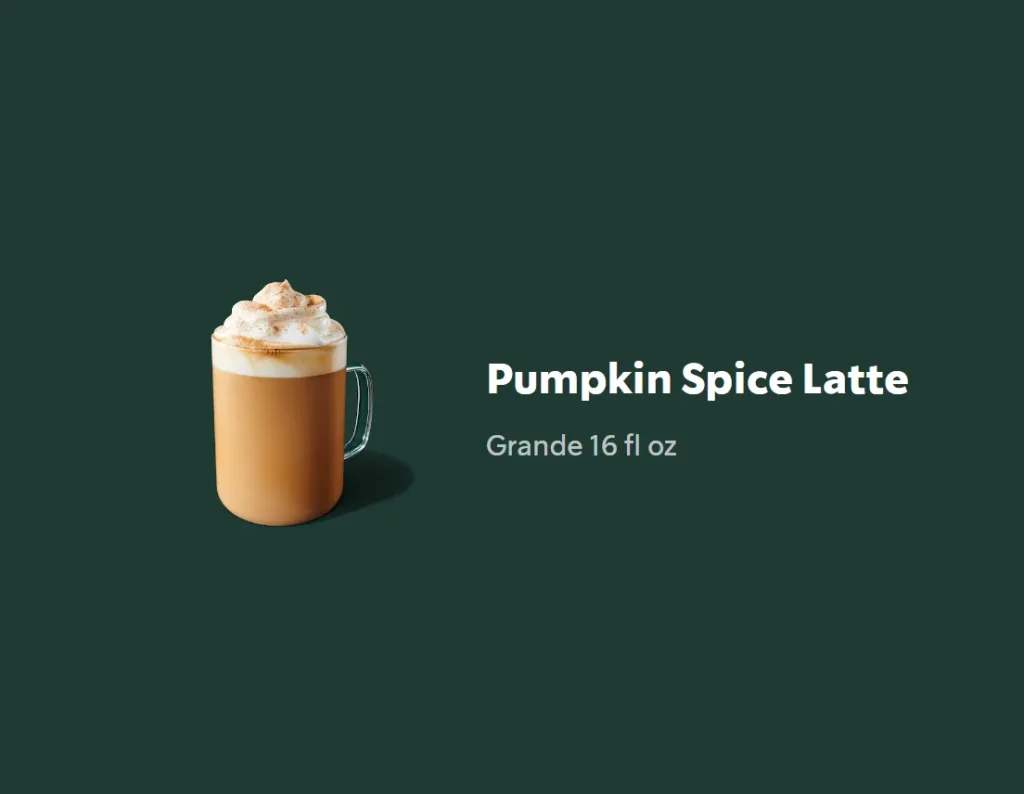 The famous pumpkin spice latte has people divided as some are obsessed while others think it does not make sense.
This famous seasonal drink gives fans a taste of fall while also providing a terrific way to warm up from the cold.
Fortunately for those who aren't fans of strong beverages, the pumpkin spice latte is deemed mild when compared to the rest of the chain's offerings. The best part? It has espresso as an ingredient.
According to the Starbucks website, in a serving size of 16 fluid ounces (grande), there are 390 calories with 14 g of fat, 50 mg of cholesterol, 230 mg of sodium, and 150 mg of caffeine.
| | |
| --- | --- |
| You may also like to read: | |
Peppermint Mocha: One of the best Espresso Drinks at Starbucks!
This drink, made with two shots of espresso, offers the energy you need to keep on moving, as well as exquisite mint and chocolate flavors to soothe your taste receptors.
You could love anything with a chocolate-peppermint taste combination, but you might not recognize that a Grande (16 oz.) Peppermint Mocha contains 440 calories and 54 grams of sugar.
We don't want to put a damper on your Peppermint Mocha adoration, so go ahead and get this drink and savor every warm sip.
Take notes, though, if you wish to limit your total calorie intake. 4 pumps of Peppermint Syrup and four pumps of Mocha Sauce are used to make a Grande.
Peppermint Syrup provides 27 calories and 6.3 g of sugar per pump (which is 108 calories and 25.2 grams of sugar for the four pumps).
Mocha Sauce provides 25 calories and 5 grams of sugar per pump (which is 100 calories and 20 grams of sugar for the four pumps).
You can save 104 calories and 22.6 grams of sugar by ordering half the pumps of each.
| | |
| --- | --- |
| You may also like to read: | |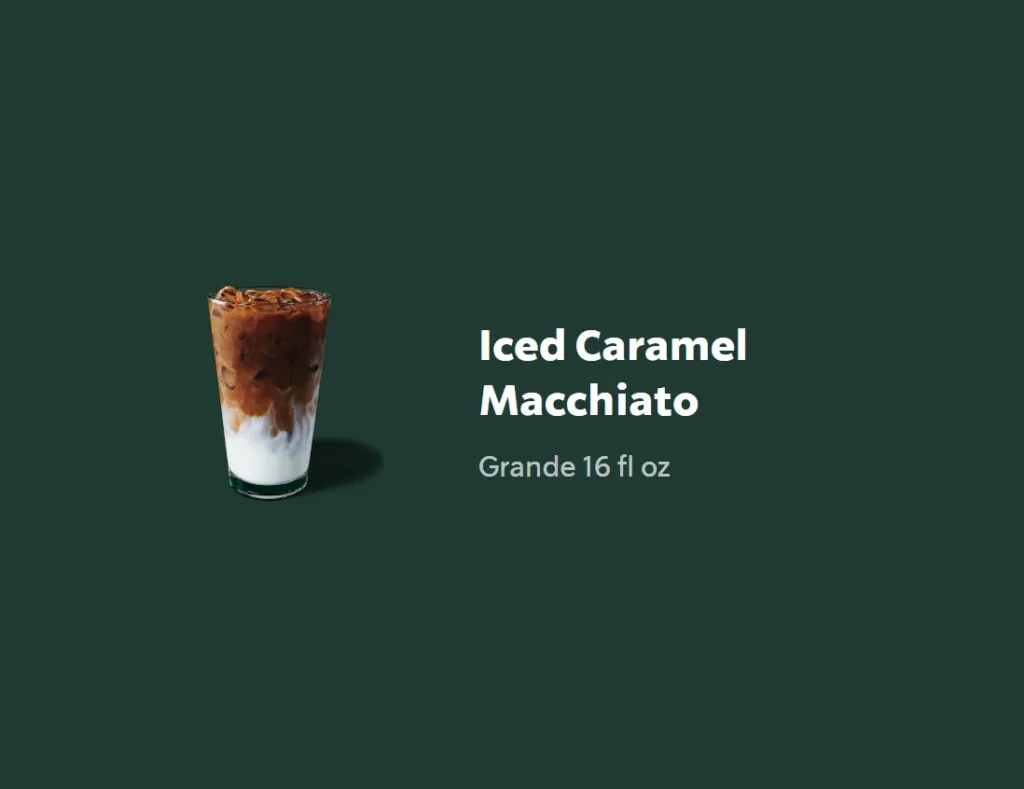 If you prefer your coffee cold, the iced caramel macchiato is the drink for you. For the past 25 years and still going, this drink seems to have been a fan favorite at Starbucks.
This drink is deemed low in calories when compared to others offered by the company because it uses the popular caramel.
Fortunately, the caramel macchiato will warm you up if you don't really like cold coffee. You'll adore the sweet flavors no matter the weather if you make it without the ice.
According to Starbucks, they mix their thick, full-bodied espresso with vanilla-flavored syrup, milk, and ice, then drizzle it with caramel for a sweet finish.
A grande cup will give you 250 calories, 150 mg of caffeine, 7 g of fat, and 150 mg of sodium.
| | |
| --- | --- |
| You may also like to read: | |
Iced Toasted Vanilla Oat Milk from Starbucks Shaken Espresso joins the other two iced shaken espresso flavors on Starbucks' permanent menu:
Brown Sugar Oat Milk and
Chocolate Almond Milk.
While this drink is new to the Starbucks menu, it has all of the right ingredients of one of their finest.
This rising star uses three shots of espresso and oat milk, which many take into account to be the best non-dairy milk. Before being mixed and served, it contains brown sugar syrup and cinnamon.
A grande cup of the new Iced Toasted Vanilla Oat milk Shaken Espresso contains:
140 calories (40 from fat), 4.5 grams of fat (none of which is saturated), and 23 grams of carbohydrates (11 from sugar),
1 gram of fiber, and
2 grams of protein.
There are 255 mg of caffeine in this beverage.
| | |
| --- | --- |
| You may also like to read: | |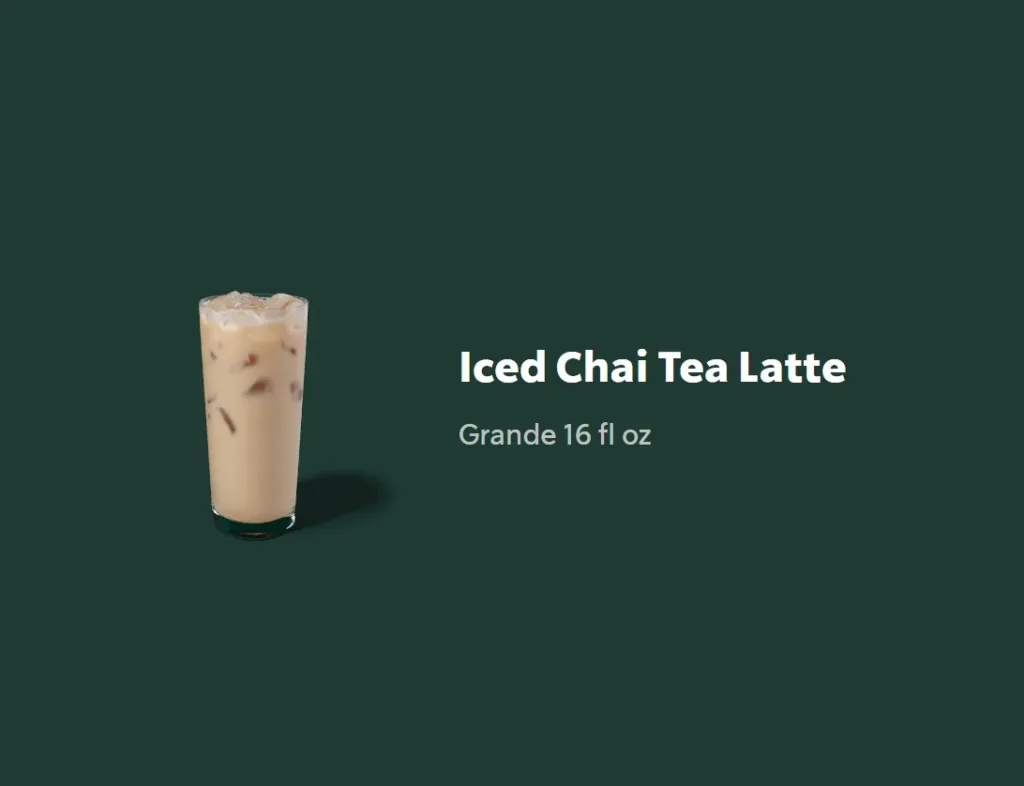 This drink is part of Starbucks' confidential menu, but it hasn't been adequately protected.
While chai tea lattes are available just about everywhere, Starbucks infuses an espresso shot to alter the consistency and flavor.
If you're feeling adventurous, you should absolutely consider it.
For the right combination of sweet and spicy, black tea flavored with cinnamon, clove, and other warming spices is paired with milk and ice.
In 16 fluid ounces (grande), you get 240 calories, 95 mg of caffeine, 110 mg of sodium, and 15 mg of cholesterol.
| | |
| --- | --- |
| You may also like to read: | |
Cappuccino:

One of the Best Espresso Drinks at Starbucks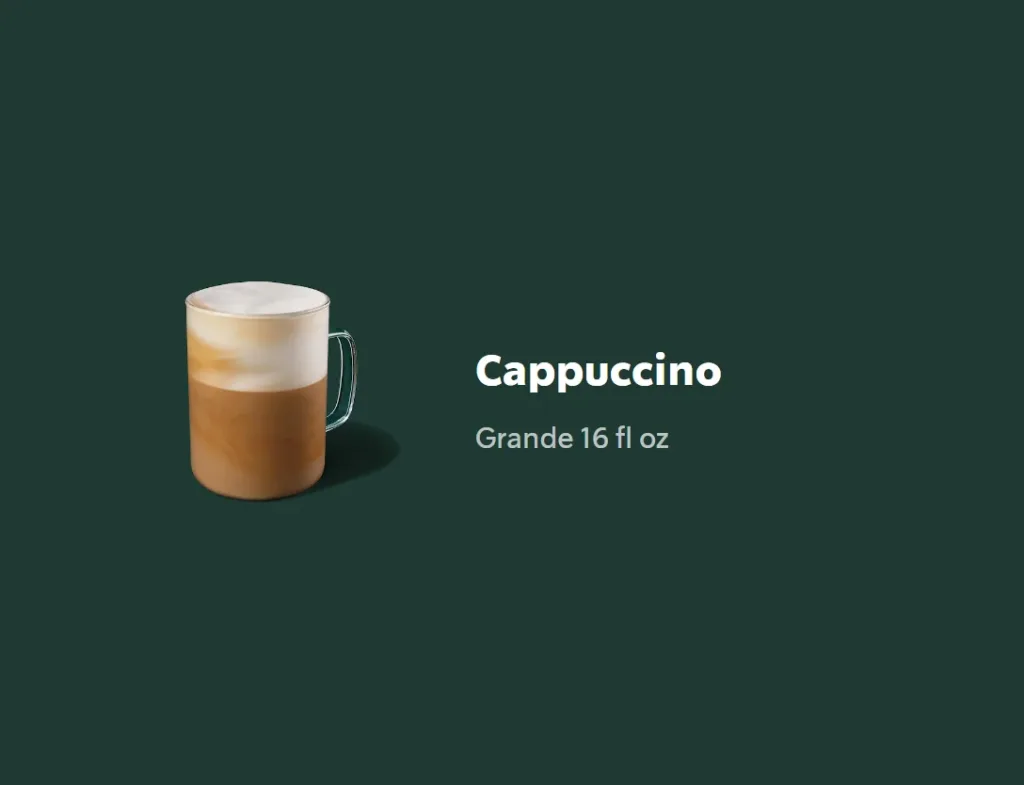 If you're just getting started with espresso drinks, Starbucks' cappuccino is a wonderful place to start.
A single espresso shot (or two for bigger cup sizes), half steamed milk, along half milk foam make up this drink.
This is an old classic, yet the recipe stays true to its roots while also allowing for more possibilities and flavors.
The cappuccino comes in an iced version, which has been on and off the Starbucks menu several times.
Milk is added first, followed by espresso shots, and then ice in an iced cappuccino. Finally, steaming milk foam is added to the drink.
Relatively a low-calorie option as 16 fl oz (grande) gives you 140 calories, 5 g of fat, 150 mg of caffeine, and 120 mg of sodium.
| | |
| --- | --- |
| You may also like to read: | |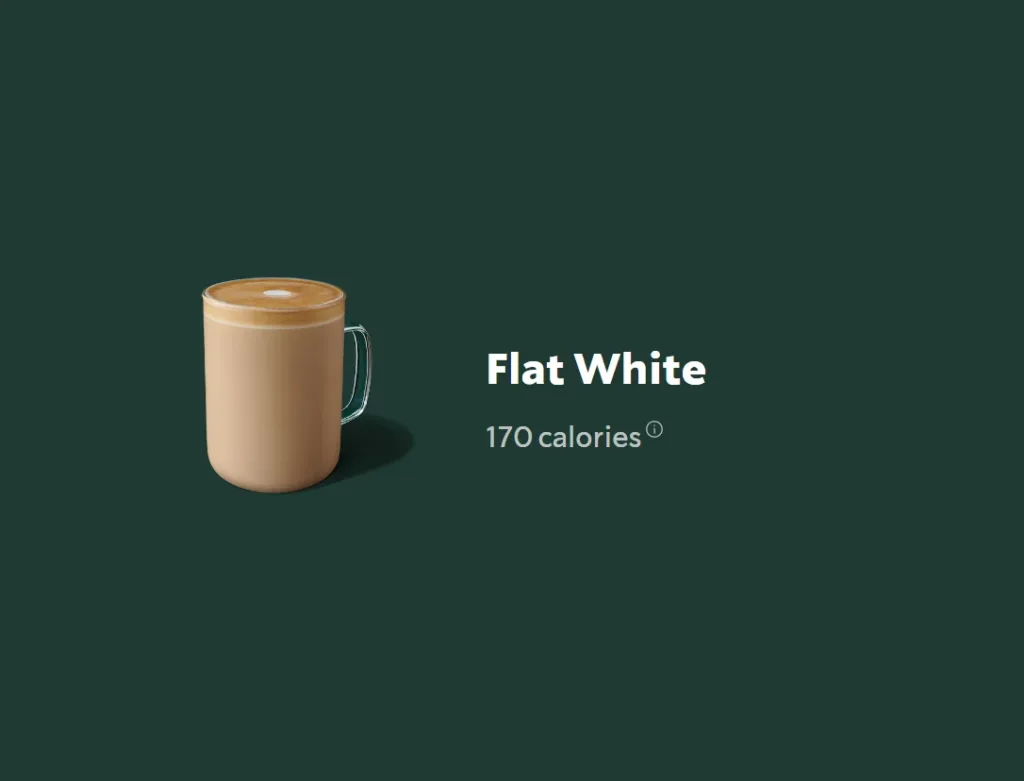 The Flat white is an Australian drink made with two shots of espresso and served in a ceramic cup. There's also textured milk and microfoam to provide some interest.
If you want a sweeter sensation, try the honey almond milk flat white, which is created in the same way as the regular flat white but with a few additives.
Ristretto Espresso shots are used in the Starbucks Flat White. A ristretto is an espresso shot prepared with less water or with the same amount of water in less time.
Ristretto shots aren't required for a drink to be called a Flat White, but when producing small milk beverages like a Machiatto, Cortado, or Flat White, the top baristas frequently pull a shorter ristretto shot.
| | |
| --- | --- |
| You may also like to read: | |
Summarizing the Caffeine Content of the Best Espresso Drinks at Starbucks:
| | |
| --- | --- |
| Best Espresso Drinks at Starbucks | Caffeine Content |
| Iced brown sugar oat milk shaken espresso | 255 |
| Pumpkin spice latte | 150 |
| Peppermint Mocha | 150 |
| Iced Caramel Macchiato | 150 |
| The Cappuccino | 150 |
| Flat white | 136 |
| Iced Chai Tea Latte | 95 |