The health benefits of pomegranate are numerous. It is especially used for the maintenance of better gut health, constipation, UTI, weight loss, prostatic cancer, and erectile dysfunction in men.
Eating a nutritious diet is always the first step into a healthy lifestyle. Fruits take a special space in a nutrient dense diet. Fruits, being famous for their delicious flavor and exceptional variety, are loved by everyone.
We can include pomegranates in this healthy diet. Pomegranates are not just famous for their taste but also for their aesthetic appearance. Beyond its tough exterior, it is filled with delicious seeds on the inside. Its seeds are also called arils (a term for an outer covering of the seed). Its reddish-purple color is what catches the eyes.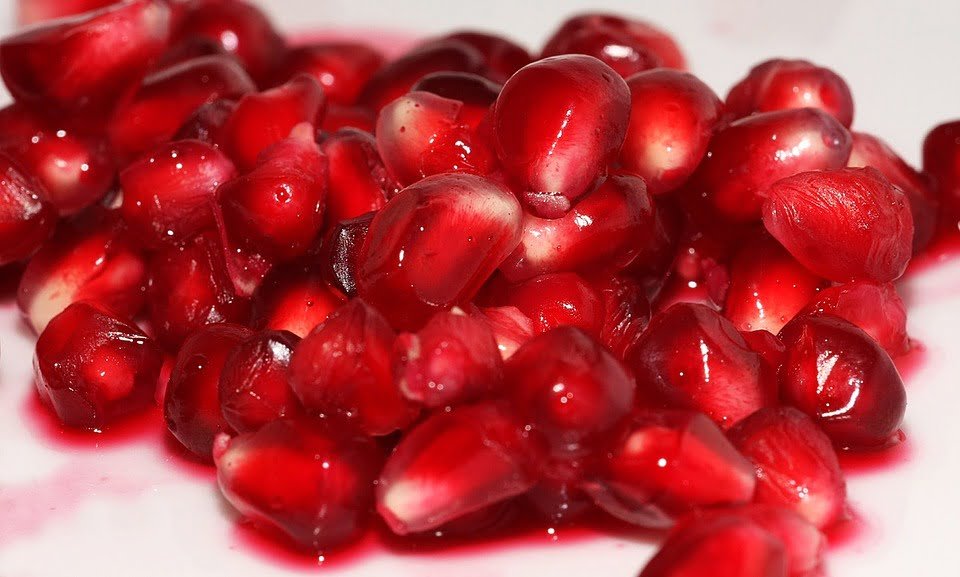 Arils of pomegranates can be eaten just like that or it can be added in a fruit salad. Making a juice or a smoothie of pomegranate can be just as healthy. Sprinkle some arils on top of your oatmeal or add them in your yogurt.
Structure

:
Botanically, pomegranates are classified as a berry which has 200 to 1400 seeds. The outer shell of a pomegranate is composed of a hard pericarp and a spongy mesocarp on the inner side to which seeds are attached.
Scientific name: Punica granatum
Nutritional Composition of Pomegranates
Nutritionally, pomegranates have a rich composition of several important nutrients which makes it a healthy and tasteful addition in your fruit salad.
It contains Beta Carotenoids which are known for their effects on skin health and uptight appearance.
It has vitamin C in it which is also very healthy for the skin.
Presence of vitamin B1 is helpful in the conversion of food into energy.
It also has vitamin B2 which helps in metabolizing fats and proteins
Fiber in pomegranates can be beneficial for many purposes.
It has Phosphorus which is involved in maintaining muscle health.
Antioxidants in pomegranates are healthy for several reasons
What Are the Health Benefits of Pomegranates?
For being nutritionally rich, pomegranates have various known beneficial effects on health. This fruit is perfect for your healthy lifestyle and it gives you a delightful taste at the same time so fitting this into your diet is very easy.
1. Antiviral properties
Pomegranates can protect against viral infections which are food borne. Because of its vitamin composition (vitamin C, vitamin K, vitamin E) it can combat infections and also prevent illness. For this purpose, pomegranate juice is widely used.
Because of its antiviral properties, pomegranate juice is also being widely used in patients with dengue fever who have low platelet counts.
2. Antibacterial properties
Pomegranates and their extracts have shown positive effects against bacterial pathogens. Almost every part of a pomegranate can be beneficial against bacterial infections.
Pomegranate contains vitamin C and other antioxidants that prevent bacterial adhesion to the bladder wall. Thus, it prevents the recurrence of UTIs (urinary tract infection)
Health Benefits of Dates and Nutritional Facts (Khajoor Benefits)
3. Blood Thinning Effects
The presence of antioxidants is responsible for this property of pomegranates. It can thin your blood which leads to a decreased incidence and risk of unnecessary blood clots in your body. Unnecessary blood clots can form in your heart or arteries due to an unhealthy diet.
Best Anticoagulant for Obese Patients: Apixaban Vs Rivaroxaban
4. Effects on Memory and Alzheimer's Disease
Pomegranates can be effective in improving a person's memory. Drinking its juice on a daily basis can show this impact.
According to a study, supplements of pomegranates can help with protection against memory loss or dysfunction after a heart surgery. [Ref]
6 Health Benefits of Gooseberries; From Diabetes; Cancer, to Dementia
5. Protects Against Atherosclerosis
This property of pomegranates is also because of their antioxidant composition. These antioxidants can prevent the oxidation of bad cholesterol like LDL and thus contributes to the prevention of atherosclerosis.
6. Healthy for Your Skin's Appearance
Pomegranates have a good amount of vitamin C which is popular for its skin clearing effects. People with an acne prone skin should eat a pomegranate or drink its juice on a daily basis. As it clears your blood, it can also tone down pimples and acne.
Health Benefits of Aloe Vera: For Skin, Heartburn, and Wound healing
7. Healthy for Blood Circulation
Due to the presence of nitrates and antioxidants, the seeds of pomegranates can keep the arteries dilated or open and maintain the flow of blood. This causes a better blood flow to your heart, brain and other organs in your body.
8. Protection Against Diabetes
Although the mechanism behind how pomegranates can prevent diabetes is unclear but it has been widely used for treatment of diabetes. Pomegranates may lower blood sugar levels and reduce insulin sensitivity.
Oats for Diabetes: Health Benefits, Glycemic Index, and Recipes
9. Prevents Oxidative Stress
As the name suggests, antioxidants can be helpful in the face of oxidative stress which is induced by an excess accumulation of free radicals caused by excessive sunlight and toxins exposure. Therefore, pomegranates can prevent premature aging as they are rich in antioxidants.
Health Benefits of Brussels Sprouts; For Diabetes, Heart, & Cancers
10. Gut Health and Digestion
The juice of pomegranate aids in reducing or preventing inflammation in the gut thus contributing to proper digestion. For this reason, it can be healthy for people who suffer from inflammatory bowel disease and Crohn's disease.
Sweet Potato for Diabetes Patients: Boiled, Roasted, Baked Or Fried
11. Causes Weight Loss
Owing to the rich fiber content of pomegranates, it can aid in a healthy weight loss as it contains beneficial vitamins and minerals apart from fiber. As fibers can extend the feeling of satiety so it decreases the urge to eat more.
Protein Rich Diet for Vegetarians (Protein-Rich Fruits and Vegetables)
12. Anticancer Properties
Studies have proven the effect of pomegranates against cancer. It is a phenomenally potent agent against cancer. It can decrease the spread of cancer cells or it can reduce their growth in the body. Thus, addition of pomegranates to your diet can prevent any incidence of cancer.
Pomegranate has been specifically studied in patients with prostatic cancer. It prevents the progression of prostatic cancer and increases the doubling time of PSA (prostate specific antigen). PSA is a marker of prostatic cancer.
It has also been studied in patients with lung cancer. It inhibits cellular proliferation of cancer cells.
Health Benefits of Bananas for Your Heart, BP, and Digestion
13. Maintains blood pressure
Daily consumption of pomegranate juice can reduce the systolic blood pressure by almost 5 mmHg. So, it is healthy for patients of hypertension.
14. Fights Against Arthritis
Typically, arthritis is characterized as inflammation in the joints and we know that pomegranates have anti-inflammatory effects due to antioxidants, therefore, it can help treat patients of arthritis.
On the other hand, it can also protect against neuroinflammation and reduce the incidence of neurodegenerative diseases.
Health Benefits of Avocados: Nutritional Value, Heart Health, &; Weight
15. Health benefits of pomegranate for men:

Treatment of Erectile Dysfunction
As stated above, free radicals and oxidative stress can disturb the normal flow of blood in the body including the erectile tissues, this can lead to erectile dysfunction. Pomegranate can fight oxidative stress and can be used in the treatment of erectile dysfunction.
Pomegranate juice was studied in men with erectile dysfunction. Participants who received pomegranate juice had higher levels of testosterone at the end of the study period compared to those who did not receive it. Erectile dysfunction improved in a significant number of the patient in the participants who received pomegranate.
Does Pomegranate Consumption Have Side Effects?
Eating pomegranate has more benefits than side effects. There is no known side effect of pomegranate consumption and is declared safe for people. Possible side effects of pomegranate consumption are only in the case of the consumer having an allergy.