A list of 10 of the healthiest high protein smoothies without protein powder is presented here. These high-protein smoothies are low in calories and high in proteins.
These high-protein smoothies are natural, best for satiety, fat burners, and muscle building without causing harm to the body.
Introduction: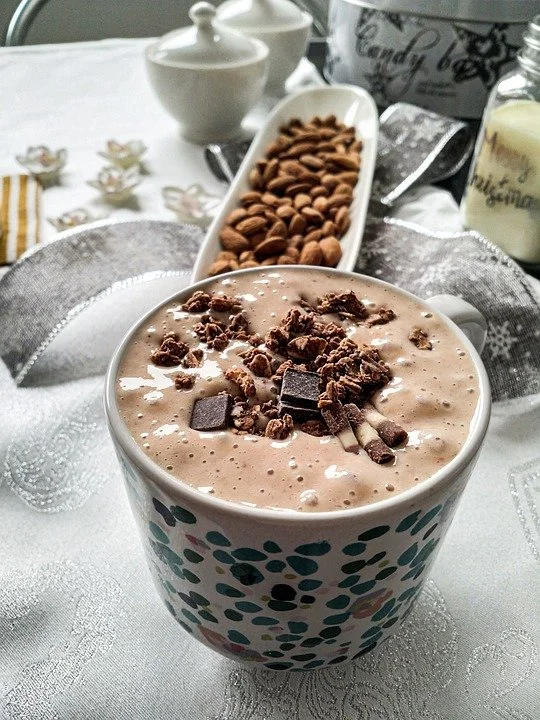 Smoothies are a wonderful and deliciously healthy snack. They quickly fill you up with essential nutrients and boost your metabolism.
The best thing about smoothies is that they can be prepared with water, milk, or yogurt. Simply any way you prefer!
High protein smoothies are a very good pre-workout snack and breakfast option. These are fun and nutritious methods to make snacking healthy and tasty.
High protein smoothies are encouraged in all situations be it for muscle gain or weight loss.
For bodybuilders and gym enthusiasts, high-protein smoothies serve as a quick way to boost protein levels.
For fitness freaks, these are an easy way to get all your macronutrients in a minimum number of calories, keeping you full for longer.
While many smoothie recipes available on the internet are high in sugar, fat, and calories, smoothies can be a healthy eater's dream when the correct ingredients are selected.
Here are some deliciously healthy high protein smoothies without protein powder recipes that require the minimum ingredients and can be made in no time!
1. Chocolate and Peanut Butter Smoothie: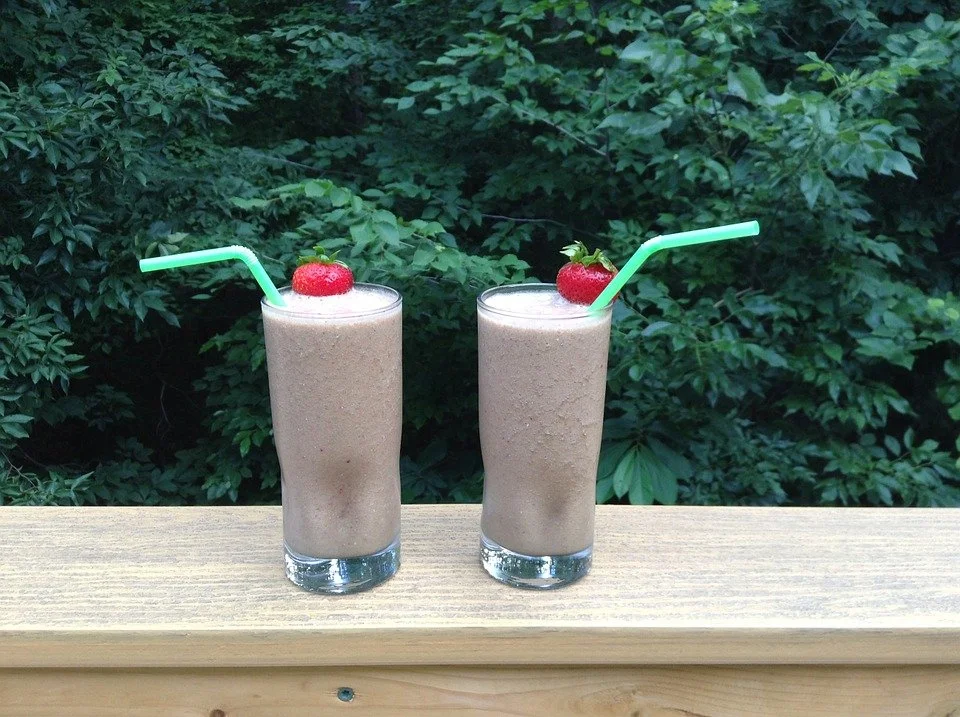 Protein content: 28 grams
This protein-packed smoothie can be prepared in just five minutes.
Firstly, you need 6 oz of Greek yogurt, mix it with 2/3 cups of skim or low-fat milk.
Then add 1 tablespoon of peanut butter, some chocolate, and cocoa powder
Add honey to taste.
Blend the mixture until a thick creamy texture is achieved. And the delicious protein boost is ready!
2. Banana and Almonds Smoothie
Protein content: 13 grams
This banana and almonds smoothie is a perfect breakfast option as it is easy to prepare, exceptionally healthy, and keeps you full for longer.
Take three simple ingredients, banana, almonds or almond butter, oats, and some honey.
Put frozen banana chunks, 1 tablespoon of almond butter, two tablespoons of oatmeal, and 1 cup of skim milk in a blender.
Add honey to taste. Blend till all the ingredients are a perfect mix.
3. Avocado and Spinach Smoothie
Protein content: 18 grams
This smoothie contains carbs, protein, and healthy fat in perfect proportion, supplying all three macronutrients in just one go. It is super duper healthy and the quickest to prepare.
Take 1 handful of spinach, some fresh parsley, and avocado slices in a blender
Add 1 cup skim milk or Greek yogurt and ½ cup water.
Add 1 tablespoon of cinnamon powder, coconut flakes, cocoa powder, sea salt, and maple syrup
Blend all the ingredients for 1 minute and Done!
4. Blueberry Smoothie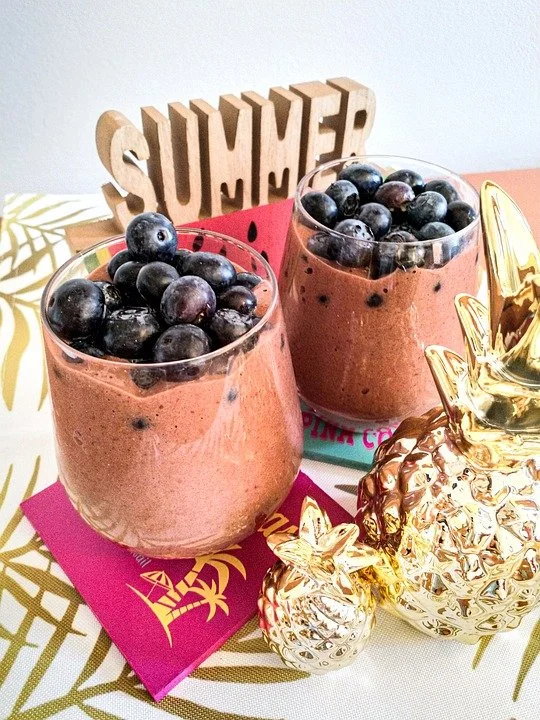 Protein content: 12 grams
Blueberries are loaded with antioxidants and other essential nutrients. Blueberry smoothie is prepared by adding banana and some spinach. For weight loss, you can also go for an apple instead of a banana.
Add half a cup of frozen blueberries, some spinach leaves, banana chunks, and skim milk in a blender.
Add lemon and ½ tablespoon of chia seeds.
Perfectly blend all the ingredients and it's ready to serve!
5. Cherry and Beets Smoothie
Protein content: 20 grams
This smoothie can be the best recovery meal after a heavy workout session. Cherry juice is known to aid in muscle recovery and the antioxidants in beetroots protect against oxidative stress.
Take ½ cup of frozen cherries, 1 small (peeled) beet, and some walnuts.
Add lemon and some salt.
Blend well for 60 seconds. Done!
6. Chocolaty Coconut Almond Smoothie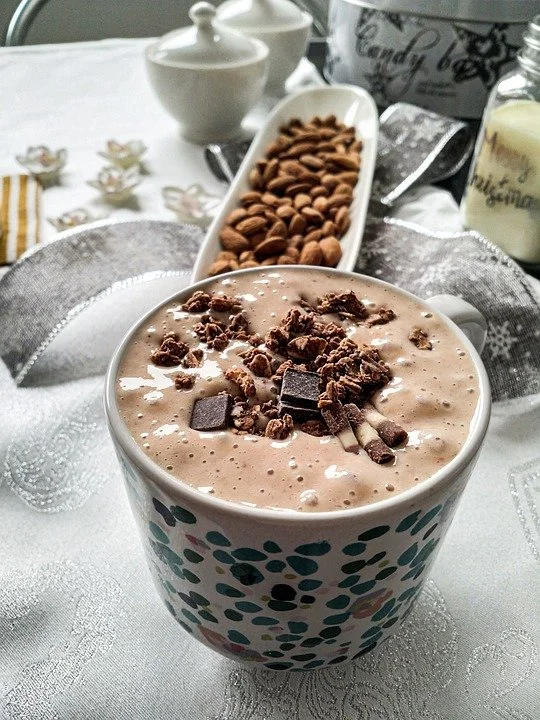 Protein Content: 22g
This is an amazing treat for your taste buds. Almond butter makes the texture extra creamy and dark chocolate makes it extra tasty!
All you need is a chocolate protein bar, unsweetened coconut flakes, almond butter, and 1 cup of almond milk.
Put all the ingredients in the blender. Add ½ cup of water and some ice cubes.
Blend well and serve with coconut flakes on the topping.
7. Green Monster Smoothie
Protein Content: 15 grams
Go completely green to prepare this amazing mixture of antioxidants. Green Monster smoothie is a mind-blowing snack to recover body fuels and add some freshness to your day.
In a blender take some water, 2 stalks of kale, half a cup of mangoes, ½ cup of kiwifruit, ½ cup of grapes, and half (sliced) avocado.
Now add lemon according to your taste. You can also skip it as kiwi already provides a citrus taste.
Add ice and blend all the ingredients to perfection.
8. Peach and Protein Smoothie
Protein content: 20 grams
Fresh peaches are the ultimate mood during summer. This delicious blend of peach and Greek yogurt provides you with your daily dose of antioxidants and protein. It keeps you full and away from any food cravings for several hours.
Take 2 chopped peaches, ½ cup Greek yogurt, ¾ cup low-fat yogurt, and mint leaves
Add some lemon and ½ tablespoon of chia seeds.
Blend it for 1 minute and your antioxidant plus protein booster smoothie is all set!
9. Blackberry Smoothie
Protein content: 15 grams
Blackberry smoothie has fresh flavor from the blackberries and sweetness from banana and honey. With only 5 minutes of preparation time, it is a perfect option to fill up your protein on busy mornings.
Add 1 cup of blackberries, 1 medium-sized banana, 1 small piece of ginger to a blender
Then add Greek yogurt, honey, and lemon juice.
Blend for two minutes and serve immediately.
10. Banana, Orange, and Avocado Smoothie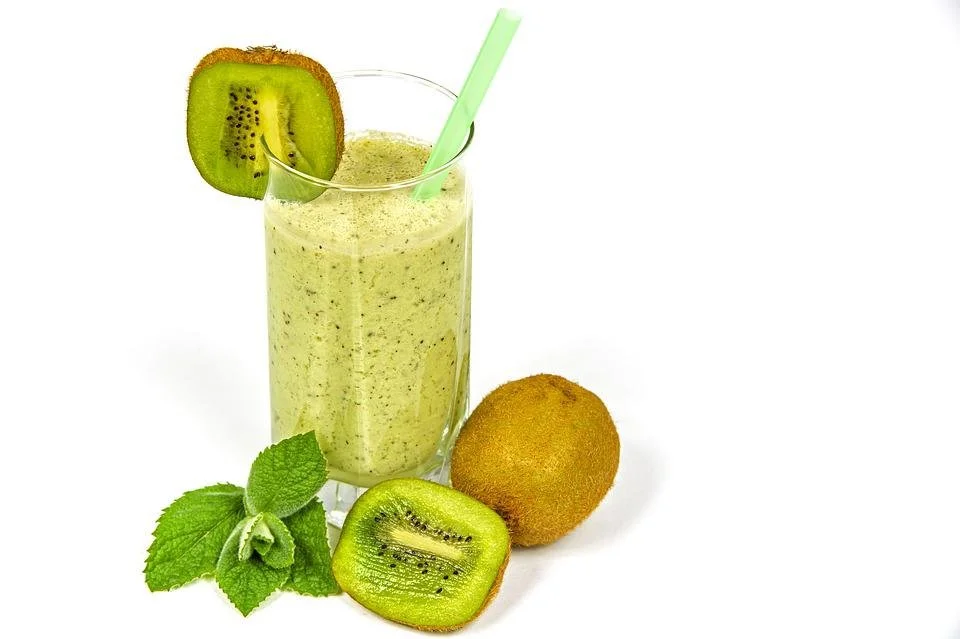 Protein Content: 19 grams
The banana and orange smoothie becomes extra nutritious with the addition of avocados. Not only does it add great benefits, but it also adds creaminess and thick texture.
Add frozen banana chunks, 1 medium-sliced avocado, and ½ cup of orange juice.
You can also add orange peel powder depending upon your choice.
Add 1 cup Greek yogurt ½ cup water and some ice cubes.
Blend them for 2 minutes and it's done!
Conclusion
Smoothies are an easy way to get the most out of every sip you consume. Increase your daily intake by spreading the intake of high-protein smoothies throughout the day.
These are a perfect way to refuel yourself after a workout through simple ingredients such as bananas, apples, peaches, berries, and nut butter.
The table below summarizes the protein content of the above high protein smoothies without protein powder:
| | |
| --- | --- |
| High protein smoothies without protein powder | Protein content |
| Chocolate and peanut butter | 28 |
| Banana and almond smoothie | 13 |
| Avocado and spinach smoothie | 18 |
| Blueberry smoothie | 12 |
| Cherry and beets smoothie | 20 |
| Chocolate coconut almond smoothie | 22 |
| Green Monster smoothie | 15 |
| Peach and protein smoothie | 20 |
| Blackberry smoothie | 15 |
| Banana orange and avocado smoothie | 19 |