6-Week Belly Photos – Ozempic Weight Loss Before and After – How you may look after six weeks?
Losing belly fat is one of the hardest things you'll find when you are on a weight-loss journey. People try different diets and workouts but it's a frustrating effort most of the time.
Belly fat is hard to lose because:
It is controlled by hormones, especially estrogen and sex hormones
It is a storage area where most of the extra calories are stored as fats
You can not move it with workouts. The muscles are hard to move unlike the muscles of the arms and hips.
To lose belly fat in six weeks, you need to work hard. Along with going on a calorie-deficit diet and weight-losing exercises, you may need to take weight-loss pills as well.
The CDC recommends losing no more than 1 to 2 pounds every week. A person weighing 180 to 200 lbs may notice some belly-flattening after 6 weeks at a pace of 1 to 2 lbs of weight loss per week. However, a person weighing more than 250 pounds may not notice anything after six weeks.
If you lose weight at a pace of 2 lbs a week, you should be losing at least 12 pounds after six weeks. The good news is that losing weight within the first six weeks is much easier than losing weight after six weeks.
This is because of the extra water loss when you start a weight-loss program.
If you had tried diet and workouts, adding a potent weight loss pill may be the ultimate way to get back on your track.
12 pounds or more of weight loss within six weeks can only be achieved with the latest weight-loss pill, Semaglutide.
What is Semaglutide: Rybelsus, Ozempic, and Wegovy?
Semaglutide is the latest drug that has been approved for the treatment of diabetes and weight loss.
Rybelsus and Ozempic have only been approved for the treatment of diabetes, while Wegovy has been approved for the treatment of weight loss.
All three drugs are different formulations of Semaglutide. Rybelsus is an oral tablet formulation while Ozempic and Wegovy are injectable formulations administered weekly.
Rybelsus tablets are available as 3 mg, 7 mg, and 14 mg and are administered daily
Ozempic injection is available as 0.25 mg, 0.5 mg, and 1 mg and administered weekly
Wegovy injection is administered in a dose of 2.4 mg weekly.
What is Wegovy, Rybelsus, and Ozempic? Efficacy in DM and Obesity
In clinical trials, all three formulations of Semaglutide have been observed to cause significant weight loss. The weight loss observed with these drugs are:
Rybelsus has been associated with a weight loss of about 8.1 pounds after 26 weeks in clinical trials.
Ozempic is associated with about 13 pounds weight loss when used for 26 weeks.
Wegovy is associated with a maximum of 16% body weight loss after 68 weeks.
Data of people using Ozempic was extracted from social media. It was observed that Ozempic use was associated with significant weight loss after six weeks.
The weight loss observed after six weeks was on average 23 pounds.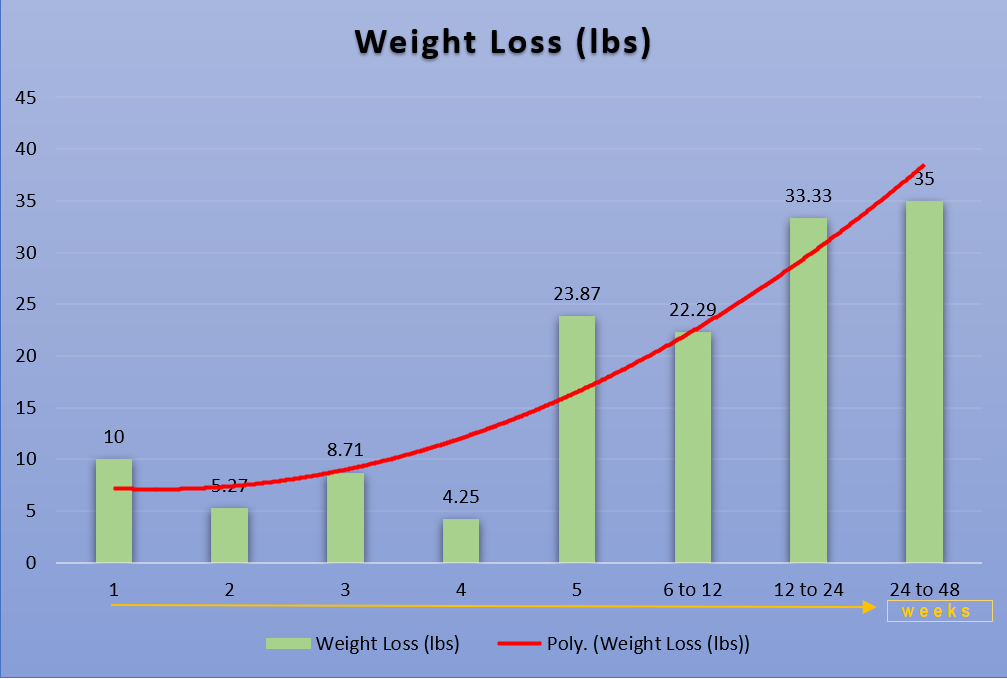 23 pounds of weight loss is enough to observe your belly getting flat.
Here are some pics of people who have flattened their bellies after six weeks of hard work, diet, workout, and weight loss pills.
The pics posted here are not a result of using Ozempic. These pics show what your belly may look like after losing some weight.
6-week Belly Ozempic Weight Loss Before and After [Ref]:
Weight loss of 13 lbs in six weeks:
Although not clearly visible in the pics above, 13 lbs weight loss is an ideal weight loss in six weeks.
Weight loss of 12 pounds in Six Weeks:
Subtle belly-flattening can be seen in the pics above. 12 lbs weight loss in six weeks is better than rapid weight loss.
Before and After Pictures & Reviews of People who are using Ozempic
Weight loss of 10 lbs in six weeks:
Unlike the other pics, this lady lost only 10 lbs in six weeks, however, she has probably lost most of her belly fat. She has flattened her belly within six weeks with just 10 lbs weight loss.
How to Switch from Victoza to Ozempic (Liraglutide to Semaglutide)
Weight loss of 2 lbs in six weeks:
Discouraged by the scale but seeing a change in the mirror
Here, 2 lbs can be just your scale misreadings, but belly-flattening can be seen in the above pics. It is unbelievable the lady lost just 2 lbs.
Weight loss of 20 lbs in six weeks:
20 lbs is a little too much for this lady as she is not obese at the baseline. However, one should try to lose weight not exceeding 1 to 2 lbs per week, especially, if the baseline weight is not too much.
Flat belly and weight loss in Six weeks:
12 lbs weight loss is ideal in six weeks. Some people work on specific parts of the body like the hips, belly, and thighs. This lady seems to have worked on her belly fat.
In Conclusion:
You can transform yourself in six weeks if you are motivated. The first six weeks may be easy but maintaining weight loss over the long term may be difficult.
Ozempic, Rybelsus, and Wegovy may help you lose weight and flatten your belly within six weeks provided you are motivated and comply with a low-calorie diet and exercise.