The connection between Ozempic and diabetic retinopathy has been a subject of ongoing debate.
This discussion stemmed from observations where patients using exenatide or liraglutide experienced a deterioration in their eye symptoms, leading to proliferative diabetic retinopathy.
Both the FDA, in their prescribing information, and the manufacturers of Ozempic and Rybelsus emphasized the need for caution regarding diabetic retinopathy with these medications.
However, emerging data suggests this association may not be as robust as initially thought.
Ozempic and Diabetic Retinopathy: Key points of the study
New data presented at the AAO Congress suggests that the incidence of vision-threatening complications in patients with Diabetic Retinopathy (DR) who initiate Semaglutide for Type 2 Diabetes Mellitus (T2DM) is relatively low during the first 3 to 24 months.
The findings challenge existing recommendations that advise patients to consult with ophthalmologists before starting semaglutide.
The study implies that the risk of vision-threatening complications may be lower than previously thought during the initial period after initiating this medication.
The research involved a retrospective noncomparative case series analysis of data from the Intelligent Research in Sight Registry, covering patients with T2DM mellitus who started non-oral semaglutide between 2013 and 2021, with a minimum follow-up duration of 3 months.
Semaglutide and Diabetic Rretinopathy:
Semaglutide plays a crucial role in the management of Type 2 Diabetes Mellitus (T2DM) by addressing key aspects of glucose regulation [ref].
In individuals with T2DM, there is often a deficiency in insulin production and an impaired response to insulin, and semaglutide addresses this by acting as a GLP-1 receptor agonist.
This means it mimics the action of GLP-1, a hormone that stimulates insulin release from the pancreas in response to elevated blood sugar. [ref]
By enhancing insulin secretion and reducing glucagon production, semaglutide helps normalize blood glucose levels in patients with T2DM. This dual mechanism of action is particularly beneficial in T2DM.
Furthermore, the use of semaglutide is not only limited to glycemic control. It has been associated with multiple benefits, including weight loss, which is often a relevant consideration in T2DM management.
Semaglutide has been approved for weight loss in patients with obesity or those who are overweight with weight-related conditions [ref].
Ozempic and Diabetic Retinopathy:
GLP-1 use and Ozempic in particular have been associated with worsening diabetic retinopathy.
The odds of developing diabetic retinopathy with the use of various diabetes medications were studied in a network meta-analysis [Ref].
Compared to glitazones and sulfonylureas, the risk was lower with GLP-1 analogs. The graph below summarizes the odds ratio of diabetic retinopathy with various diabetes medications: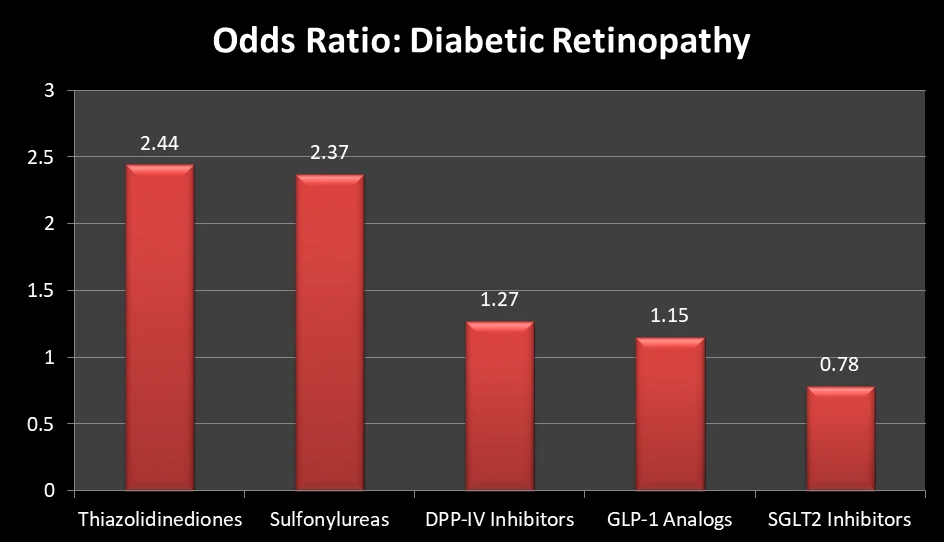 Similarly, eye-related adverse events were more common with Semaglutide vs other GLP-1 analogs in the FAER (Food and Drug Administration Adverse Event Reports) [Ref]: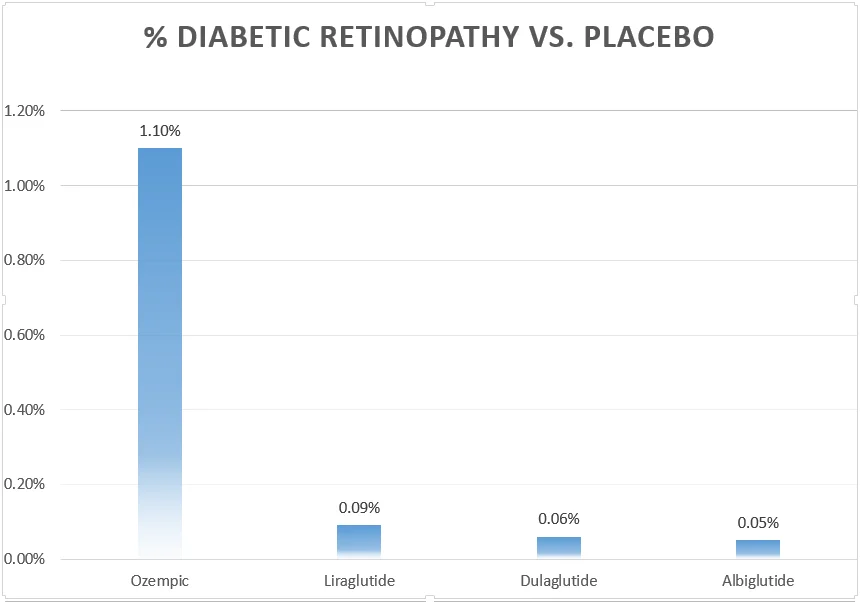 Given the multitude of reports, it became crucial to elucidate the connection and ascertain whether Semaglutide was genuinely linked to diabetic retinopathy. Therefore, a comprehensive observational study was undertaken.
New Data Regarding Ozempic and Diabetic Retinopathy:
New information shared at the 127th Annual American Academy of Ophthalmology (AAO) Congress in San Francisco, California, reveals that the risk of vision-threatening complications in individuals with Diabetic Retinopathy (DR) starting semaglutide for Type 2 Diabetes (T2D) is notably low within the initial 3 to 24 months.
The results counter the previous suggestions that patients starting semaglutide should consult with their physicians before starting the medication.
Study findings and analysis …
The research team looked at data from a registry called Intelligent Research in Sight and studied patients with Type 2 Diabetes who started using non-oral semaglutide between 2013 and 2021. They focused on patients for at least 3 months.
In total, they examined the eyes of 96,432 patients. Most of them (77.2%) were between 51 and 75 years old, while more than half of the patients were women (55.0%), White (63.8%), and lived in the South or Midwest (59.4%).
When the study began, around one-fourth of the participants had mild or moderate non-proliferative Diabetic Retinopathy (NPDR; 18.4%) or severe NPDR or proliferative DR (PDR; 9.8%). The majority (71.8%) had no signs of DR at the beginning.
The three groups evaluated are summarized in the table below:
| | |
| --- | --- |
| Stage of DR | Percentage of Patients |
| No DR | 71.8% |
| Mild or moderate NPDR | 18.4% |
| Severe NPDR | 9.8% |
Throughout the study, a worsening of Diabetic Retinopathy was only slight ranging from 1.3% to 2.2% over 24 months.
This is summarized in the table below:
| | | | | |
| --- | --- | --- | --- | --- |
| Stage of DR | Worsening of DR at 3 months | Worsening of DR at 6 months | Worsening of DR at 12 months | Worsening of DR at 24 months |
| No DR | 1.3% | 1.2% | 1.6% | 2.2% |
| Mild to Moderate DR | 2.4% | 3% | 3.4% | 3.5% |
For eyes initially showing mild to moderate non-proliferative DR, the rates were 2.4% at 3 months and 3.5% at 24 months.
However, eyes with severe NPDR or proliferative DR saw an improvement, with rates going from 40.0% at 3 months to 58.7% at 24 months.
| | |
| --- | --- |
| Improvement in Severe DR | Percentage of patients showing improvement |
| At 3 months | 40% |
| At 6 months | 37.8% |
| At 12 months | 47.7% |
| At 24 months | 58.7% |
Less than 1% of eyes with NPDR progressed to PDR at 3, 6, 12, and 24 months after starting semaglutide. Similar trends were noticed for the development of diabetic macular edema after using semaglutide.
In terms of complications, patients with DR were more likely to report vitreous hemorrhages at 3 months (0.15%) and 24 months (0.10%) compared to tractional retinal detachment (0.05% and 0.02%) or neovascular glaucoma (0.03% and 0.04%) at the corresponding time points [Ref].
| | | |
| --- | --- | --- |
| Complications | At 3 months | At 24 months |
| Vitreous hemorrhage | 0.15% | 0.1% |
| Tractional Retinal Detachment | 0.05% | 0.02% |
| Neovascular Glaucoma | 0.03% | 0.04% |
Implications of the new findings:
We are well aware that the worsening of diabetic retinopathy is associated with immediate and rapid control of the blood sugar level [ref].
However, these conditions go away, and diabetic retinopathy improves with time. In the UKPDS study, good glycemic control was associated with a significant reduction in the HbA1C.
1% reduction in HbA1C = 37% reduction in Diabetic Retinopathy
Nevertheless, it is important to educate patients that they will face worsening symptoms when they initiate effective glucose control. But they should remain calm as this goes away eventually.
This broad study is sufficient to be used in clinical settings, still, experts believe that the data from the IRIS database can be wrong or incomplete. Therefore, a thorough study with appropriate data is required.
The bottom line:
The use of semaglutide is rather common for both weight loss and diabetes control and so is the concern for increasing diabetic retinopathy.
The new findings hold great magnitude for diabetics who are worried about their eye conditions. It is still important to consult your ophthalmologist before initiating semaglutide and practice a thorough discussion about your worries regarding the medication.