Although many people with type 2 diabetes eventually need insulin therapy, many patients' glycemic control is still subpar. This could be explained by the requirement for frequent injections, which leads to
Poor adherence and worries about complicated doses.
The negative consequences of hypoglycemia and weight gain.
The expense of treatment.
Some of these issues have been addressed by once-daily basal insulin analogs. But research indicates that persons with type 2 diabetes would benefit from an additional decrease in the frequency of injections to once weekly.
Because it would enhance convenience, adherence, and quality of life. These advancements could ultimately result in better glycemic management.
| | |
| --- | --- |
| You may also like to read: | |
Once-a-week Insulin Icodec:
Icodec (proposed international nonproprietary name) is a once-weekly basal insulin analog under development for the treatment of diabetes patients.
It has a pharmacokinetic and pharmacodynamic profile suitable for once-weekly injection, with a time to a maximum concentration of 16 hours and a half-life of approximately 1 week [ref].
Icodec's long half-life is due to its strong, reversible albumin binding, low enzymatic degradation, and slow receptor-mediated clearance.
Theoretically, patients changing from a daily basal insulin regimen may need extra insulin to keep their blood sugar levels under control for the first few weeks after the changeover, up until a steady state is attained.
A "loading dose" of Icodec may be added to the first dose of basal insulin when switching from daily to once-weekly basal insulin.
This is in order to prevent any temporary worsening of fasting glucose levels before a steady state is reached without compromising safety.
This additional dose would increase the inactive albumin-bound reservoir of Icodec. These modeling data are based on clinical pharmacology studies of Icodec.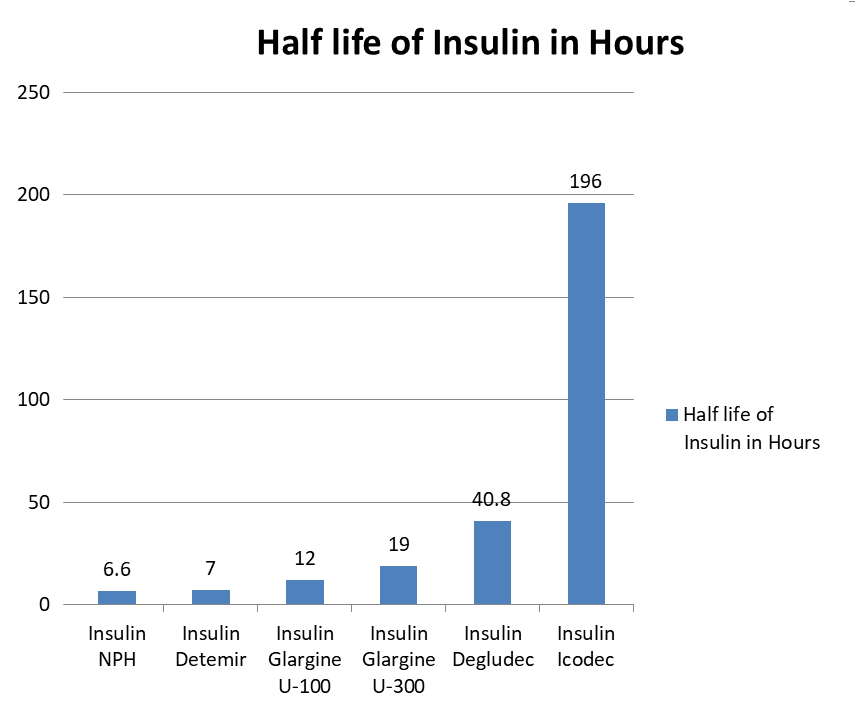 | | |
| --- | --- |
| You may also like to read: | |
Mechanism of action of once-a-week Insulin Icodec:
The Icodec molecule was created by altering human insulin to give it a longer half-life and enable once-weekly administration.
With each weekly injection, Icodec's ability to reduce blood sugar levels gets stronger until a stable state is established after three to four injections.
Icodec functions by firmly but quickly attaching to albumin. This is because three-amino acid substitutes have been modified to avoid and minimize enzymatic breakdown.
While C20 diacid acts on reversible albumin binding. Each alteration slowed receptor-mediated clearance in some way [Ref].
Efficacy of Insulin Icodec:
The once-weekly insulin has the potential to simplify its administration, bringing about clinical advantages. It also lowers the number of weekly injections needed annually.
A study was conducted to identify the effectiveness of Icodec. The results of the post-breakfast and post-lunch measures with once-weekly Icodec showed a greater amount of glycemic range (70 to 140 mg per deciliter) than those patients treated with once-daily glargine.
And it is according to the mean of the nine-point patient-measured blood glucose profile. The estimated mean weekly dose in the glargine group was greater than in the Icodec group (229.06 vs. 284.05 U/week).
The secondary objectives included hypoglycemic episodes and fasting plasma glucose (FPG) changes from baseline to week 26.
Icodec and glargine patients experienced the same change in FPG levels between baseline and week 26. (mean, – 57.74 compared to -53.86 mg/dL; difference, -3.9).
There was no difference in body weight changes between the two groups despite the different doses (mean, 1.49 vs. 1.56 kg; difference, -0.08) [Ref].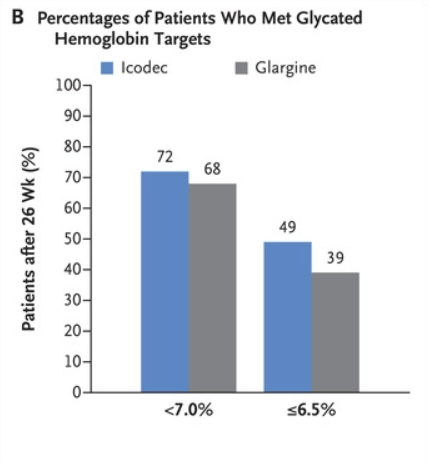 | | |
| --- | --- |
| You may also like to read: | |
How is Insulin Icodec Administered?
Insulin is injected subcutaneously into the buttock, upper/outer arm, thigh, belly, or upper/outer arm (back).
Similar to other types of insulin, Icodec can be stored in the same way. The Food and Drug Administration [Ref] advises that the insulin be kept in the refrigerator for long-term storage between 2°C and 8°C until it expires (FDA).
With the potential to improve clinical outcomes and reduce the number of injections needed annually from 365 to 52, insulin Icodec offers the potential to simplify insulin administration [Ref].
The Icodec was not associated with any sociological or ethical problems. Patients who transitioned from once-daily to once-weekly medication with a GLP-1 receptor agonist showed better satisfaction without affecting glycemic control.
| | |
| --- | --- |
| You may also like to read: | |
Potential impact
According to preliminary research, Insulin Icodec, an investigational long-acting basal insulin intended for weekly administration, may be beneficial to T2DM patients by providing glucose-lowering effects and a safety profile similar to once-daily glargine without increasing the risk of hypoglycemia.
The once-weekly administration is more convenient. It reduces the inconvenience that diabetes patients who must deal with daily injections face.
It may also improve adherence, compliance, and complication rates, as well as patient satisfaction with basal insulin administration [ref].