An antidepressant that does not cause weight gain may be best tolerated by individuals who are weight-conscious. One antidepressant may cause weight gain in one person and cause weight loss in another. The effect of the antidepressant on weight is also affected by multiple factors including dietary habits, inactivity, concomitant medications, and illnesses that might cause weight gain.
10 Important Weight Loss Tips; Recommendations by a Nutritionist
The specific medication and treatment duration will determine the effect of SSRIs on weight. Short-term treatment for two to three months with SSRIs usually causes little or no weight change. However, short-term therapy is not recommended for most patients.
Short-term antidepressant use is not associated with significant weight gain
Weight gain may occur if SSRIs are used for prolonged periods. It is unclear if this is a side effect of the antidepressant medicine or a result of recovery from depression resulting in the reversal of weight loss associated with depression.
Evidence suggests that fluoxetine (Prozac) is the most effective antidepressant for undesired weight gain, while paroxetine (Seroxat) might be the most problematic. These weight effects were reported in studies that lasted between 6 and 30 months.
Paroxetine (Seroxat) causes the most weight gain among the SSRIs
Effect of Fluoxetine (Prozac) on weight:
Effect of Citalopram on Weight:
Fluvoxamine (Luvox) effect on weight:
Paroxetine (Seroxat) Side effect: Weight Gain
Vortioxetine (Brintellix) effect on body weight:
Vortioxetine is available by the brand names of Brintellix and Trintellix. It is a serotonin modulator and is used in patients with refractory depression.
In one trial, vortioxetine was compared with sertraline in patients with depression and comorbid diabetes mellitus. Vortioxetine significantly improved all the metabolic parameters including improvement in the glycated hemoglobin and change in weight.
A mean weight loss of 2.4 kgs occurred in the vortioxetine group compared to a mean weight gain of 2.3 kgs in the sertraline group. Similarly, waist circumference was reduced by a mean of 3.3 cm in the vortioxetine group vs 0.1 cm in the sertraline group.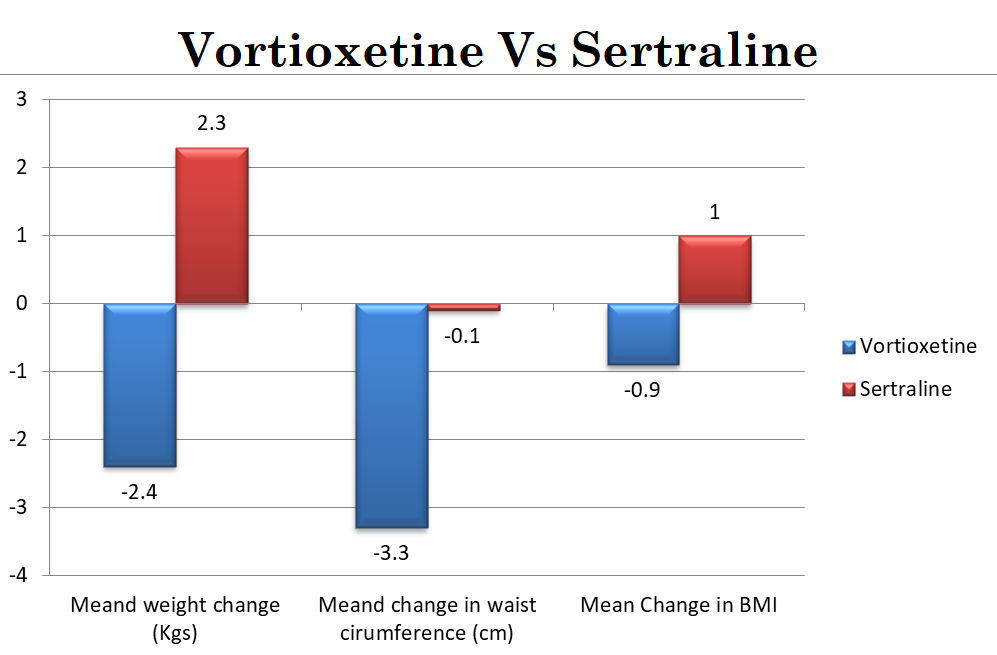 Vilazodone (Viibryd) effect on body weight:
Vilazodone is another serotonin modulator that is available by the brand name Viibryd. It is a novel antidepressant and data is limited. However, vilazodone when compared to sertraline resulted in weight loss and had significantly fewer sexual side effects [Ref].
Bupropion causes weight loss:
Bupropion is the only antidepressant associated with significant weight loss. It is the only antidepressant that has been FDA-approved for weight loss. However, the formulation that has been FDA-approved for weight loss is a combination of bupropion and Naltrexone. It is marketed by the brand name of "Contrave".
Bupropion monotherapy, in one 8-weeks trial, resulted in a weight loss of greater than 5 lb (2.27 kgs) in 14% and 19% in patients treated with Bupropion SR 300 mg and 400 mg per day compared to 6% in the placebo-treated patients.
A weight loss of greater than 10lb (4.54 kgs) occurred in 2% and 6% of the patients treated with bupropion SR 300 mg and 400 mg per day compared to 2% of the patients treated with placebo.
Final words:
Major depressive disorder has been the subject of many studies. It is unclear whether weight changes caused by SSRIs are different for different demographic profiles, such as age and sex.
A review found that weight gain during treatment with SSRIs may be due to remission of major depression, improved appetite, increased carbohydrate craving, and changes in serotonin 2C receptor activity [Ref]. Conversely, weight loss during acute SSRI treatment may be related to poor appetite at the beginning of treatment.
Among the antidepressants, paroxetine causes the greatest weight gain while bupropion is associated with significant weight loss. Lastly, the novel serotonin modulators are effective in the treatment of depression and have fewer side effects especially those related to body weight and sexual side effects.