Reyvow is a new drug that the FDA has recently approved for the treatment of migraine headaches. The generic name of Reyvow is Lasmiditan.
It is one of the most effective novel therapies that has been approved only for the acute treatment of migraine. Among other novel agents that are being commonly used and extensively promoted are:
Reyvow (Lasmiditan) is different than Nurtec, Ubrelvy, and Qulipta. It is not a gepant.
Reyvow Drug Class: 5-HT-1F receptor activator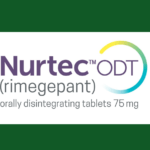 Reyvow (Lasmiditan) Uses:
Lasmiditan is used for the acute treatment of migraine headaches that may or may not be preceded by an aura.
Aura is a symptom complex that a person with migraine headaches usually feels before the onset of the migraine headache. It can manifest as flashing lights, seeing a rainbow, weird smells, tastes, and dizziness.
Lasmiditan is not approved for the prevention of migraine headaches, unlike Nurtec (Rimegepant) which has been approved for both migraine prevention and acute treatment.
Reyvow Dosing and Dosage Forms:
Lasmiditan is available as 50 mg and 100 mg oval tablets that are colored light grey and light purple respectively.
The tablets can be taken during an acute attack of a migraine headache, preferably at the onset of a migraine headache.
It may be taken with or without food. However, once the tablet is taken, driving is prohibited for at least 8 hours of taking the pill.
The usual dose is 50 mg, 100 mg, or 200 mg as a single tablet once. The daily dose should not exceed a single dose. No more than four doses can be taken per month as the safety of treating more than 4 doses per month has not been established [Ref].
A person may take a 50 mg tablet. If the episode settles, the same dose can be taken for the treatment of the next migraine attack as well. However, if no significant improvement is noted, the next time a migraine attack strikes, the 100 mg and then the 200 mg tablet may be used.
It is best to use the lowest effective pill. In addition, the dose may only be increased if no clear-cut benefits are observed regarding the time to resolution and the severity of the headache.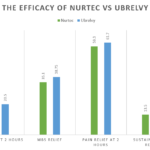 Reyvow Side effects:
Because Reyvow (Lasmiditan) is a serotonin receptor agonist, it is associated with certain brain-related side effects.
Drowsiness and sleepiness:
Reyvow (Lasmiditan) has a CNS depressant effect resulting in sleepiness and dizziness. Because of the depressant effect of Lasmiditan on the brain, the concomitant use of alcohol or other CNS depressant drugs should be avoided.
In addition, patients are advised not to drive within 8 hours of taking the drug. If driving can not be avoided, drugs other than Lasmiditan should be used to treat acute migraine attacks.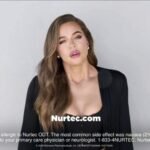 Serotonin Syndrome:
Serotonin syndrome is a serious condition of all serotonin receptors activating drugs. Serotonin syndrome can occur with Lasmiditan when used alone or in combination with other serotonin-activating drugs such as SSRIs (Fluoxetine, Cipralex, etc), TCAs (tricyclic antidepressant drugs), or SNRIs (serotonin-norepinephrine reuptake inhibitors).
The hallmarks of serotonin syndrome are:
Mental status changes:

Hallucinations
Agitation
Coma

Autonomic nervous system involvement:

Sweating
Fluctuations in the Blood Pressure readings
Tachycardia/ Bradycardia
Hyperthermia

Neuromuscular signs

Ataxia
Rigidity
Hyperreflexia
Clonus

Gastrointestinal signs and symptoms: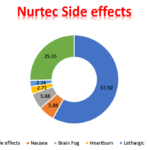 Paradoxical Headache due to medication overuse:
When pain medications are overused, they can cause headaches paradoxically, rather than treating pain.
Medication overuse headaches have been mentioned and reported with NSAIDs, Opioids, Ergotamine, and triptans.
Although not documented with Lasmiditan, medication overuse headache can occur.
Other common side effects reported with Lasmiditan include:
Dizziness:
Dizziness or spinning of the head is one of the common side effects of Reyvow (Lasmiditan).
In clinical trials, dizziness was reported in 9%, 15%, and 17% with 50 mg, 100 mg, and 200 mg respectively compared with 3% in the placebo group.
Fatigue:
Fatigue is a vague term. It may refer to asthenia, listlessness, or malaise.
In clinical trials, fatigue was reported in 4%, 5%, and 6% with 50 mg, 100 mg, and 200 mg respectively compared with only 1% in the placebo group.
Paraesthesias:
Paraesthesias, tingling, numbness, hyperesthesias, and hypoesthesias are nerve-related side effects.
In clinical trials, paraesthesias have been reported in 3%, 7%, and 9% with 50 mg, 100 mg, and 200 mg tablets compared with 2% in the placebo group.
Sedation:
Sedation, sleepiness, and somnolence are terms used synonymously.
Sedation was reported in 6%, 6%, and 7% of patients receiving 50 mg, 100 mg, and 200 mg Reyvow tablets compared with 2% in the placebo group.
Nausea/ Vomiting:
Gastrointestinal symptoms, primarily nausea and vomiting are also common side effects of Lasmiditan.
These symptoms were reported in 3%, 4%, and 4% of the patients who received 50 mg, 100 mg, and 200 mg Lasmiditan compared with 2% in the placebo group.
Muscle weakness:
Muscle weakness is sometimes referred to as tiredness. It is difficult to differentiate from fatigue.
However, muscle weakness, in terms of reduced power in the muscles was reported in 1%, 1%, and 2% of the patients receiving the drug compared with none in the placebo group.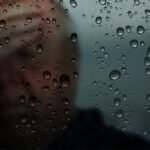 Less common side effects of Reyvow that were reported in less than 1% of the patients include:
Visual blurring
Vision impairment
Lethargy
Lack of coordination or imbalance
Vertigo
the feeling of being abnormal
Anxiety
Palpitations
Tremors
Restlessness
Sleep disturbances
Abnormal dreams
Cognitive impairment
Muscle spasms
Limb discomfort
Confusion
Euphoria
Chest discomfort
Shortness of breath
Hallucinations
Impaired speech
In addition, allergic reactions were also reported in clinical trials, although these signs were reported in fewer than 0.2% of the patients.
Allergic reactions may manifest as itching, rash, hives, angioedema, and shortness of breath. In case, severe allergic reactions are observed, treatment should be discontinued.
Effect on heart rate and blood pressure:
Lasmiditan has been associated with changes in heart rate and blood pressure. It lowers the heart rate by about 5 – 10 beats per minute. The effect is more marked in patients taking medications that lower the heart rate such as beta-blockers and calcium channel blockers.
Since beta-blockers are commonly used for the prevention of migraine headaches, when Lasmiditan is used for acute migraine treatment, it is logical to switch to another preventive medicine rather than continuing beta-blockers.
Similarly, it can also elevate blood pressure. In hypertensive patients, Lasmiditan should be used with caution.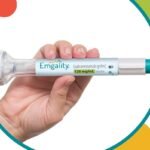 Reyvow Drug Interactions:
Reyvow (Lasmiditan) has important drug interactions. Important drug interactions where concomitant medications should be avoided include:
Alcohol and other CNS depressant drugs:
Since Lasmiditan causes sedation and cognitive impairment, the concomitant use of alcohol and other CNS depressing drugs should be avoided.
Marked sedation and drowsiness can occur in such patients.
Drugs acting on serotonin receptors:
The concomitant use of drugs that act on the serotonergic pathways like SSRIs, SNRIs, MAO inhibitors, and TCAs can enhance the side effects of Lasmiditan.
The risk of developing serotonin syndrome multiplies when two or more serotonergic drugs are combined.
Heart-rate lowering drugs:
Lasmiditan may lower the heart rate. In patients taking a beta blocker or a calcium channel blocker, the heart-rate lowering effects of Lasmiditan may be enhanced.
Marked bradycardia resulting in heart blocks can occur.
P-gp and breast cancer resistant proteins (BCRP)
In laboratory studies, Reyvow inhibits P-gp and BCRP. It should not be used in patients who are on treatment for breast cancer using the above-mentioned drugs.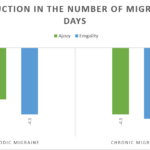 Reyvow Use in Pregnancy and Breastfeeding:
Lasmiditan has not been studied in pregnant or breastfeeding women. However, in animal models, its use during pregnancy has resulted in embryotoxic effects.
Low birth weight, skeletal and organ malformation, premature birth, and maternal toxicity have been reported in animal models.
The drug has not been studied in nursing mothers. Its effects on the breastfed child, while the mother is taking Lasmiditan, are not clear. It is recommended to discontinue treatment or breastfeeding depending on who benefits the most.
Since alternate medicines are available, generally the child is continued breastfeeding while the mother switches to another breastfeeding-safe medicine.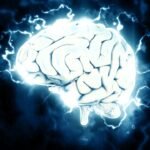 Reyvow Use in Patients with Liver and Kidney Diseases:
Systemic exposure is increased in patients with liver or renal impairment. Since Lasmiditan is primarily metabolized by enzymes into inactive products, dosage adjustment in kidney diseases is not required.
In patients with hepatic impairment, no dosage adjustment is required in mild to moderate hepatic impairment (Child Class A and B).
In severe hepatic impairment, Lasmiditan has not been studied. Hence, Lasmiditan use in these patients is not recommended.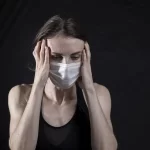 Reyvow Dependence and Drug Abuse Potential:
The drug's potential for abuse is being studied and has not been cleared yet. Because adverse events such as hallucinations and euphoria have been documented with Lasmiditan, it is currently being evaluated for its potential to cause dependence.
In clinical trials, no withdrawal effects were observed following abrupt cessation of the drug after continuous 7 days of taking it.
Reyvow MOA (Mechanism of Action):
Lasmiditan's mechanism of action in treating acute migraine headaches is not very clear. However, it binds with a very high affinity to a subtype of serotonin receptors, 5-HT-1F.
Most of the effects of Lasmiditan are thought to be because of the activation of these serotonin receptors.
Absorption:
It rapidly gets absorbed when taken orally. The maximum absorption occurs 1.8 hours after the drug is taken orally.
Food delays the absorption of Lasmiditan. The maximum concentration in the blood is reduced by 22% when Lasmiditan is taken with a high-fat meal. Also, the time to reach the maximum concentration in the blood is delayed by about one hour if it is taken with a high-fat meal.
Protein binding:
About half (55% to 60%) of the Lasmiditan is bound to plasma proteins.
Half-life elimination:
Lasmiditan has a half-life of about 5.7 hours.
Metabolism:
It is metabolized primarily by ketone reduction. Although it is metabolized by non-CYP enzymes present in the liver and elsewhere, the following enzymes are not involved in the metabolism of Lasmiditan:

MAO-A,
MAO-B,
flavin monooxygenase 3,
CYP450 reductase,
xanthine oxidase,
alcohol dehydrogenase,
aldehyde dehydrogenase, and
aldo-keto reductases

The metabolites have no effect on migraine headaches and are pharmacologically inactive.
Excretion:
Only 3% of the active drug is exerted in the urine. The majority of the drug (66%) is excreted as inactive metabolites within 48 hours.
Effect on QTc Interval:
It has no significant effect on QT and QTc intervals.
Reyvow Cost:
The cost of each tablet of Reyvow 50 mg, 100 mg, and 200 mg ranges between USD 80 $ to USD 95 $.
It is packaged as 8 tablets per strip that cost between $ 640 USD to $ 752 USD.