Metabolic Syndrome is a condition comprising different risk factors that may precede or co-exist with Diabetes and cardiovascular diseases.
The risk factors for both diabetes and cardiovascular diseases when co-exist, make the diagnosis of Metabolic syndrome.
Insulin resistance syndrome is the name describing the underlying process of metabolic syndrome. Most obese individuals have insulin resistance.
Insulin resistance reduces the ability of the person to utilize nutrients despite normal or slightly high levels of insulin in the blood. Often these patients also develop endothelial changes resulting in the stiffness of the blood vessels.
The risk factors for diabetes and cardiac diseases that are included in the metabolic syndrome are listed here:
Obesity
Raised triglyceride levels
Low HDL (high-density lipids)
Raised blood pressure
Raised blood glucose
What are the Criteria for Metabolic Syndrome?
The most commonly used criteria that define metabolic syndrome is the one put forth by the National Cholesterol Education Program (NCEP) Adult Treatment Panel III (ATP III).
The cut-off values for each of the risk factors (as per the NCEP-ATP III) are given below:
Obesity:

Obesity is defined as a waist circumference of 88 cm or more in females and 102 cm or more in men.
Thus, neither BMI nor weight has been considered in the definition of obesity. The obesity definition based on BMI (body mass index) is commonly used by bariatric surgeons and in clinical trials when a drug is evaluated for weight loss.

Raised triglyceride levels:

Triglyceride levels equal to or greater than 150 mg/dl or if the person is on treatment for elevated triglyceride levels.

Low HDL (high-density lipoprotein) levels:

HDL levels are less than 40 mg/dl in men and less than 50 mg/dl in women or if the person is on treatment for dyslipidemia.

Hypertension or Pre-hypertension:

Blood pressure values equal to or exceeding 130/85 mmHg or if the person is on treatment for hypertension.

Diabetes or Pre-diabetes:

Fasting blood glucose equals to or exceeding 100 mg/dl or if the person is taking treatment for diabetes or pre-diabetes.
The International Diabetes Federation is similar to the NCEP-ATP III Criteria except for obesity. The IDF suggests using abdominal waist circumference based on ethnic cut-offs.
Obesity is considered one of the main components of metabolic syndrome, however, as per the NCEP- ATP III criteria, it is not an essential component. Any three out of five criteria may be used to define metabolic syndrome.
In one study, it was estimated that only 5% of the individuals with normal weights fulfilled the criteria of metabolic syndrome.
In contrast, 22% of overweight individuals and 60% of obese individuals had metabolic syndrome [Ref].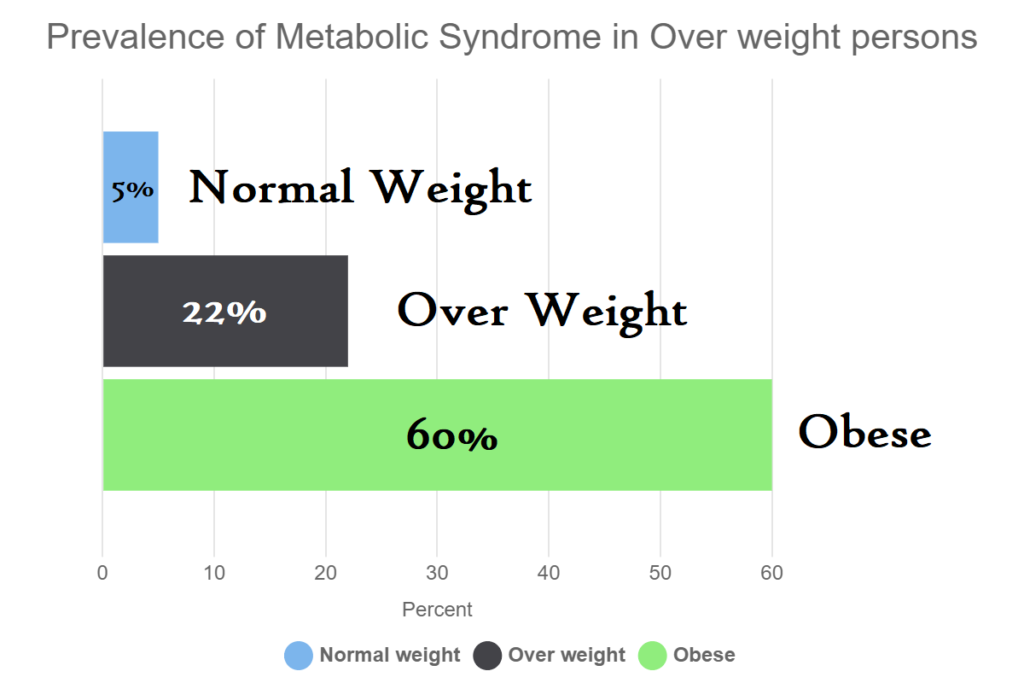 Individuals with normal weights who fulfill the criteria of metabolic syndrome are labeled as"Metabolically Obese". These individuals may have increased visceral adiposity compared to subcutaneous fat accumulation.
What is the importance of metabolic syndrome?
Metabolic Syndrome identifies individuals who may be at risk of developing cardiovascular diseases and diabetes.
Aggressive lifestyle interventions such as weight reduction and physical activity should be advised to all these patients to reduce the incidence of CVD and Diabetes.
Furthermore, these individuals should also undergo the risk assessment of a 10-year cardiovascular disease score such as the Framingham risk score or the Systemic Coronary Risk Evaluation (SCORE).
The ten-year risk of developing diabetes in persons with metabolic syndrome is about three times more compared to those without metabolic syndrome.
Similarly, the ten-year risk of developing cardiovascular disease in individuals with metabolic syndrome is twice as higher compared to those without metabolic syndrome.
Apart from diabetes and cardiovascular diseases, individuals with metabolic syndrome are also more likely to develop the following conditions:
Fatty Liver, NASH (non-alcoholic steatohepatitis), and Cirrhosis
Hyperuricemia and gouty arthritis
Chronic kidney disease
Cancers (liver cancer and cholangiocarcinoma)
Advice for Individuals with Metabolic Syndrome:
It is important to reduce the risk of diabetes and CVD at the earliest. All individuals should focus on the following lifestyle interventions to reduce their risk of developing diabetes and CVD:
Dietary changes:

Different dietary interventions are advised. Individuals may be advised to take diets rich in fruits, vegetables, nuts, whole grains, and olive oil. This is the primary focus of the Mediterranean diet.
The DASH diet (Dietary approaches to stop hypertension) focuses primarily on restricting salt intake to less than 2400 mg per day and is high in dairy products (contrary to the Mediterranean Diet). The DASH diet results in a greater improvement in diastolic blood pressure, triglyceride levels, and fasting blood glucose.
Foods with a low glycemic index focus on replacing refined grains with whole grains, fruits, and vegetables. Beverages are eliminated as they have a high glycemic index. Dietary intervention with an intake of foods with a low glycemic index improves diabetes and dyslipidemia.
The diet recommended by AHA (American heart association) is rich in fruits, vegetables, high fiber, whole grain, limited sweetened beverages, no or minimal alcohol intake, and vegetable and lean proteins. This diet is good for weight loss and reducing systolic and diastolic blood pressure. In one study, it resulted in a weight loss of 2.7 kgs.
A simple high-fiber diet with a daily intake of dietary fiber exceeding 30 gms is good for weight loss and reducing the risk of diabetes and cardiovascular diseases.

Exercise:

Most authorities recommend moderate-intensity exercise daily for 30 minutes or more. This could be performed by doing a brisk walk, running, swimming, or cycling.
Exercise is especially useful in removing abdominal fats and increasing insulin sensitivity.
Liposuction also removes excess subcutaneous fats, however, it does not result in improving insulin sensitivity.

Medications:

Medications that increase insulin sensitivity such as metformin may be advised. Other medications that may help improve insulin sensitivity are primarily used to induce weight loss.
Semaglutide administered once weekly (Wegovy) has recently been approved in overweight and obese individuals with or without diabetes.
It has been found to reduce body weight by up to 16%. Among all the approved medicines for weight loss, it is associated with the greatest weight loss (See Wegovy comparison with other weight loss drugs).