Low-calorie Fast Food options under 500 calories, followed by fast food options under 300 calories, and lastly under 200 calorie snacks are enlisted here.
Although fast foods are generally considered unhealthy, restricting calories may be one way of reducing their side effects.
Healthy Fast Food Options: Low Carbs, Low Calories, & Tasty 😋
Low-Calorie Fast Food
Maintaining a healthy diet becomes difficult with a hectic lifestyle. Many people rush to fast-food restaurants to save time, but these are often high in calories, sodium, and saturated fat which not only cause weight gain but also lead to some chronic conditions.
In fact, a single meal at a fast-food restaurant can easily exceed your daily fat and calorie intake while offering little to no nutrients or fiber.
Fast food is typically unhealthy since it is heavy in inflammatory fats including saturated and trans fats, as well as sodium.
However, eating fast food on occasions in appropriate portion sizes while remaining mindful does no harm. When ordering, you can also make some simple substitutions and tweaks to make the meal more nutritional.
For example, order grilled rather than fried items, substitute a carbohydrate-rich side like fries for a salad option with dressing on the side, choose water over high-sugar soda drinks, or simply remove the top bun from a burger or sandwich and enjoy it as an open-faced sandwich.
Instead of making fast food a habit, the best way to appreciate it is as a thoughtful treat.
How to select low-calorie fast food?
You can always make your fast foods low-calorie and nutritious with some simple changes.
Keep your fast-food meals around less than 400-500 calories.
Choose foods low fat, high fiber, and high protein foods and replace refined grains with whole-grains
Avoid French fries, onion rings, and noodles. Healthier side dishes include salads with light dressing, fruits, or plain baked potatoes. You can also pack your own sides from home, such as dried fruit, nuts, apple slices, and cottage cheese.
Go for the smallest size burgers and sandwiches. Avoid double-layered burgers.
Choose grilled or roasted meats vs deep-fried or breaded ones, and stick to one burger patty.
Choose thin-crust pizza.
In this article, we will suggest some low-calorie fast-food options that you can choose safely on your weight loss diet.
Fast Food Under 500 Calories
Spicy Veggie Wrap – MacDonald's
: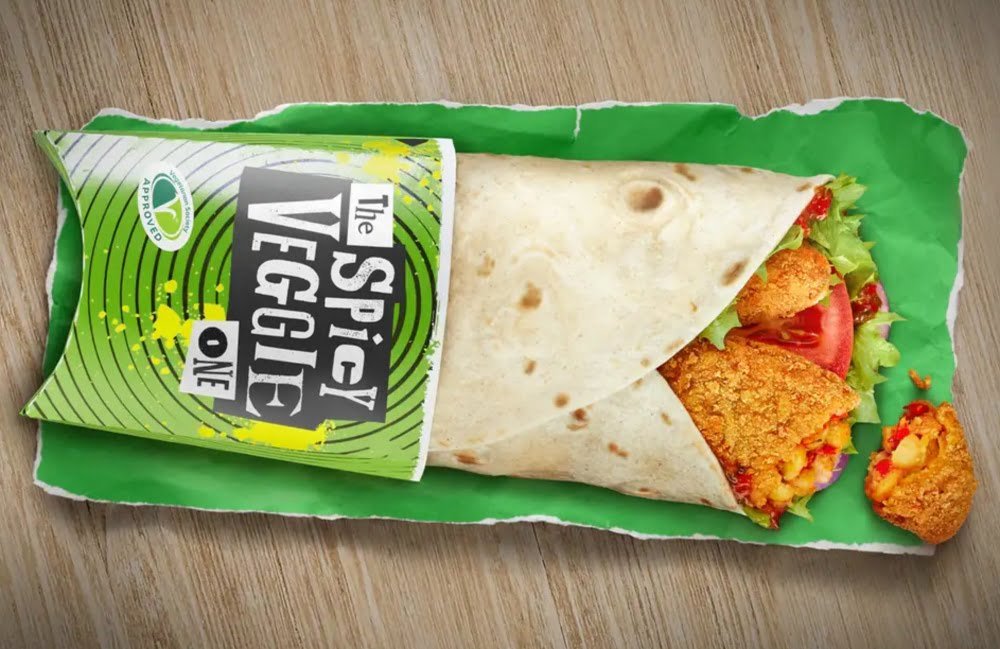 Vegetarian alternatives, especially those without cheese, are frequently healthier and lower in calories.
Instead of fatty mayo, this spicy vegetarian wrap has, lettuce, tomato, and spicy relish. It gives a total of 330 calories with only 1.4g of saturated fat.
Healthiest Fast Food Options: Pizza, Burgers, Sandwiches, & More
Tuna Salad- Subway:
A tuna salad sub is a healthy option as it can fill you up with low-calorie veggies.
It contains 450 calories with 19g protein, 25g fat, 38 g carbs along with some fiber, Vitamin A, and Vitamin C.
Veggie Lover Pizza – Pizza Hut: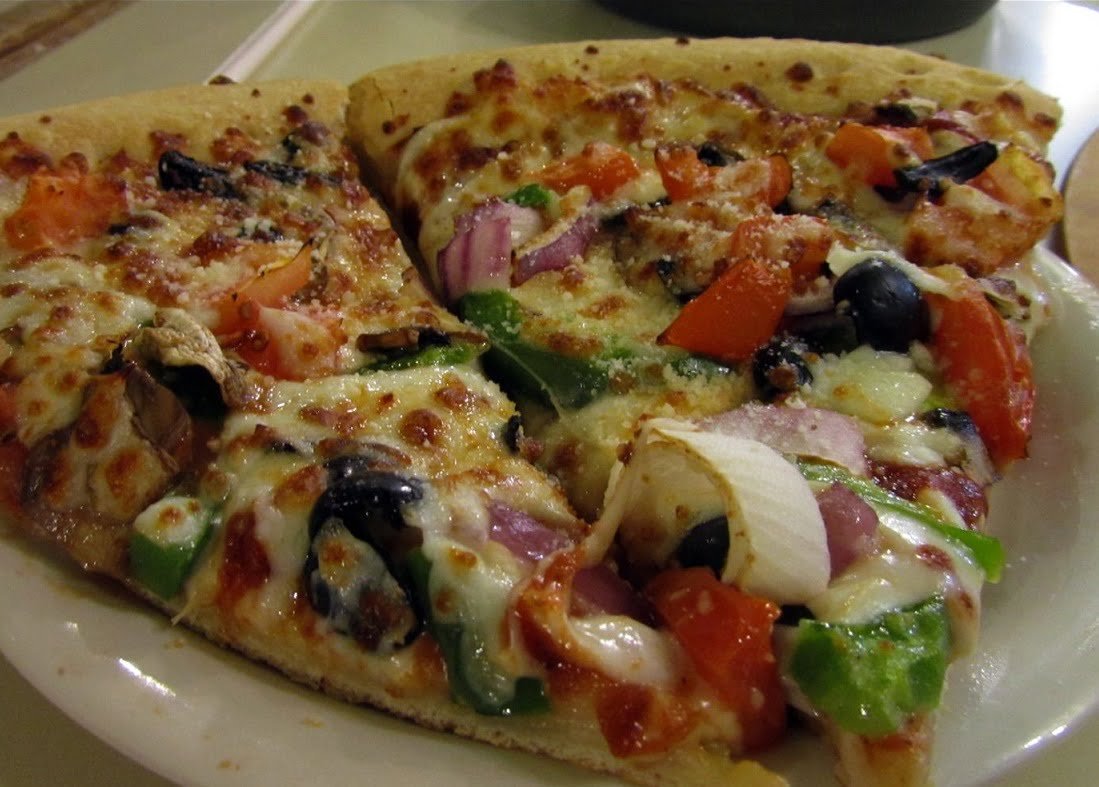 No matter how hard you try, it is almost impossible to stop yourself from having a slice of pizza. So, this low-calorie veggie lover pizza is the best choice for you.
Two slices of this pizza provide only 360 calories. This can be your diet-saving pizza alternative.
Fast Food Under 300 Calories:
If you want to further restrict your calories, these are the best options for you.
Regular Popcorn Chicken- KFC:
KFC's popcorn chicken is a good alternative to a calorific burger. It gives only 285 calories and 1.7 g of saturated fat.
Egg Muffin – MacDonalds:
McDonald's eggs are 100 percent natural and include no extra additives. The same cannot be said of all fast-food breakfast options.
This dish includes lean Canadian bacon, cheese, and butter in addition to the egg.
It provides a total of 300 calories, 17 g protein, 12 g fat, 30 g carb, 15% daily value of calcium and Iron.
Whooper Jr. – Burger King:
Burgers are a good option, especially when you stuff them with onions, tomatoes, lettuce, and even pickles for added taste without adding much salt or fat.
Skipping the cheese and complementing your sandwich with barbecue sauce or ketchup instead of mayonnaise saves calories and fat.
This burger gives only 240 calories and is smaller in size. It can be a great solution to your fast food cravings.
Chicken Caesar Salad- Dominos: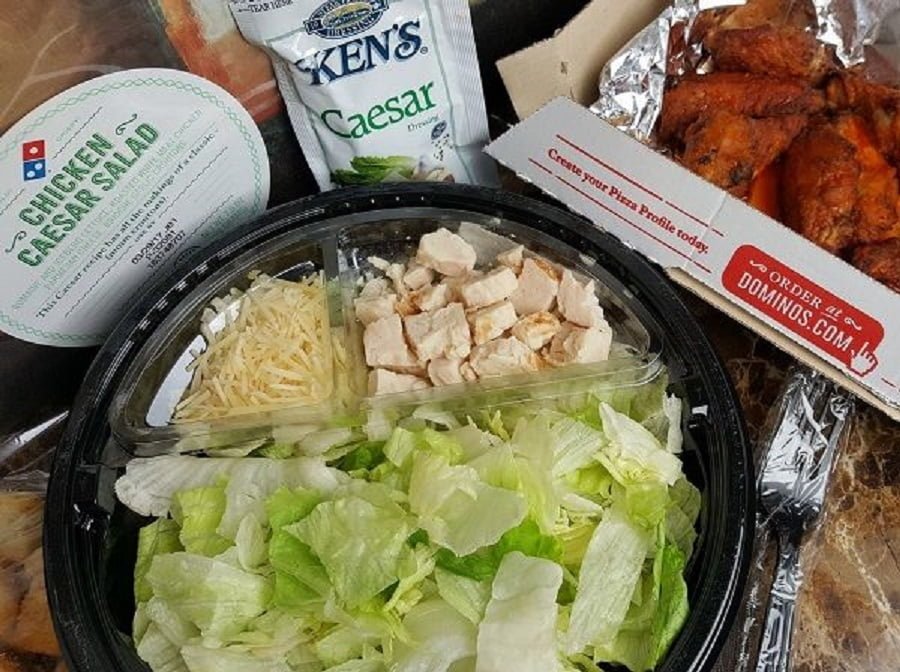 This international pizza restaurant also provides some healthy options, which is one of the reasons we like it.
If you're looking for a lighter option, go for the Chicken Caesar Salad which gives only 220 calories.
McDonald's Hamburger:
The Macdonald's hamburger surprisingly provides only 240 calories. If you ditch the fries and dips. You can easily get away with this low-calorie hamburger.
Fruit and Maple Oatmeal- McDonald's:
This is a 300-calorie whole-grain breakfast option with oats, apple slices, cranberry, and raisins. It is flavored with brown sugar which makes it even more healthy.
Under 200 Low-calorie snack options:
Here are some snacks and side orders that provide only 100-200 calories per serving. So, whenever it seems difficult to stick to the diet, even on your cheat days you can choose wisely and keep off the extra pounds.
McDonald's Fruit & Walnuts:
This easy-to-go snack includes low-fat yogurt, apples, red grapes, and walnuts. It provides only 210 calories.
Taco Bell's Crunchy Taco Supreme:
This 200-calorie snack includes a beef-filled taco with lettuce, tomatoes, and reduced-fat sour cream.
Short Hot Chocolate, Starbucks:
This warming winter drink contains skimmed milk and whipped cream. It gives only 130 calories per 8-ounce serving.
Other options:
Other low-calorie snacks include vegetable soups and whole-grain cookies in different restaurants.
The Mediterranean Food (Breakfast, Snacks, Lunch, and Dinner)
Just because you love to eat out doesn't mean you have to settle for a calorie bomb. Next time you're in the mood for fast food, you can try one of these healthy options.
Low-calorie and fast food don't usually go together, but smart eating choices can help you eat healthy at popular fast-food restaurants like McDonald's, Burger King, and even Dunkin' Donuts.
The menu choices in all of the low-calorie fast-food options mentioned are under 400 calories each.
Though many of these dishes are filling enough to create a complete meal, eating more than one or two servings, adding heavy side orders such as fries, or concluding with a soft drink will negate the health benefits.
Finally, these low-calorie fast-food options provide a middle ground. If you're craving something greasy or need something quick to eat on the go, these options will help you stick to your diet while still satisfying your hunger.
But remember moderation is always the key and not all your days can be cheat days!