Tirzepatide FDA Approval for weight loss is a breakthrough in the management of obesity and diabesity.
The drug has already been in the markets under the brand name Mounjaro, which the FDA has approved for the management of Type 2 Diabetes Mellitus.
On 8th November 2023, the FDA approved Tirzepatide under the brand name, Zepbound, to manage obesity.
Zepbound, like Mounjaro, is administered once weekly as a subcutaneous injection. It has been seen to cause a weight loss of up to 25% when used at the maximum recommended dose of 15 mg weekly.
Tirzepatide FDA Approval for Weight Loss: Key Points
Zepbound (Tirzepatide) has FDA approval for chronic weight management in adults with obesity or overweight who have a weight-related condition.
The active ingredient, Tirzepatide, is also used in Mounjaro to improve blood sugar levels in adults with type 2 diabetes when integrated with diet and exercise.
Zepbound reduces appetite and food intake by activating receptors of hormones from the intestine. It is administered once weekly through subcutaneous injection with a gradual dosage increase.
Clinical trials showed Zepbound's effectiveness over 72 weeks, with significant weight reduction compared to a placebo.
Weight loss exceeding 5%, 10%, and 15% of the baseline body weight was observed in about 80%, 60%, and 40% of the individuals respectively.
Much Awaited FDA Approval: Tirzepatide, Zepbound, for Weight Loss
Chronic weight control in adults with obesity or overweight, coupled with a weight-related condition, is a critical condition faced by several adults [Ref].
Tirzepatide FDA approval for weight loss as Zepbound weekly subcutaneous injection is the first of its kind of medicine.
Tirzepatide is a twincretin, targeting GLP-1 and GIP. It is an analog of these two incretins hence the term 'Twincretin".
Previously, two drugs from the GLP-1 class of medicines have been approved by the FDA for weight loss, including Semaglutide (Wegovy) and Liraglutide (Saxenda)
Zepbound, Tirzepatide Indications:
Tirzepatide has already been approved for managing Type 2 Diabetes under the brand name Mounjaro.
For obesity, Tirzepatide, Zepbound, has been approved in the following situations:
Individuals with a body mass index of 30 or above or
Individuals with a BMI of 27 or more with weight-related conditions like high blood pressure, T2DM, sleep apnea, or high cholesterol
If given with a lower-calorie diet and exercise, this treatment, proven effective in ongoing trials, offers a hopeful path for those aiming to lose weight and improve overall health sustainably.
Obesity is a global health concern …
Approximately 70% of adults in the United States are either overweight or obese [Ref], and a substantial number of those classified as overweight also experience weight-related health conditions.
Reducing 5% to 10% of body weight through dietary modifications and physical activity has demonstrated an association with lowered cardiovascular disease risk among adults with obesity or overweight issues [Ref].
"Obesity & overweight are serious conditions that can be associated with some of the leading causes of death like heart disease, stroke, and diabetes," John Sharretts, M.D., Director in the FDA's Division of Diabetes, Lipid Disorders, and Obesity, stated this.
"In light of increasing rates of both obesity and overweight in the United States, today's approval addresses an unmet medical need."
FDA approved this life-saving drug on 8th November, 2023. [Ref]
Tirzepatide FDA Approval for Weight Loss was based on SURMOUNT-1 and 2 Trials:
In a recent 72-week clinical trial involving 2,539 adults with obesity/overweight and at least one weight-related complication, researchers evaluated the efficacy of once-weekly subcutaneous Tirzepatide at varying doses (5 mg, 10 mg, or 15 mg) compared to a placebo. [Ref]
The study, conducted in a double-blind, randomized, controlled manner, revealed that Tirzepatide resulted in significant and sustained weight reduction.
The mean body weight of the study participants at baseline was 104.8 kgs and the mean BMI was 38 kg/m². 94.5% of the participants had a BMI exceeding 30kg/m².
A high percentage of participants receiving Tirzepatide gained a weight reduction of 5% or more, with substantial numbers experiencing a 20% or more significant reduction.
The results are summarized in the table below:
| | |
| --- | --- |
| Tirzepatide Dose | Mean Percentage Change at Week 72 |
| 5 mg | -15.0% |
| 10 mg | -19.5% |
| 15 mg | -20.9% |
| Placebo | -3.1% |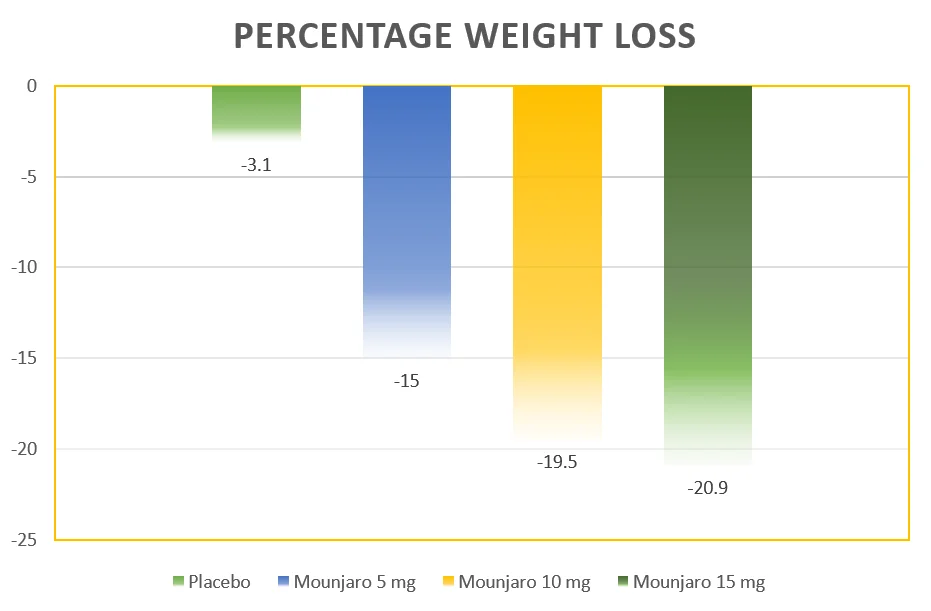 Weight loss at different doses of Tirzepatide:
| | | | | | |
| --- | --- | --- | --- | --- | --- |
| Tirzepatide Dose | 5% weight loss or More | 10% or more weight loss | 15% or more weight loss | 20% or More weight loss | 25% or more weight loss |
| 5 mg | 85% | 69% | 48% | 30% | 15% |
| 10 mg | 89% | 78% | 67% | 50% | 32% |
| 15 mg | 91% | 84% | 71% | 57% | 36% |
| Placebo | 35% | 19% | 9% | 3% | 2% |
Notably, improvements in various cardiometabolic measures were observed with Tirzepatide, showcasing its potential benefits beyond weight management.
The most typical adverse events were mild to moderate gastrointestinal issues, leading to treatment discontinuation in a small percentage of participants.
Tirzepatide Contraindications and Complications
Even though Zepbound is effective for weight control, it has some side effects. These include common issues, such as nausea, diarrhea, and injection site reactions, along with more serious concerns, like thyroid C-cell tumors observed in rats.
Combining Zepbound with Mounjaro or a GLP-1 receptor agonist is not advisable.
The medication also issues warnings related to pancreatitis, gallbladder problems, low blood sugar, acute kidney injury, and diabetic retinopathy. [Ref]
Notably, those using Zepbound alongside insulin or insulin-secreting medications should discuss potential dosage adjustments to minimize the risk of low blood sugar.
Regular monitoring is recommended for individuals with kidney disease, diabetic retinopathy, depression, or suicidal tendencies.
A higher percentage of patients discontinued Tirzepatide in the clinical trial because of the side effects. The table summarizes the data below:
| | |
| --- | --- |
| Tirzepatide Dose | Percentage of patients discontinuing the drug |
| 5 mg Tirzepatide | 4.3% |
| 10 mg Tirzepatide | 7.1% |
| 15 mg Tirzepatide | 6.2% |
| Placebo | 2.6% |
Zepbound, Tirzepatide FDA Approval for weight loss holds promise in treating resistant obesity …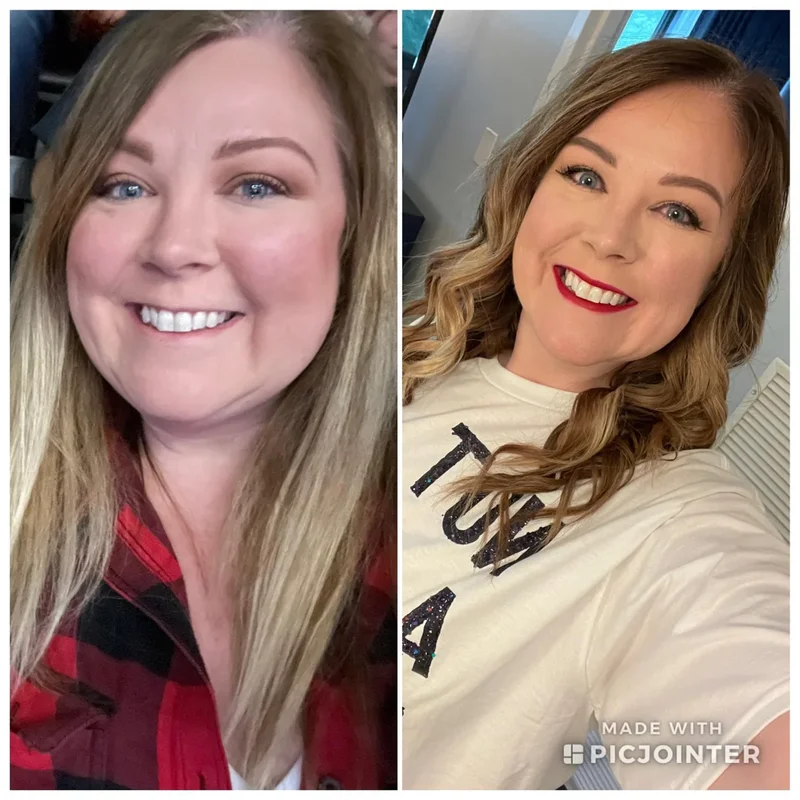 This trial, supported by Eli Lilly, sheds light on the promising role of Zepbound in addressing the ongoing challenge of obesity and related complications, presenting a new avenue for individuals seeking effective and sustained weight loss.
The New England Journal of Medicine posted the trial last year and it is revolutionary for people looking to lose weight efficiently.
Since obesity is a growing concern in developing countries, FDA approval holds importance in bringing solutions for it.
With a recommended starting dose of 2.5 mg injected subcutaneously per week, Zepbound will be available for the public by the end of 2023, costing 1059 USD [Ref].